I'm back :) We spent a splendid time in Italy! Weather was great too. People told us we got very lucky with the weather. For our last 5 holidays or so people have told u that, even in Iceland. I started not to feel lucky about the 'good' weather but rather anxious. However, global warming is a great excuse to sew more shorts. And as Marvin got 2 new pairs I was eager to treat myself to two new pairs too ;)Plus I had some leftovers from years ago that I wanted to make into shorts for a long time now, as they were too short to make 'real' pants from them.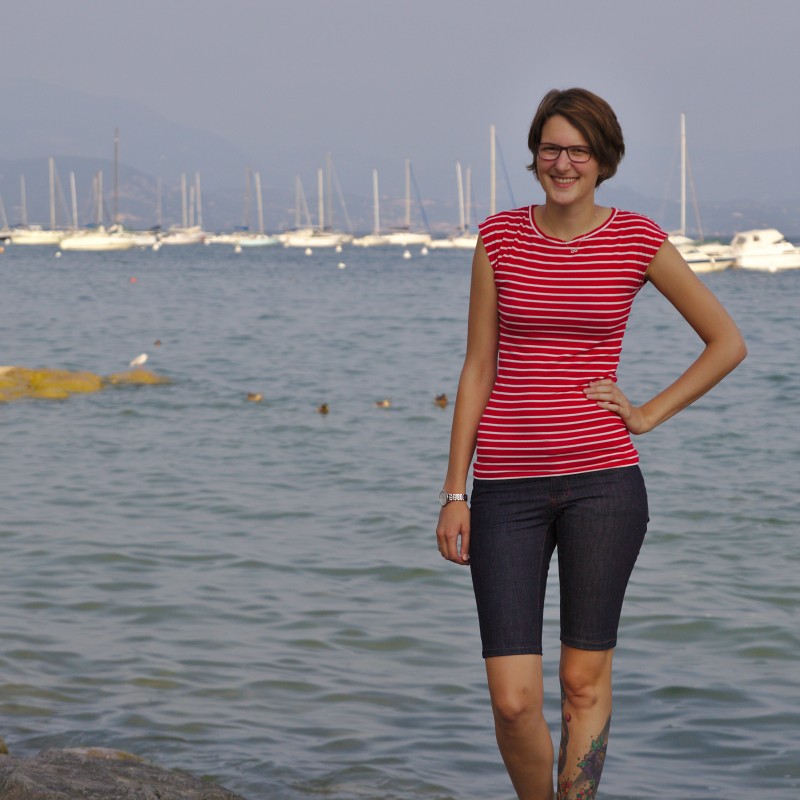 the first pair you see are Ginger Jeans , I mean, come on! What else? I sew this pattern in my sleep! If you want feel free to take a lot at my previous pairs, I think I have said everything I have to say about this pattern. In short: I love it! ;)
To make shorts I simply cut the legs as long as the fabric let me and shortened them after the assembly. Voila!
This fabric is a leftover from a  denim Kelly Skirt, that I wear a lot. The fabric is just beautiful and it looks even better after being washed for several times. The interior fabric was a leftover from my wax print bonnell dress, another garment I dearly love. Okay, there isn't a garment I do not love dearly ;)
The back pocket stitching lines are copied from the Jedediah Pants pattern. The constrasting topstitching yarn is from Goldafil. It is the best I have found so far, it is much less stiff than the Gütermann thread. And much less expensive :) Also the Gütermann thread always produces those loops on the wrong side, no matter what I do. Well, obviously I'm doing something wrong. However, I do not have those issues wit the Goldafil thread.
So now please take a good look at the back yoke seam! Wooohooooo isn't thatsuper accurate how I matched those seams?! ;) A look at that seam of the second pair shows: I simply must have gotten very lucky ;)
In those pictures I'm wearing my new pair of shorts with a Kirsten Kimono Tee, that I also made from leftovers. I made a Renfrew Tee from this striped and super comfortable knit fabric and used the leftovers for another tee. as I didn't have that much fabric left the stripes run horizontally at the front and vertically at the back. I think it looks super clever :)
I have one touristy picture for you: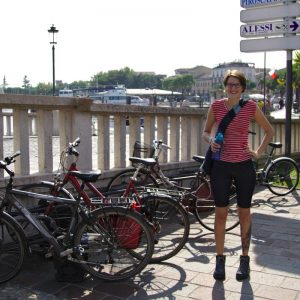 I wore the putfit to a bike riding/hiking tour and we came across the city of Desenzano del Garda. I inserted that picture in my post to remind myself to tell you that in that (really beautiful) city in Via Porto Vecchio 3 there is a truly Italian fabric store called La Seta del Lago. They only sell fabric for clothing and I tell you those fabrics were gorgeous. All of them were from designers. I saw D&G, Pierre Cardin and a lot more and almost all of them are printed silks. Suuuper expensive stuff! But the had some left-over-tables filled with 'scraps' of designer silk fabrics, all 1,40m wide and length from 40 cm to 1,80m. And as they are left overs they only cost about 30 €/m. Wheeey :D That is still a lot! But well, they are really beautiful and it was holiday and all. so I bought 3 scraps :) But as they are very summery I will probably not make anything from them until next summer and wanted to tell you about the store before that. In case you're visiting Lake Garda :)
To the next pair!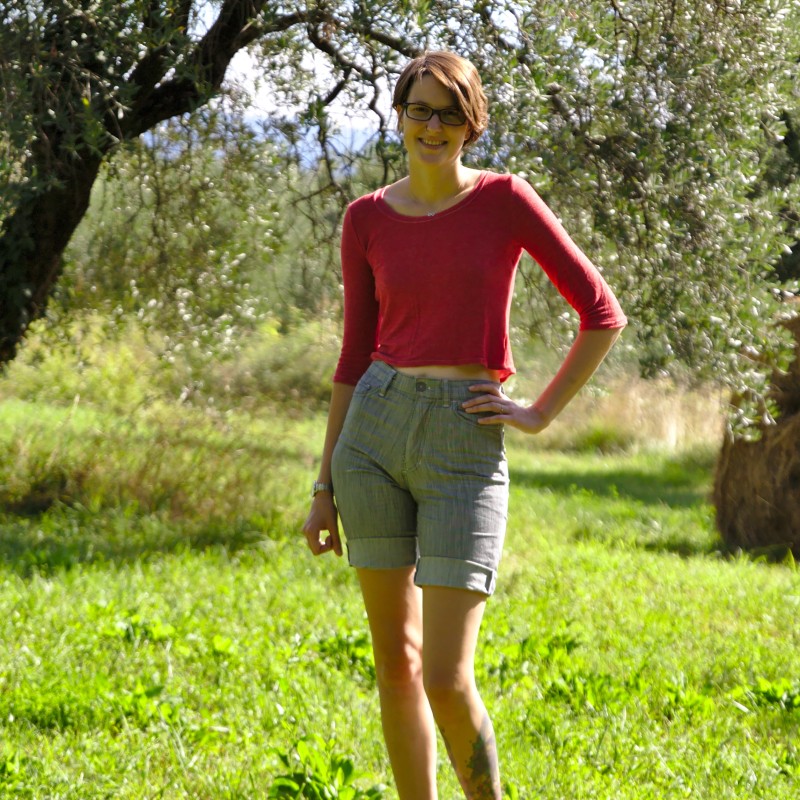 I made Shorts from the Birkin Flares pattern. I sewed this pattern once before, and I truly love those pnats. Okay, again… But I reeeeally do! They fit so nicely and I also like how the high waist wears and those flares! However I thought it'd be nice to have a pair of high waisted shorts. I cut the legs a little wider so that I could roll up the legs once their finished. I didn't change the pattern for that or even put any thought into it, just cut them wider. The fabric I used is really old. I made a skirt for my MIL from it years ago. It has a little stretch which is great but I wasn't that fond of the color and texture. Also I didn't prewash this fabric. I only realized that when I was halfway through with cutting. When I started sewing I simply didn't prewash my fabrics. So this fabric was nothing special to me and if something would have one wrong it would have been okay for me. And so I sewed how I liked without caring simply cutting and sewing and not worrying, which was a lot of fun. I washed the pants after finishing it and luckily it still fit me, because now I really like it. I think I like it even more than the other pair. It's a little odd but it seems the less I care the more I like the garment in the end.
Even the led widening worked out great. I can roll up the legs to a length that I like a lot :)
I sewed the pants as suggested in the instructions. I'm not that sure if I like the method used to insert the front fly. I found it harder to get a clean finish than with the Ginger Jeans method. But it could be just be that I need one or two more trials to get it right. I used a longer zipper and sewed a longer front fly this time. In the waist I'm wearing size 27, whereas at the hips I'm wearing size 29. With my previous version the zipper wasn't long enough to get the pants waist without problems over my hips. That is much easier now with this version and something you should consider if your waist size is 2 or more sizes smaller than your hip size.
One day before we started our vacation I thought it would be nice to have a cropped top to wear with this pair. Because that would emphasize the high waist. And so I quickly sewed a shortened Renfrew Top from some knit fabric  Dana gave me :) I used the wrong side of the fabric as the right side of my top, because I liked it better, the real right side was much lighter and I like brighter colors better.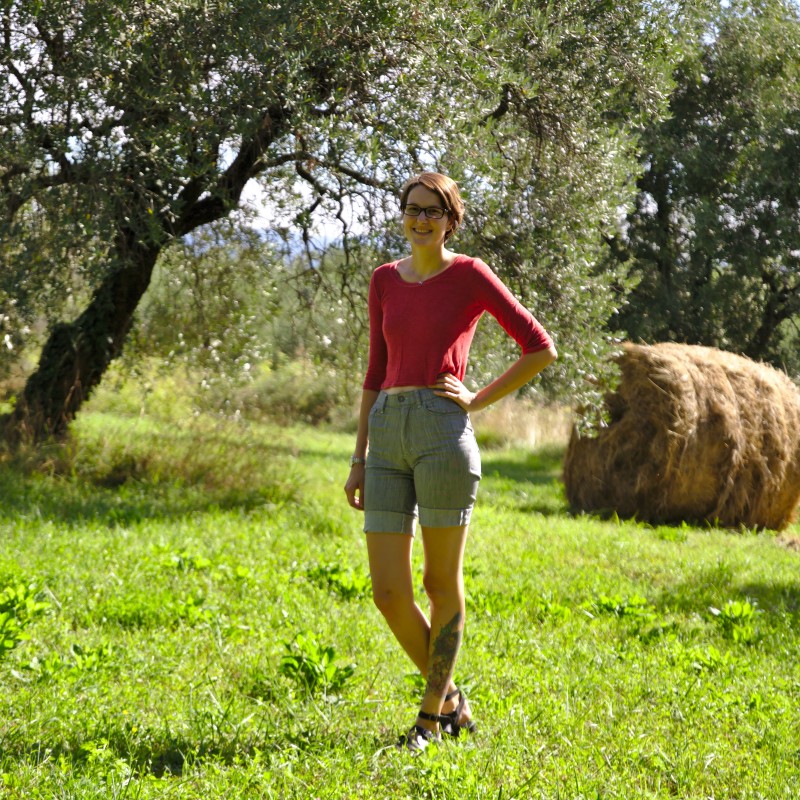 so! I guess this was the last post about summery garments! And I'm soo looking forward to showing you all those knitted sweaters that have pilled up here during summer :)
Bis dahin macht's gut!
Katharina