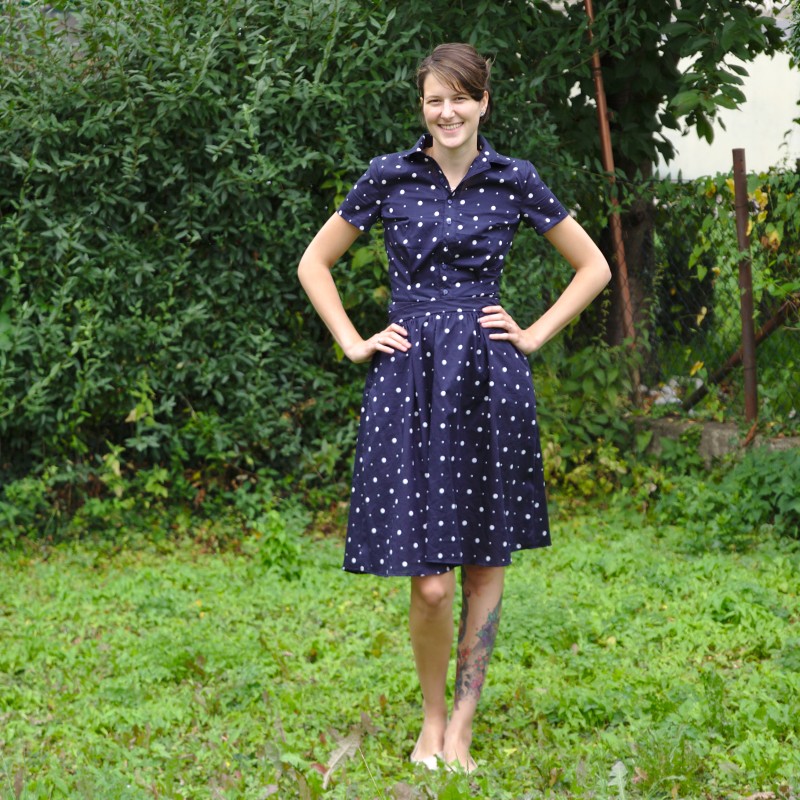 You're looking at the preview picture thing 'A dress? Again? Didn't she say she had enough dresses?!'. Weeell, the joke is on you! This isn't a dress it's a shirt and a skirt and it looks like a dress, hahahaha. But technically it isn't. Both pieces even came as one pattern. Svaneke it is called and it is one of many vintage patterns by HowToDoFashion. Nanna wrote me and kindly offered me to pick one of the patterns to test it. I picked Svaneke and she also sent me Dragør, that I sewed while ago. And now it was time for Svaneke. Because you can always use a shirt. And a skirt. And believe me, my wardrobe hasn't yet fully adapted to the warm and humid weather here in Karlsruhe. When I lived farther north I never had the chance to wear real summer dresses. All of them had either mid-long sleeves or were completely lined. I only wore sun dresses when I spend my holidays somewhere warm. I still feel a little weird wearing sun dresses at work, but it's better feeling weird then being hot and sweaty all the time. So Whatever! Enough justification, on we go!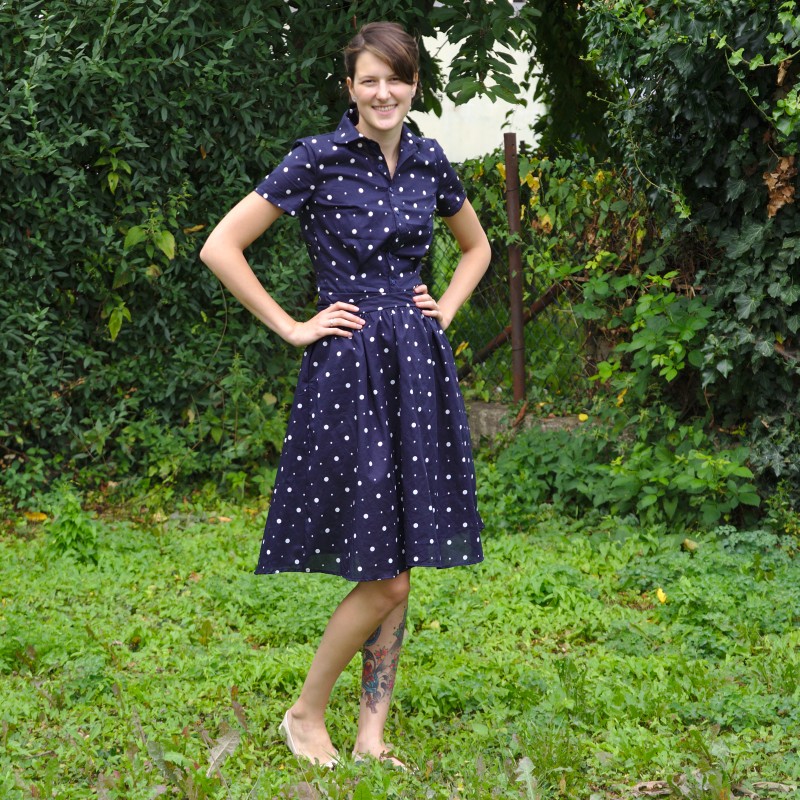 I bought some cotton voile at my favorite fabric store when we visited my parents in law. We always visit that store. As I've told you the weather is much chillier there so I guess that was the reason why this cotton voile was on sale for only 4 €/m. No one needs it there ;) So I bought 2 m and got some left overs for free with that so that I had about 2.50 m for only 8 €.
The fabric has small and a little bigger white dots on it. I didn't think of that when I bought it, but that means that I had to do a little bit of pattern matching and taking care that everything was in line. I don't like doing that and so I did as much pattern matching as I felt I could do. And that wasn't much ;) I'm not sure if the fabric is really 100 % cotton. I have some weird pressing marks but as far is I know you can press cotton as hot as you want, you won't get it to melt, because it simply burns ;) Weird!
I started with the shirt. The pattern features two blouse variations and I picked the first one. A simple blouse with some beautiful details. I have never sewn bust darts like those on this shirt before. They're simply not sewn up to the end and are a mix between dart and pleat and I like how that looks and it also is really comfortable. You can see how they're sewn in the online instructions.
The pattern itself comes without instructions and you can have a look at them or download them online. I think that is a good solutions. Especially if you're a beginner you can have a look at the instructions before buying an expensive pattern and see if the sewing is doable for you. I'm a huge fan of as much transparency as possible everywhere. I think in comparison to other patterns in that price range the instructions are sparse and very basic. But the difficulty level for this blouse variation is set very high (three out of four) which kind of makes the short instructions okay. But I don't think the shirt is that hard to sew (no real blouse cuffs, the collar consist only of one pattern piece) and if the instructions were more detailed this blouse could be sewn by a beginner I guess.
The pattern itself is great! To me Nanna's patterns are special. They're vintage without being hipster (and I'm not sure this term is used in other languages then German :D) and you can see that she cares for details. Another great thing is that ever pattern contains multiple variations which really differ from each other.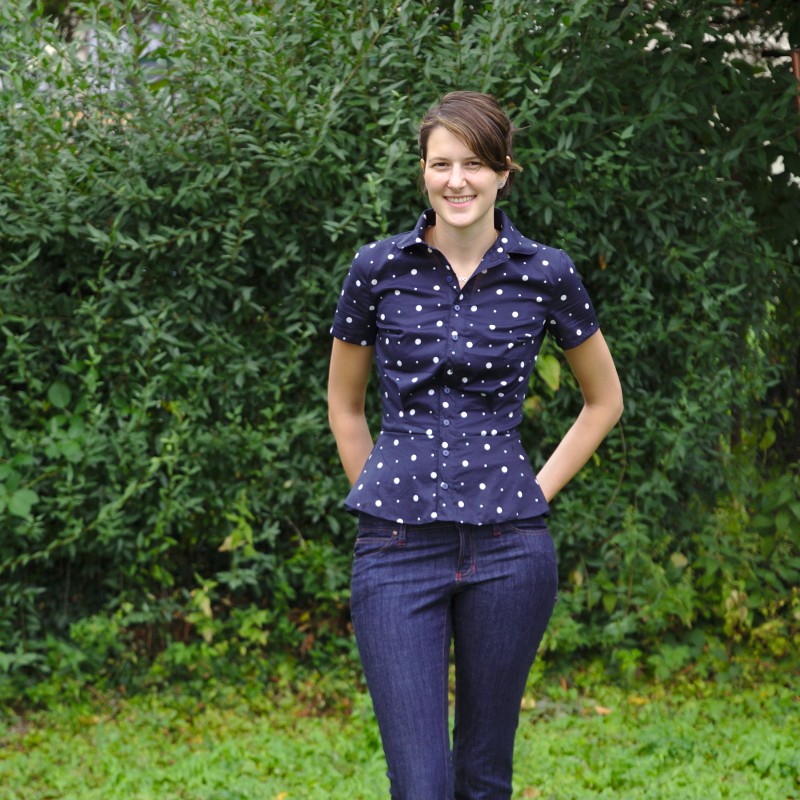 Before I started sewing the shirt a made a muslin and before that I traced the pattern on plastic foil (as the pattern is printed on both sides of the paper you cannot cut it out directly). I went with size 36, like last time and lengthened by my usual amounts of 4 cm in the waist and 4 cm at the hem of the shirt. Usually I lengthen by more than 4 cm at the hem. But well, the peplum looked peculiar lengthened by 6cm. Well I should have known better. As you can see 2 cm more wouldn't have hurt, au contraire! Apart from that I'm very pleased with the fit. I didn't have to change anything post muslin.
The shirt is completely french seemed as far as the eye can see! Ha! I even french seemed the armseye seams. I'm so proud! I still haven't really mastered seam matching when sewing french seams as you can see below, but I think I'm slowly getting there. And until then: I don't care!
I wanted to make a tiny as possible hem and went with a machine rolled hem, worked out great :)
And that is kind of it. Really wasn't that hard sewing the shirt. I made it a little harder with all those french seams but you don't have to do that. I must admit that I didn't really work with the instructions this time. I used them more as a guideline. I have sewn some shirts before and if you have too you won't have problems with this one, I promise. Oh the buttons are from my never ending stash of buttons. I'm a collector, you know ;)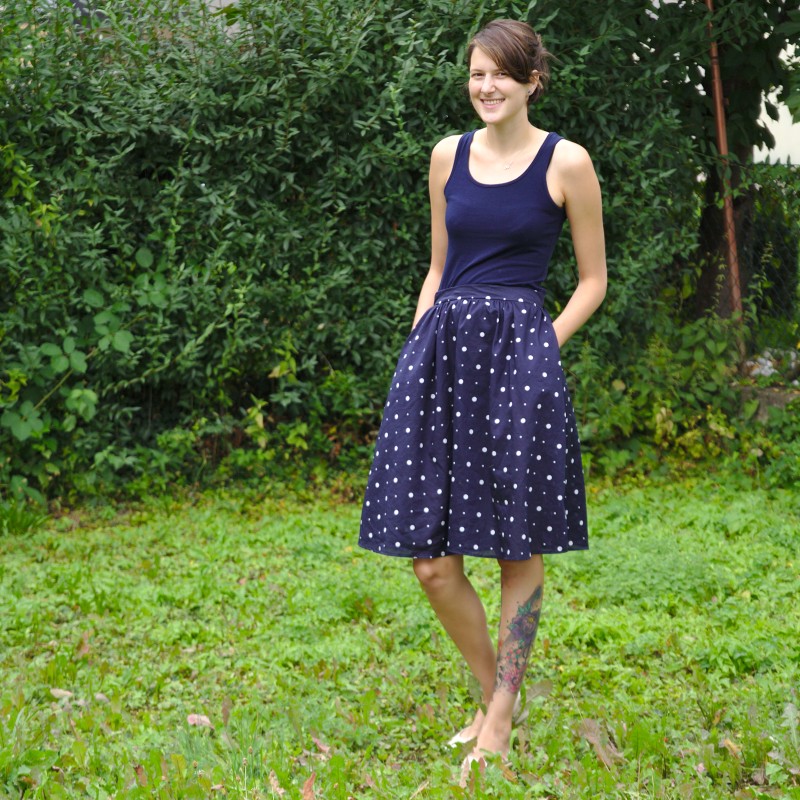 On to the skirt. This one was ridiciouly easy peasy super simple. There are instructions on the internetz specifically for the skirt. It is short but really there is not much to say about this one. It consist of 4 gores. Because I didn't want the extra seam I sewed the two front gores as one piece on the fold. I left the seam in the back to insert my invisible zipper, because I didn't want it at the side as I had my mind set on inseam pockets. I took the pattern pieces for those from another pattern.
I also thought about sewing the skirt with 6 gores an pleating it, but that would have meant additional pattern matching, ugh and so I went with 4 gores and gathering. I frenched all seams (if you will so) and used another one of Carloyn's glorious turoials to french the seam underneath the zipper. Everytime I sew french seams in combination with inseam pockets I take a look at this tutorial on the SewMamaSew Blog, it's genius :).
Because I don't like sewing by hand (I rather knit!) I machine hemmed the skirt and while I was at it I stitched in the ditch of the waistband to secure the waistband. The waistband itself is completely straight. I know that this kind of waistband always gapes, it's just not for me. But again I was too lazy to fix that in advance. Well, maybe I just needed another reason to justify sewing this dress/skirt/shirt again! Improvement is always a great justification! ;)
I'm very pleased with the whole garment. I never expect to make a perfect garment the first time I try a new pattern. Because only afterwards I know which fabrics will work best, which parts don't fit so comfortable when I move a lot and whether I like the garment on me or not. This one is a re-doer, I think I look very classy ;)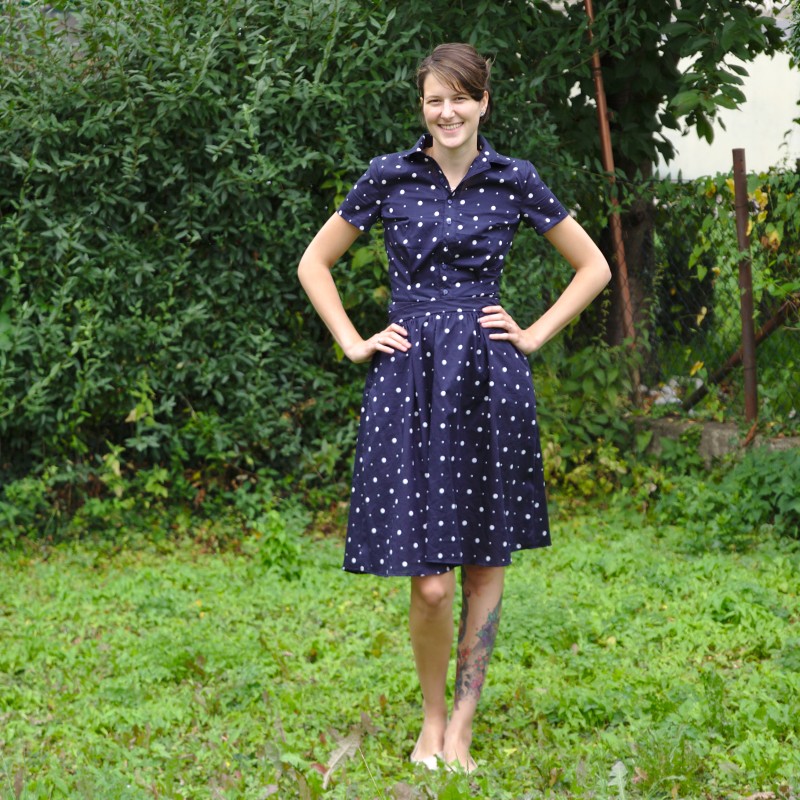 And that is it for today! I hope you had a great weekend :)
Macht's gut!
Katharina