I still cannot believe it and I'm really trying to hold back a little but I think, I really think I sewed myself a fitting and comfortable bra! my first! I had some fitting issues over the last 1,5 years, I solved them all but the one problem I had with underwired bras remained: the underwires. It seemed like everything was fine in theory, the band was tight enough, the bridge laid flat but the underwires gaped underneath my breasts. That led to high pressure where th underwires pressed against my breastbone and underneath my arms.I always had pressure marks after wearing the bra for half an hour or so and I really didn't feel comfortable. I wrote about this problem before. I lately realized that the reason why nobody could give me a satisfying answer might be, that not a lot of people have this problem. It took me 1,5 years of bra sewing to finally admit to myself that there might be something different with the way my body is shaped in the breast are.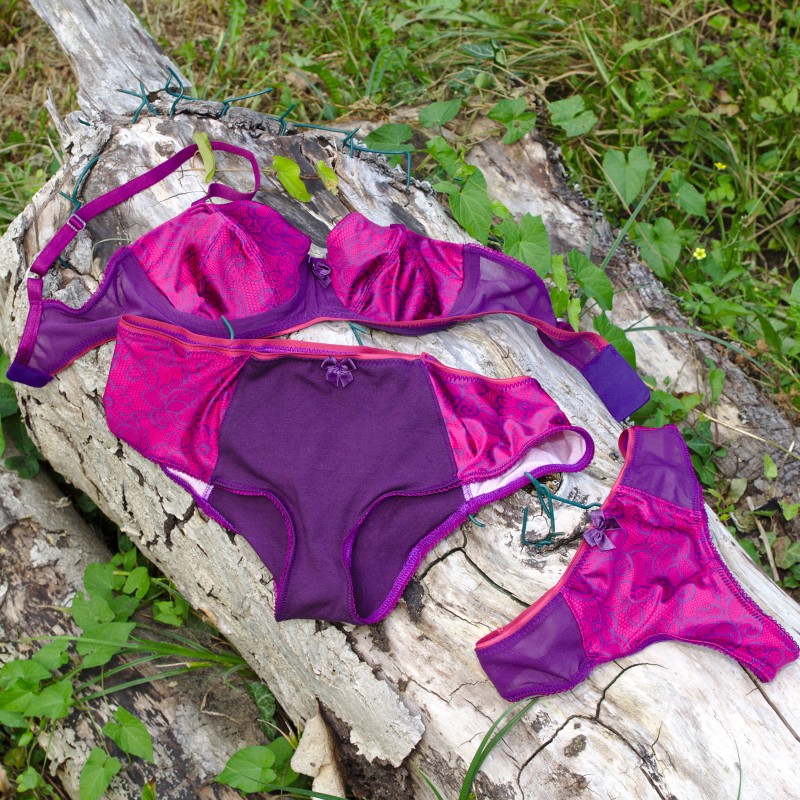 So I started looking for causes of ill-fitting bras and I found a lot :D But I also found this website . The great thing about it is that is is very descriptive, informative and that there are a lot of causes described there. The best thing is though, that there are drawn picture of 'problem-breasts' (;)) to every cause. After some reading and comparing I found that I have a prominent breastbone (read here). Which means that my breatsbone is protruding outwards and well, that describes the pressure marks and the underwire gaping underneath my breasts. After reading this and thinking a little about it I remembered that I had similar problems when I was a teenager wearing bras for the first time. I don't know how I could forget that. I always had troubles with bras i the breatbone area. So waht I did was to bend the underwires to follow my sternum shape or to try to find bras with short underwires.
And that is what the herroom site suggests. Just bend the underwires. Well, that's easy. So why didn't I think of that? I honestly don't know. I think simply bending the wires to fit my body felt like a cheat. Which is non sense. Sometimes I forget that swing isn't about doing everything like some book tells you but about creating things. So I learned that lesson and started bending some underwires!I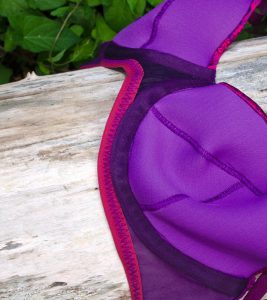 And since that day all my bra-related problems are gone. Such a quick and easy solution. And it still feels a little dirty :D But who cares?! And all the times I told people that it is hard to fir a bra!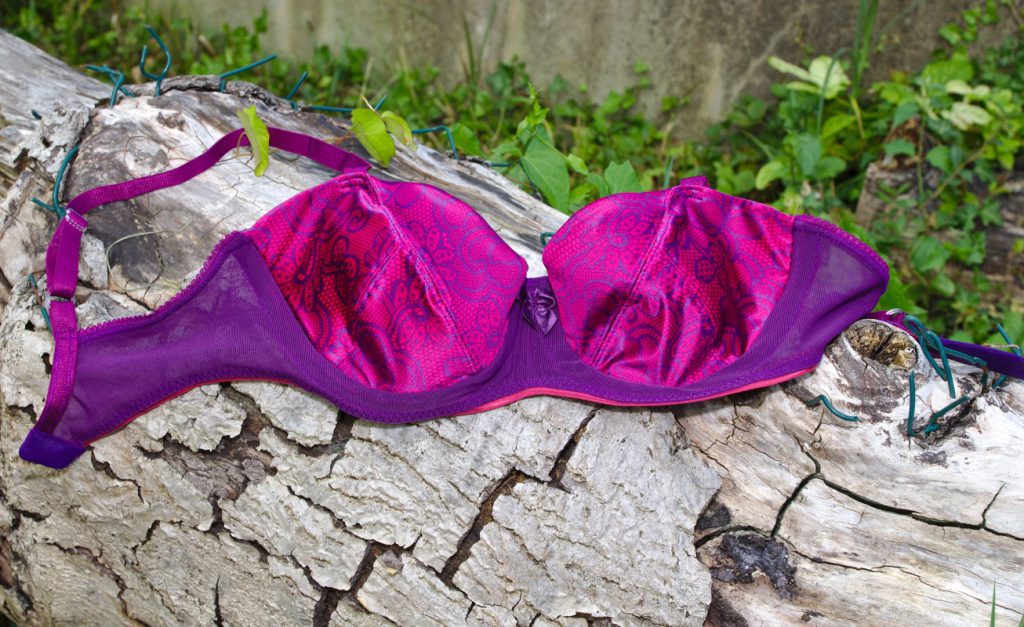 I WAS WRONG! It is not hard to fit a bra than any other garment, I simply don't have a regular shaped sternum and had no reference to see what the problem is. Because this part of the body is usually well hidden. So if you're having troubles with fitting a bra I highly recommend you take a look at this site. I have learned that there are many causes to ill fitting bras but that there are also a lot of solutions. The good thing is that if you sew and know the cause of your fitting problems you can easily adapt a pattern to fit you and you don't have to search in stores for bra that fulfill your requirements. If you have already found a great fitting bra than sewing a bra that fits you should not be a problem at all! So one way or the other you should totally start sewing your own bras. It is a lot of fun too!
With my newly gained knowledge of how breasts regularly look like I also gained a lot of motivation and sewed 3 bras in a row. I used the Makebra DL03 that I also used for my previous two bras. For the second version I sized the band down, to get a size 65D and I decreased the cup volume at the top a little. And the only change I had to make from that was to bend the wires.
I bend them while I'm wearing the bra until the whole underwire lies flat against my chest. I tried photographing the bend underwires.
For the two purple bras I purchased most of the material at Sewy.de. You can find the purple powernet here, here is the lace and here the fabric with the on-printed lace. I bought the foam, elastics, closures and straps at  Wien2002.
Both shops are in written in German, but they ship europewide.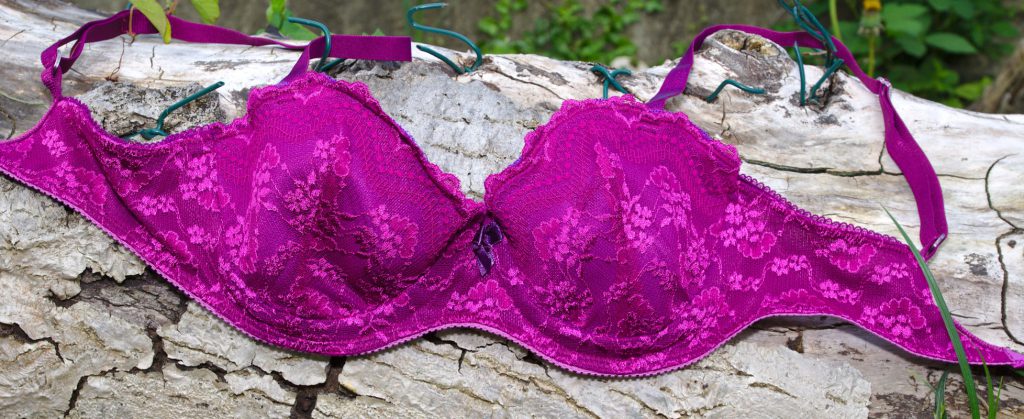 I wanted to use the scalloped edge around the whole top cup. So I tried to avoid having many seams. As the pattern calls for three cup pieces I decided not to use the pattern for the lace cup cover.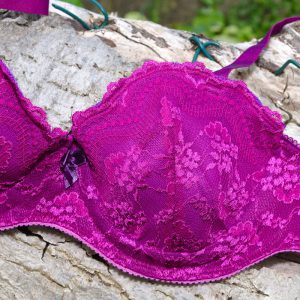 I pinned the scalloped edge along the top edge of the cup before cutting the lace. The I pulled and pinned the lace over the whole cup. Afterwards I cut the lace along the lower edge of the cup. Thus I had some excess fabric.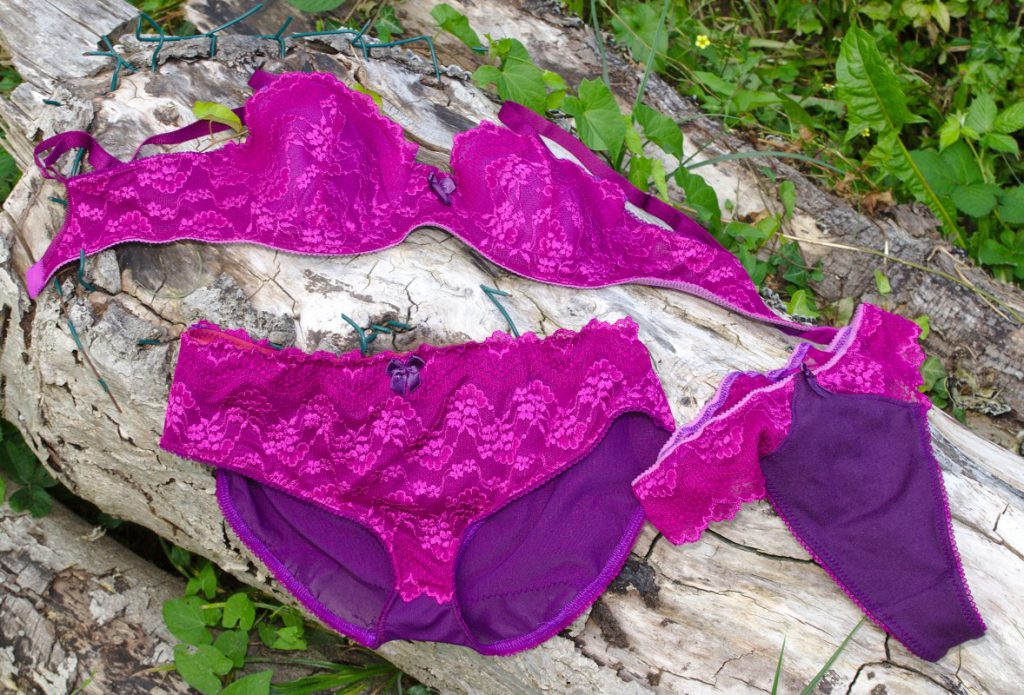 I tried gathering it at the bottom but that look reminded me of curtains. I had the same problem when I tried to pleat the excess fabric and so I decided to make one huge dart almost to the top of the cup.
I used the lace for the band too, but lined it with powernet to give it more stability.
I even hid the cup seams with some knit bias binding for a more clean finish.
The third bra I made looks almost exactly like this one. I pulled the old Boylston Bra apart and used  the straps, the closure and the bow for a new version, I used the DL03 pattern for this one too.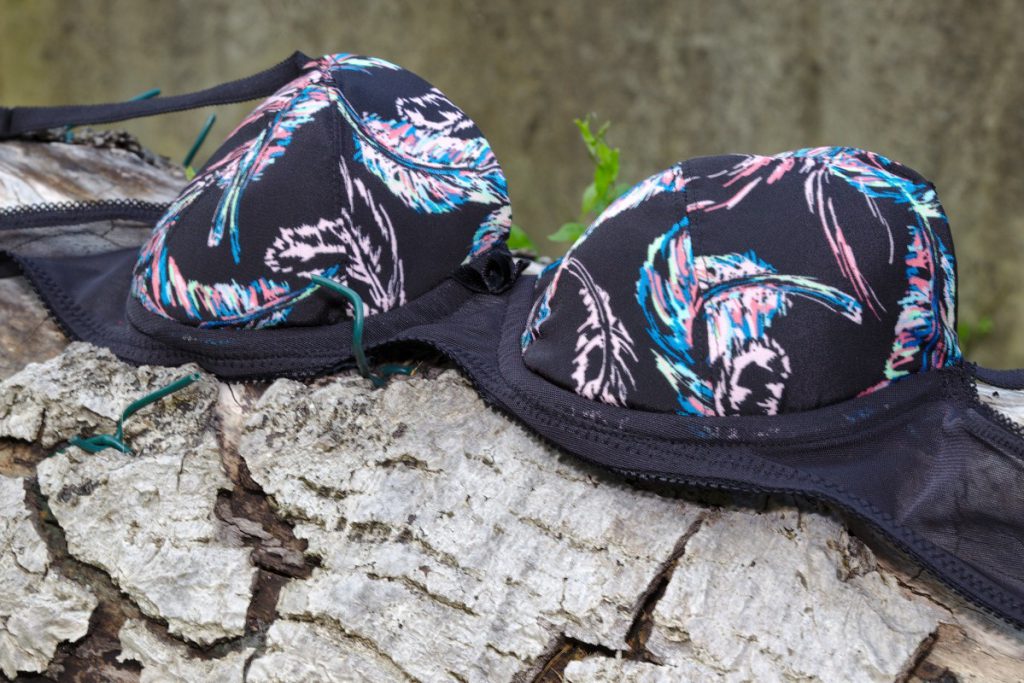 The thing is that the bra is uncomfortable but I did sew 3 matching panties. So I only ad to sew a new bra and no additional panties.
I'm not much of an underpants sewer. They are almost much more work than they look like and it always feels like it takes me ages to finish them.
On the other hand I feel very grown-up wearing matching under garments! Also the fun I have now looking at those pictures of matching underwear makes good for all the pain the panties caused ;)
The patterns of the two panties above are self drafted. Well not so much self drafted as self-heavily-modified :) I've improved the patterns over some generations of pants and I'm happy with how they fir me :)
The lacey pantie's pattern is Geneva from Seamwork Magazin. As my lace band wasn't wide enough I cut the panties from powernet first and applied as much lace as I could. The other pair is made from the Lacey Thong pattern by Fehrtrade. The pattern and instructions are free. I liked the instructions and everything but I'm not completely satisfied with the fit on me and I think that it is very hard to get a clean finish with this kind of construction. Especially the place where the lace meets the fabric is kind of hard to sew neatly.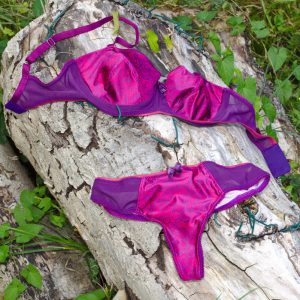 I'm very satisfied with how this round of bra-sewing turned out! Finally I can sew bras that fit me and that feel comfortable! I hope I could motivate you to try bra sewing for yourself. It really is fun and honestly not that hard! :)
Macht's gut!
Katharina