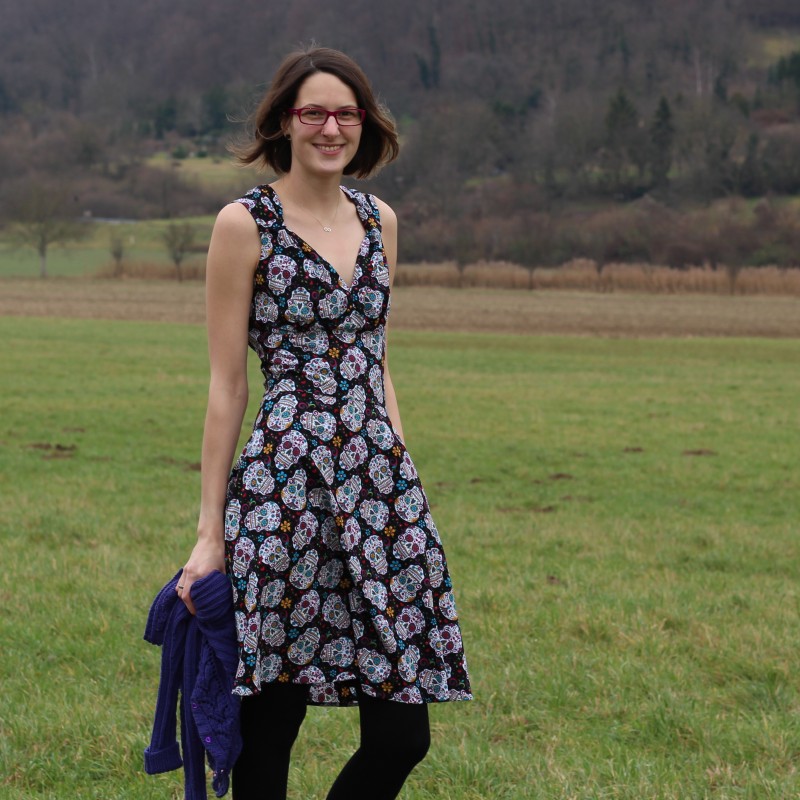 Sooo, I found time to write a new blog post :) That's good news! I decided to write about the dress I made recently. It is kind of an America-vacation-Souvenir-Dress as I purchased both the pattern and the fabric in America. And to spoil a little: it won't stay the only dress of its kind, there are more to come! Because guess what: shopping for American fabrics and American patterns is surprisingly easy in America, ha!Not that I am one of those fabric tourist, meaning, I usually don't buy fabric as souvenirs. And I didn't really look for it when I visited Marvin, buuut there even is a fabric department in Walmart! And as Marvin thought that starting the vacation with a visit to the local Walmart would give me the most authentic impression of American lifestyle, I stumbled across a lot of fabric at my first day. Even though Walmarkt is big, I would never fail find to find a fabric department, although Marvin wasn't aware that it existed. Priorities!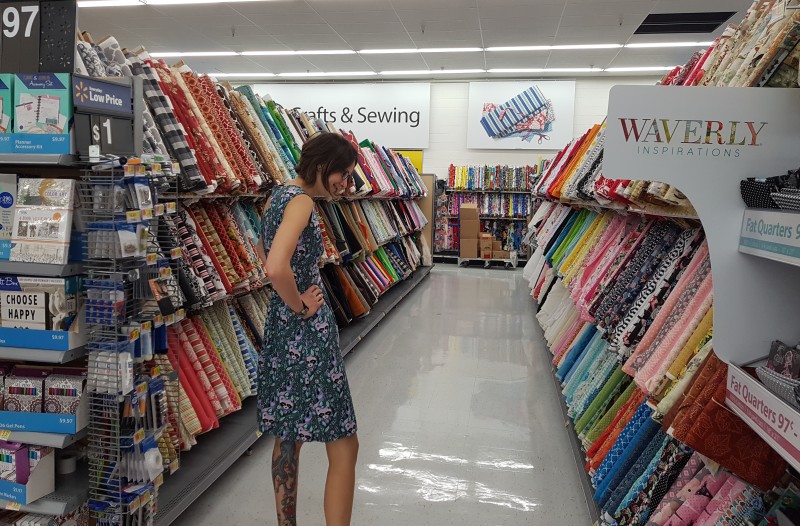 Pretty cool! And if you're wondering: that is my happy face! The fabrics also were pretty cheap. I paid around 5$ per yard for this dia de los muertes fabric. I have seen it in Germany and it was sold for around 16 €/m here. So of course I immediately bought 2 yards of it. Not JUSt because of the price, but because I liked it ;P.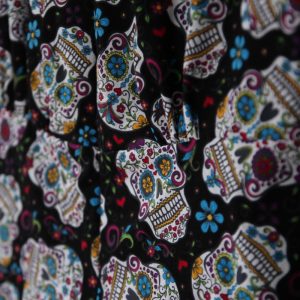 I was back home and Marvin had only one week left when I accidentally stumbled upon the Butterick web page and saw that each and every pattern was on sale for only 2.99$. I was sooo excited, got out my Butterick wish list out and ordered a lot of patterns. Well, not really, I restrained myself, because the Butterick page says it could take up to 7 days until the patterns are delivered. It was Sunday and Marvin was staying until Saturday morning. So I only ordered 7 or 8 patterns and only spent that amount of money that I would be okay with to lose. It was kind of a gamble. ;) However, the patterns arrived Friday evening 8 pm. Phew! Lucky me! Marvin arrived with the patterns on Sunday.
After spending some quality time with Marvin (and I mean not-letting-him-go-to-the-toilet-by-himself quality time) I started sorting my precious treasures. I paired fabrics with patterns and repaired them and really annoyed Marvin by asking his opinion on every single pairing, haha. Ahhh happy times!
Sooo and now on to the story of this particular dress. The first pairing I made into something was the dia de los muertos fabric from Walmart with Butterick B6380, a dress pattern designed by Gerti. I really like the bodice, all those gathers and lines! However I didn't like the puffed sleeves and decided to sew the dress sleeveless, that is more practical for winter anyway, as it is much easier to wear a cardigan with tight sleeve on top of it. Super practical is that is pattern only calls for 2 1/4 yards of 110 cm wide fabric for my size. Even for the biggest size you'll need less than 3 yards. I went with size 8. The measurement chart suggest I'd sew a size 10 and I did that when I sewed my first Butterick pattern and it turned out too large. Size 8 usually fits me well.
I started with a muslin of the bodice. Well, first I lengthened the bodice by my usual amounts. I was a little shocked when I tried the muslin on for the first time. There was way to much fabric in the breast area. Or way to little breast for all of that fabric ;). That never happened to me before. I chose my size 90 % of the time by my bust circumference, so sometimes the garment only fits at the bust and I have to change everything else ;) I have kept the muslin bodice front to show you the problem:
I have never done an FBA or an SBA before. So at first I felt a little overwhelmed ;) After a while I calmed down and simply pinned the excess fabric away until all looked fine. I took out a 4 cm wedge at each side.
And when I made a second muslin it looked all pretty good. So I started cutting and sewing.
The in seam pockets you see in the pictures are not part of the pattern, I simply used the pattern pieces of another pattern for them. There are also no separate pattern pieces for the lining, though the dress is supposed to be fully lined and the instructions take you through that. I decided to fully line the dress as well (after consulting with Marvin of course ;)). I used some rayon lining fabric that I had in my stash.
The sewing process was straight forward. The center front seam was a little tricky, but I managed to get it straight by cutting a lot of notches into the seam allowances. Oh, the seam allowances are included in the pattern! Super important for me, I hate adding them by myself. As I didn't want sleeves I sewed the bodice lining to the outer bodice in a way that hides all the seam allowances in between both layers, but doesn't require hand sewing. You can find a tutorial how to do this on the BHL -blog for example.
As already mentioned, I like that there is so much gathering going on at the bodice front. The bodice back is also gathered, instead of having darts you have gathers. And next time I would go with darts, I just don't think the gathered back looks that flattering on me.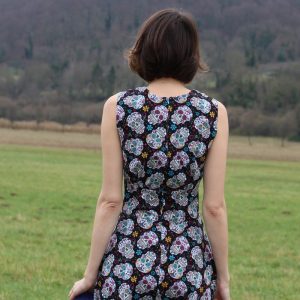 I left the seam allowances of the lining and outer bodice unfinished and sewed both layers together at the waist, invisibly by hand. The skirt seams are all French seamed. I hemmed the outer dress invisibly by hand. and machine hemmed the lining skirt. Here you'll find a tutorial on how to French seam side seams with in seam pockets, and here is a tutorial on how to French seam the seam underneath an invisible zipper.
Apart from the bodice I'm also pretty happy with the silhouette of the skirt. Not as flared as what I usually wear but still flared enough for me. I didn't lengthen the skirt btw, so the dress will turn out longer on average large people.
All in all I'm happy with everything about this project. The fabric, the pattern, the dress itself. I had to do modifications, but they weren't that hard. I like that the dress doesn't need that much fabric and I really like the bodice, I think it would also look great made up from two different fabrics. So I think I will try this pattern again in the future. That is after I have tried all of my other 7 new dress patterns!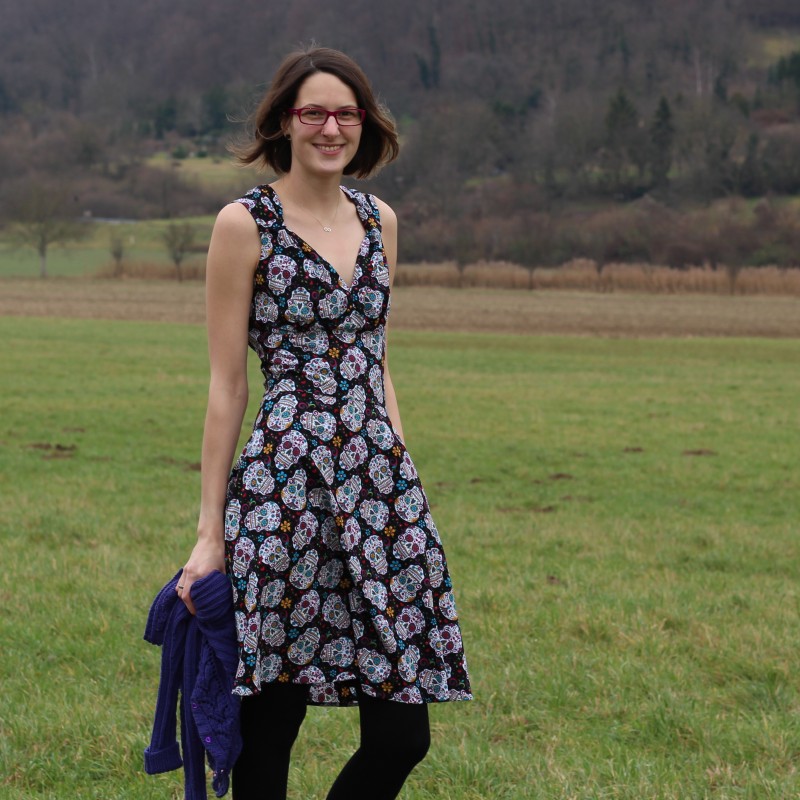 And with that I wish you happy holidays with all of your loved ones :)
Frohe Weihnachten!
Katharina