Shortly before this year ends I have managed to write another blogpost, I have had the days off between Christmas and New Year's and found motivation and time to write about my latest hobby: tablet weaving. It is impossible to have enough hobbies, however not even one whole year ago I was sure that weaving was not for me. Then however, I saw those beautiful tablet weaving projects on the Ravelry blog and I slowly started changing my mind. I started researching the Internetz a bit (the site I found most useful was this one, the video I liked the most was this one). I found out that you need very little to get started. Yarn, tablets and a shuttle. You can use the backstrap method (as shown in the video), thus you do not need a loom. You can easily make the required tools by yourself.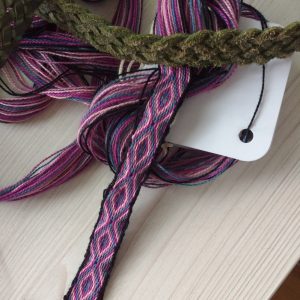 You can make the tablets by yourself. Others suggest that you use a deck of cards, cut them into a square shape and punch holes into each edge. I tried that, but the cards were uneven and the holes at different places. So I gave up, a little relieved, because you know: I didn't really need to start another hobby ;)
Some month went by and I found myself at the Flachsmarkt in Krefeld around the castle Linn. I have lived 21 years only a few kilometers from the castle Linn and I have never been to this market (Flachsmarkt translates Flax Market or rather Linen Market). I discovered it now that I have to drive 400 km to it. The market was great. It is medieval themed and I think it is meant to be a reenactment of a big flax market that took place in Krefeld in the middle ages. It takes place every year at Whitsun and it exists since 1977. The market is huge! There were knight's games, music and a lot of craftspeople showing their often ancient craft to everyone who was interested. There even was a spinning group, what made me very happy :) However I overheard people wondering what it was the women on the stage were doing. That only emphasizes how important it is to have such events! Spinning isn't even that ancient! Other craftspeople were tatting, basket weaving, making cheese and there were a lot of people weaving bands :)
When I came across Birgit Höffmanns stall I couldn't resist any longer. She sold already warped bands with all the tools you'd need to directly back strap yourself and start weaving. I paid 25 € for 3 m of warp, a short but very helpful instruction, 14 tablets and a shutter. And after having warped a second band all by myself I can only say: that was a super fair price.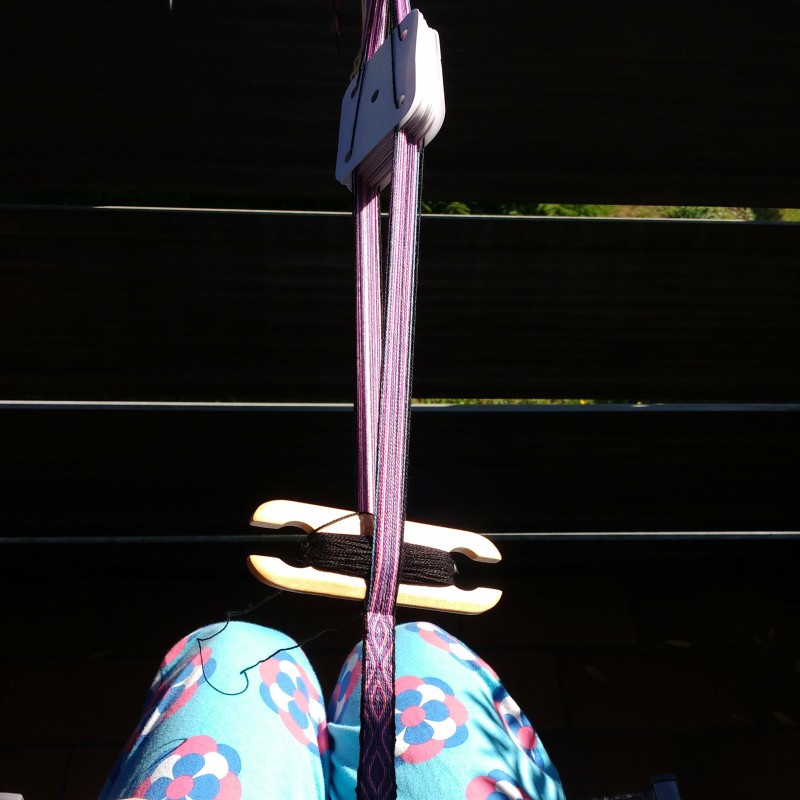 When I was home again I gave the whole thing a try. Most of the time I would strap myself to the balcony and weave outside. I had some issues with the tension. It is easier to maintain your initial tension all the time while weaving the band when you are using a loom. When you backstrap yourself I think it is much harder to keep a consistent tension. So this resulted in a band that has wider and narrower parts. It was very interesting to see how the finished band behaved when I changed the tension though. Another thing that I didn't quite figure out yet is how much tension the weft should have so that the edges look nice. My edges look inconsistent too. On the other side tablet weaving would be pretty boring if you would get it right after the first try, right?!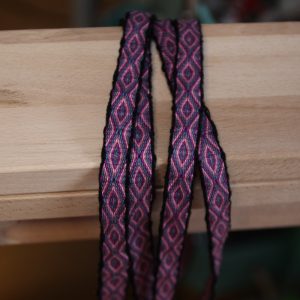 More important was that I had a lot of fun! And I think that was only possible because I didn't have to warp and prepare the tablets by myself. I could instantly start weaving and that was hard enough for the beginning. When I finished the band, I had seen how it worked, I had understood the logic and I had seen S- and Z threaded tablets and knew what the difference was. So if you're thinking about giving tablet weaving a try I highly recommend buying a starter set like I did.
It took some time until I had finished my first band. It is kind of tedious always strapping yourself to something and once you're strapped you cannot get up and open the door for the post man for example ;) It is even hard to drink a coffee or eat something. I only started weaving when I knew I had at least 30 minutes time.
But as you can see I made it! :) I even used a piece of the finished band for a garment I made recently. I'm really looking forward to showing it off here ;).
And because I had so much fun I warped another band after I had finished the first one. I used this pattern and embroidery thread. I thought embroidery thread would be nice as it is already precut to 8 m length and because my MIL has a huge stash. Last time I visited my PIL I took a lot of different colors home with me, only to find out to I would have needed more threads of only a few colors. That is why my band is quite colorful now, and pretty short ;) Well, live and learn.
I threaded each tablet individually. That was a lot of work! I know there are better and faster techniques but this seemed to be the easiest one to me. Next time I will try a more advanced and faster technique for sure. I'm taking one step at a time:)
And with this I wish you a great New Year's  Eve and a Happy New Year :)
Katharina