Yes, another dress! Finally another dress ;) And I tell you in advance: there's not that much to talk about this one. It is my third attempt on the Gillian Wrap Dress in size 34. I almost sewed this dress right out of the envelope (well, out of the printer..), I only had to do my usual length alterations and it fit me! There are some variations to this pattern. However I have only made the dress so far. Skirt-only and wrap-top-only variations are included in the pattern and there are special instructions for them. I wanted to try both variation for a long time. But you know.. when I have to decide between a dress and anything else, I always end up sewing the dress ;)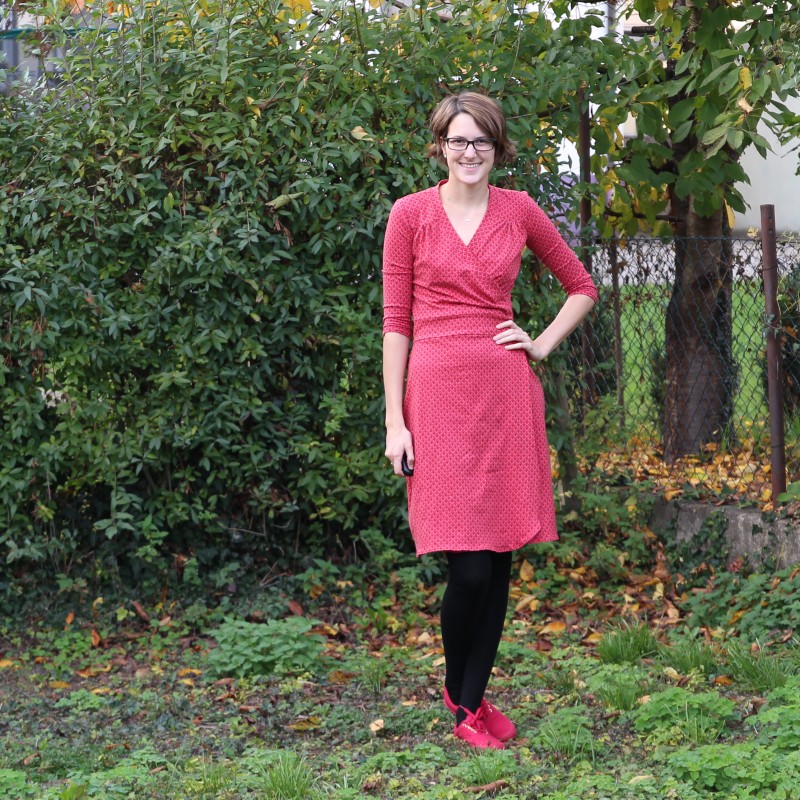 The dress is a little different from my other two version though. First: all three have different waist tie lengths, the ones of the first one were too short, the ones of the second one turned out too long and the ones of the dress in the photos might be just right, we'll see ;) I also made 3/4 sleeves. It is marked n the pattern were to cut for short, long and 3/4 sleeves. I simply cut the sleeves as long as possible, as I had only 2m of fabric, and they turned out a little too short to be long sleeves. So I shortened them to right underneath my elbows.
I bought the fabric at a fabric market. It is a medium weight cotton knit fabric, produced by Stenzo. The best thing about it is that it only cost me 6 €/m. Okay and that it is a really goof quality. I bought the fabric for the Peacock Lady Skater and my first Gillian Wrap dress at the same seller and they both still look almost as new and haven't lost their shape a bit!
I have not been able to make such a successful business at a fabric market again. Last Saturday I visited again. The weather was great which is bad for this biannual happening, because it means: more people. They were everywhere. Plus on the autumn/winter editions of those markets the seller focus on knit fabrics and dark colors. i am a lot more successful in the spring/summer round. I only bought like 3 fabrics and all of them were for Marvin.
and as I said before there isn't much more to say about this dress. The three main reasons I sewed it were: 1. that I thought the fabric is perfect for a wrap dress, 2. that I really like sewing the Gillian Warp Dress, the instructions are easy to follow and the sewing process isn't as mindless as with other knit dresses and 3. that I bought a new serger. Okay, the third one was the main reason ;)
I needed to try my new machine and I had this beautiful fabric left and one thing led to another ;) The machine I bought is a Bernina 700d, it replaced the first serger I ever had a W6 N 454D. I loved this serger and is absolutely worth its money but it is also kind of very load and rough /if that is the right English word… ;))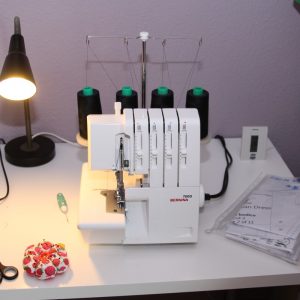 The Bernina sews and cuts through everything as if it were butter, it is sooo much smoother and so much less load :) And it wasn't even that expensive. I bought it from a commercial seller in the UK, which made it a lot cheaper than what it cost would I have bought it from a German seller. I also thought about buying the next bigger version to the 700d, the 800dl but I didn't see any advantages the 800 dl has that justified pending 100 € more and so far I'm very pleased with my decision.
What is so much more fun now is sewing side seams and other seams were I have to sew over bulky parts. It's like the Bernina doesn't even notice there is a bump, it simply sews over it. The presser foot of my old machine always forced the fabric to the left away from the needles and I had to really take good care to prevent it from doing that.
I still had problems to get a clean finish at the part were the ties meet the waist band, if you take a good look you can see the serger thread from the right side of the garment.
Plus the hem of the skirt turns inside at the vertical wrap flap (or whatever you call that :D). I would have needed a little more hem allowance than the 1 cm included in the pattern to get it not to twist I think.
But well, whatever, I like the dress anyway :)
If you're interested in reading about the self made tights I'm wearing in the pictures you can do so here.
I'm wishing you a great rest of the week :)
Macht's gut!
Katharina