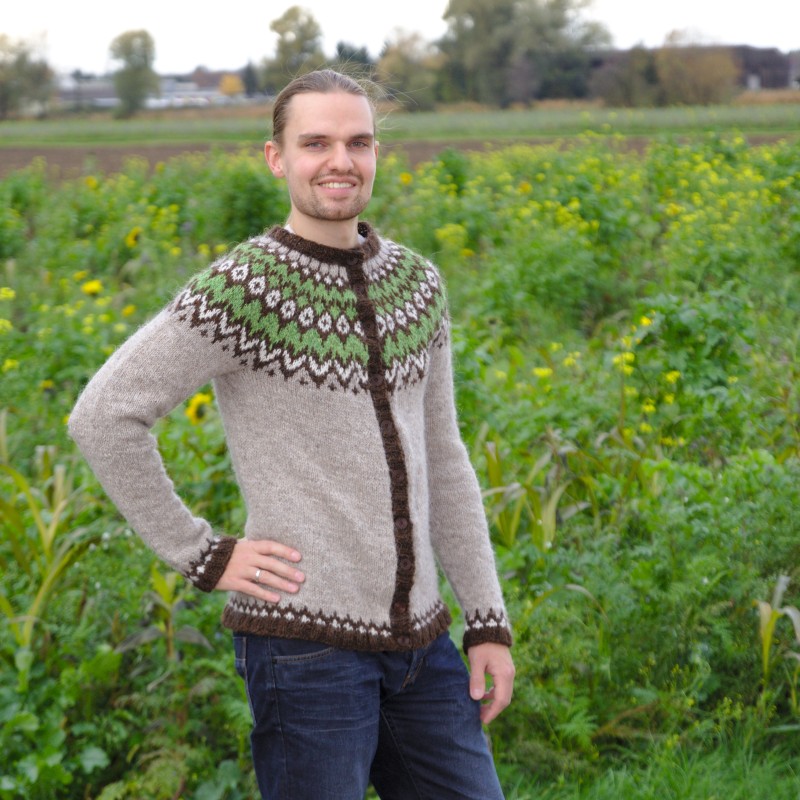 Shortly after showing off my selfish Icelandic sweater I am now ready to show you exhibit no 2: the unselfish Icelandic sweater! Before we went to Iceland Marvin thought about buying a real Icelandic sweater directly there. When he saw the reasonable but high prices for the sweaters knowing that I would love to knit him one myself he decided that that was what he wanted ;) I think it is a waste of suitcase space packing a bought jacket instead of some more skeins of wool, so naturally I was content with his decision.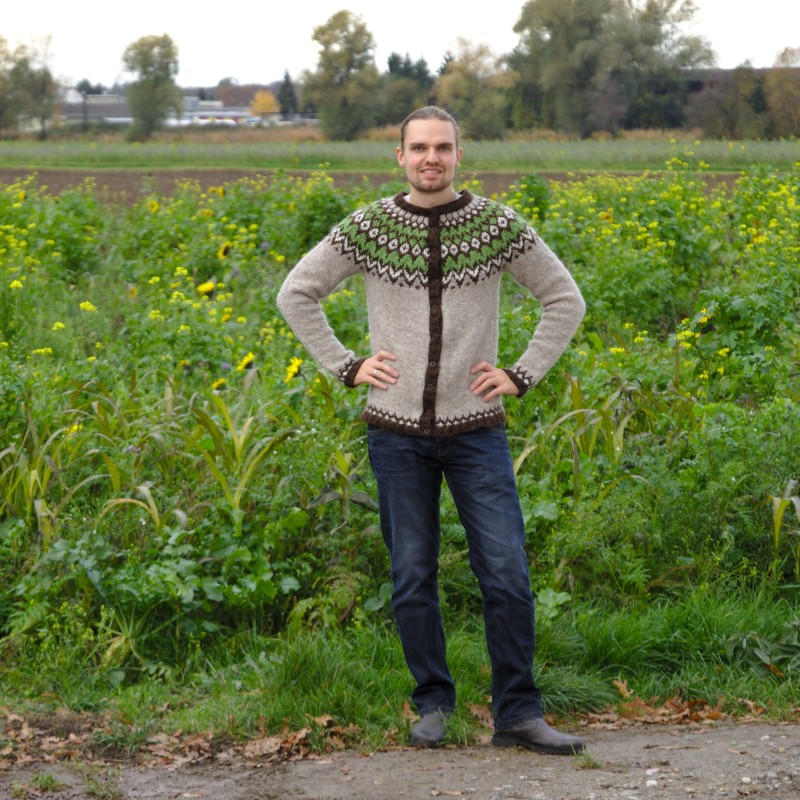 Especially because he is very uncomplicated with his garments. Unlike me he settles very fast on a design on colors and even on the size. I showed him two sweater designs, he immediately picked  Riddari an instructions coming directly from Ístex for a sweater in Léttlopi the non-plied/single/whatever you call this yarn that is DK weight. Marvin knew that he wanted the sweater in size M. I think I did measure him at some point to find out that size M was what he needed according to the charts. He also settled on colors immediately. He liked katymanjaro's sweater and wanted the exact same colors. I could find out what those coors were exactly. Marvin just picked colors that looked right and nice to him when I bought the yarn for my sweater at Nettó Supermarket in Reykjanesbær. Short reminder: the yarn was cheaper in the supermarkets than in the official wool stores. I paid 267 ISK per skein which was the cheapest I could find during my trip. For Marvin's sweater I bought: 8 skeins (400g) in color no 86 (light brown), 1 skein (50g) in color no 51 (white), 1 skein (50g) in color no 1406 (light green) and 2 skeins in color number 867 (dark brown). But behold! I got the skein amounts from the Ístex pattern page for size M. There it says you need 2 skeins of color B, which was dark brown in my case. That was not enough. Not even close. I had to buy another skein of dark brown and paid a lot for it. Luckily some German stores sell this yarn and it got here quickly. But I paid more for shipping than for the yarn itself. So I needed 3 skeins of color number B!
You can download the pattern from either Ravelry or from the Ístex website. It is cheaper if you buy it from Ístex directly. However you need to create an account. And so I bought the pattern via Ravelry. I am so used to being able to order stuff in online stores without having to create an account. I think the EU forces seller to allow that, but as Iceland isn't in the Eu.. I had to spend two Euros more.. oh well :D
I don't know who's idea it was to make cardigan and not a sweater. Maybe I mentioned that I could do that.. However Marvin likes Cardigans better because they are easier to pull off. When I realized that I wouldn't have that much of the dark brown yarn I thought that maybe a sweater would be better ;) But as there wasn't enough dark brown yarn to finish the sweater even without the button bands and I had to get another skein, I had enough yarn in the end to make those button bands happen. And because I wasn't sure from the beginning whether a cardigan or a sweater would be better, or better said: i didn't know what Marvin would like better I decided to simply knit the sweater and eventually steek it into a cardigan, which I did :) I used this instruction to secure the stitches with my sewing machine and it worked out great. I knit the button band before cutting into the sweater, the cut in between the button bands and afterwards knitted the neckband. To hide the steeked fabric I reinforced the button bands like I always do and hid the fabric in the same step.
And here are my thoughts on the instructions: They were available in may languages and I downloaded the German and the English version, they were like exactly the same, well except for the language of course ;) The instructions didn't even fill a whole page, they are kept super short, but to be fair there isn't that much to do. The sweater is exactly the same from the front and the back, so no short rows or anything. there is no waist shaping and just a little bit of sleeve shaping. The seater is meant to be knit bottom up. You start with the bodice and knit is up to the yoke, than you knit both sleeves up to the yoke but all of them on one circular needle and knit the yoke. Because I prefer knitting top down I knitted the whole thing top down. I think it is nicer to have everything in one piece and not having to knit a part, put it aside, knit another part, put it aside and so on. However short the instructions were, I was very pleased with the colorwork chart, it was all I needed. The increases or decreases (depend from where you start knitting) are marked in the chart which made it easy for me to knit top down. However there are at some rows little comments that I didn't read until after having finished the yoke. They say something like: don't knit this row for size XY. So the yoke now is longer than it is supposed to be. the brown yarn would have been enough either way fyi. There were a few rows where you had to knit with 3 colors. ugh! I can knit with two colors just fine. I use a thimble that is made for knitting with two threads at a time and I get the tension right and all is fine. But those rows where I had to knit with three threads I could not sue my thimble as it can only hold 2 threads. But as you can see I somehow managed that too ;) I always cross the threads after 3 stitches maximum so that I don't have long threads on the left side of the garment and that was kind of hard to archive with three threads too.
After completing the yok the knit got boring. Plain stockinette stitch knitted in rounds. Oh well. I did notice something though! I have read the plea  from some knitwear designers to knit swatches (I did that with the sweater I knitted for myself and so I didn't do that here, I knitted with 4mm needles to obtain gauge which  18 sts x 24 r = 10×10 cm). You should also please wash the swatches. In the Riddari instructions you can find it often that you should knit XY cm until you do something else. But if my garments gets longer or shorter after washing XY cm aren't XY centimeter after blocking the garment. So I think talking in length units instead of rows violates the knit-a-swatch-and-wash-it-rule. And I have to admit here that even when I always advise people to wash their swatch I have only done that once in my life. You know: no risk no fun, and Ístex seems to be on my side with this ;)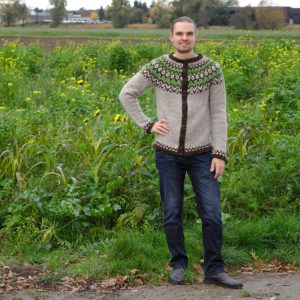 So in conclusion I would say that you pay for the colorwork chart. Because the instructions didn't really give me anything, they didn't really make a difference. Plus I needed more yarn than what was suggested, which wasn't that great, plus they violate the wash your swatch rule. Which is okay, but there is a reason why you should do that and it seems to me someone didn't really put that much thought into the whole fit/swatch thing with this pattern, which is, well, a little unprofessional. Because Ístex charges professional prices, you see. The instructions aren't that much different than those you can find in most magazines. But I don't like those either! Well however, no hurt feelings here, but I think if you buy the pattern you should know what the facts are.
I wet blocked the sweater after the steeking and knitting of the button bands and neck band. I soaked it wet and let it dry flat on or floor heating. Ohhh floor heating, how could I ever live without you?! So the yarn already felted a little. Marvin sais it did not felt enough to be wind proof. So I guess we have to go back to Iceland to let it felt some more ;) What it interesting too is that Marvin doesn't thing the cardigan is itchy. And he is more sensible in that matter than I am usually. And I find my sweater highly itchy. But I have thought about that and came to the conclusion that we are talking about two different kinds of itchiness. I think usually when you talk of itching sweater it is more of a scratchiness, because the wool itself is rough. What I mean is a real itchiness like when you were at a hairdresser and the hair that was cut of but somehow managed to get into your cloths itches. That is the problem I have with this yarn. I have the same problem with baby alpaca yarn which is supposed to be super soft, but it itches me. There you have it!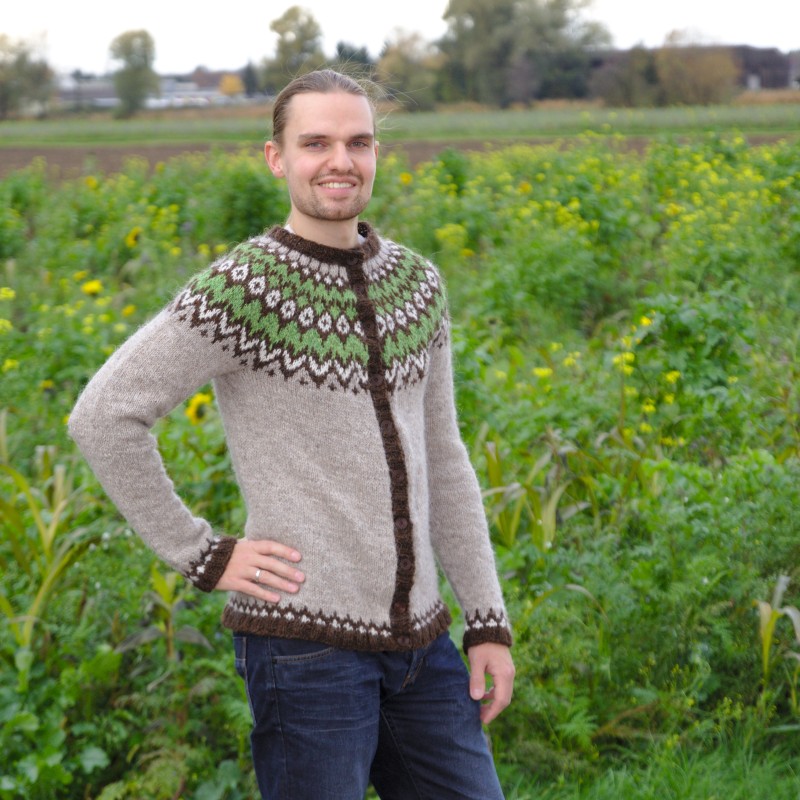 Here you can look at the same pictures on Ravelry ;)!
Macht's gut!
Katharina