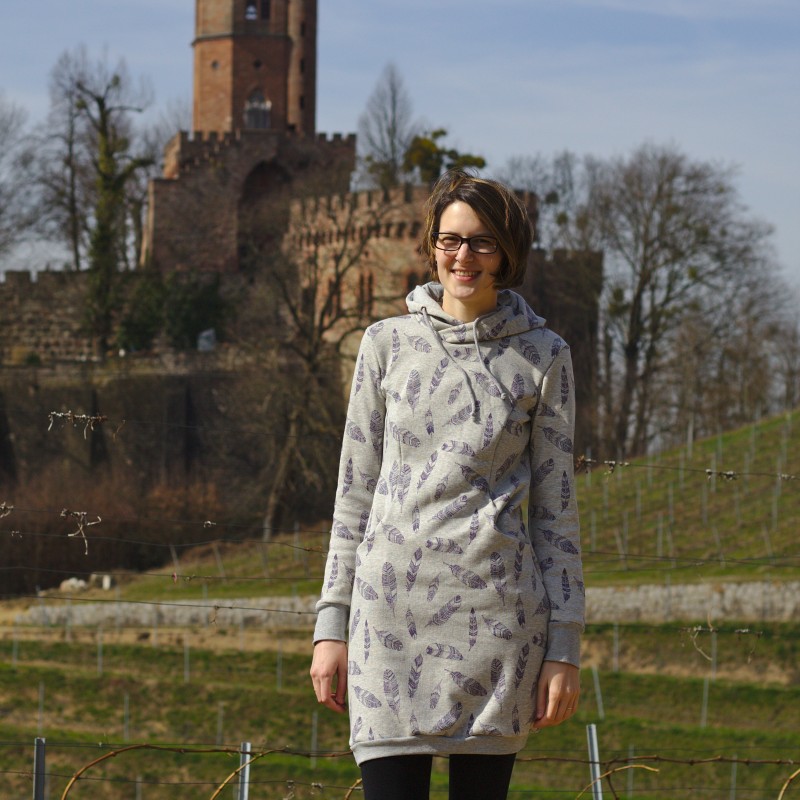 I commute by train. I have to change the train 2 times. This has its disadvantages. But there is also the advantage that if I have to wait there are kiosks at the stops that sell sewing magazines. I know them all, the latest patterns in these magazines. Most of the time I just look and do not buy anything. Tis variety of patterns in sewing magazines overwhelms me, and words cannot describe how much I hate it to search the right pattern line with twenty of other lines in 10 different colors drawn over the line I'm looking for.I am also not a fan of those short instructions and I don't like adding seam allowances myself. I know, some people don't like included seam allowances, but I don't like to draw and I am very sloppy. I think those are the reasons why I have so many sewing magazines on my shelf that I have never really used.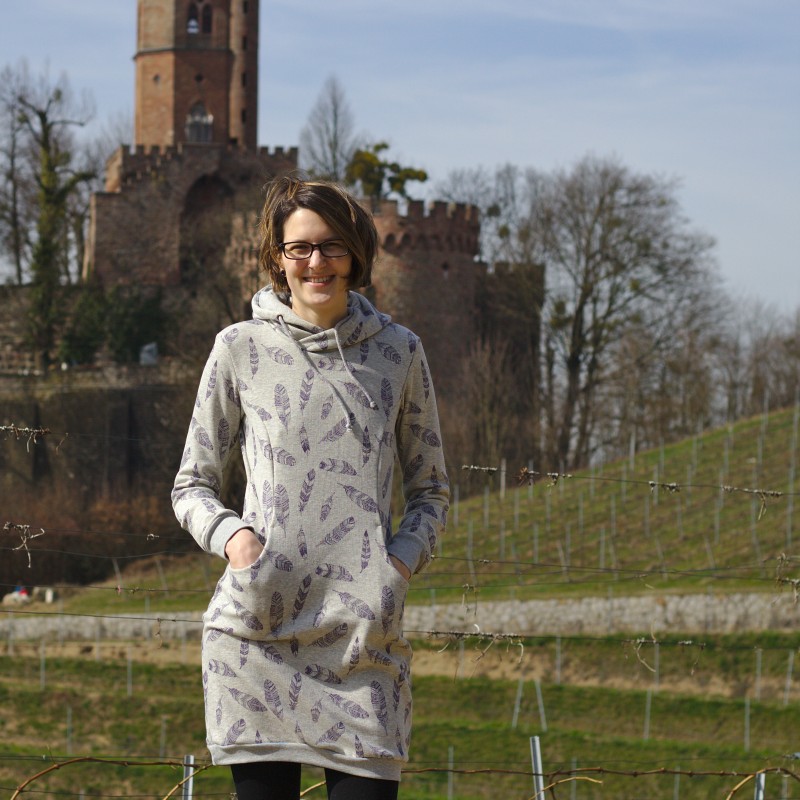 But once in a while when the magazine really speaks to me I might buy it. When I came across the latest Ottobre Design (02/2017) I was intrigued. It took me about a week to convince myself to buy it. I have never tried Ottobre before, there are only few patterns in the magazine, it costs more and it is only published like 4 times a year, I think. There are also people like Lisa who are huge fans of their designs. So I thought I might give it a try. Especially because I really liked the sweatshirt dress pattern 'Hide Away' and the leggings pattern 'Stream' from this issue.
I started with the sweatshirt dress, or long hoodie or whatever it is called. I had some fabric in my stash that I knew was perfect for this pattern. I bought it a while ago on a local fabric market. It is 65 % polyester, 40 % cotton and 4 % elasthane. The left side of the fabric is fur-like and super soft and cozy. I knew that if I don't use the fabric now I will have to wait at least 6 month.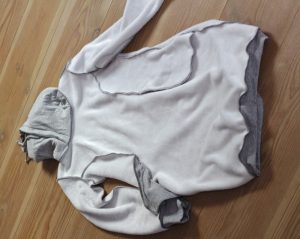 I think the pattern calls for a non-stretch fabric. The instructions don't say anything about that, but I saw that there is a remark to use stretchy fabrics for other patterns in this magazine. And as this remark was missing here it must have meant that the fabric should be unstretchable :). I didn't think much about that and simply used my stretchy fabric and cut size 36 according to my measurements. I liked that there is explicitly said that the pattern is drafted for women that are  164 – 172 cm tall. There is also a measurement line in the instructions indicating the length of the finished sweater. I lengthened by my usual amounts while trying not to change the proportions of those princess seams too much.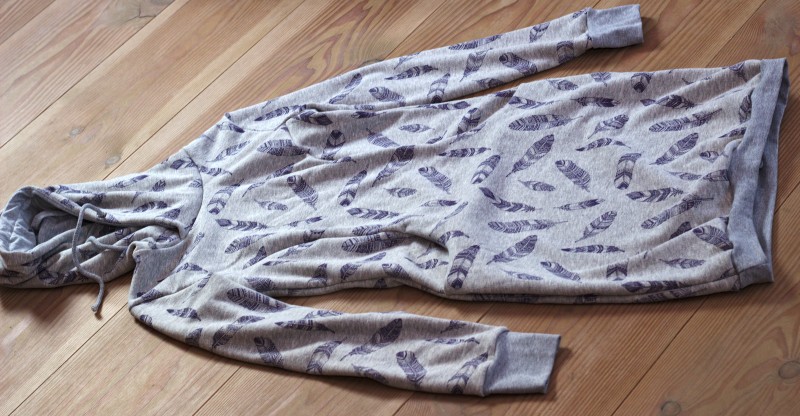 There were pattern pieces even for the cuffs, which was nice.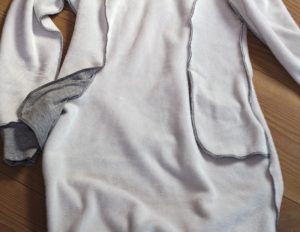 I lined the hood (the pattern doesn't want you to) and the pockets with fabric that I bought locally, the ribbing fabric is from the same shop. I am so glad to have small local fabric/yarn/everything store nearby. It is very expensive but sometimes I just want to sew something right away, and than it is perfect and reasonably priced ;).
Sadly the only matching fabric they had was very thin and light weight and it is much more unstable than the sweatshirt fabric. I think that and the fact that the fabric is stretchy lead to the gaping pocket that you can see in the picture above. It is not too bad, but something I will consider next time.
The sewing process was straight forward and fast. Everything falls into place once it is cut. I didn't even bother to read the instructions. In addition to lining the hood I also attached rivets and a drawstring.
When I tried the sweater on the first time it was too wide. I blame the elasthane, well, I should blame myself ;) But that was not a big problem, I simply took out some width. I used my serger for all the inner seams and my sewing machine for topstitching.
I am not sure about the fit of the shoulders. They seem a little wider than usual. When you look at the photos in the magazine the shoulder look even wider on the model than they do on me. I am not sure if there is an issue in the drafting of the patterns (very wide shoulders on their blocks), as I have seen these loose shoulders on some of the photos, or if this is a design thing. I might need to try another pattern to find out.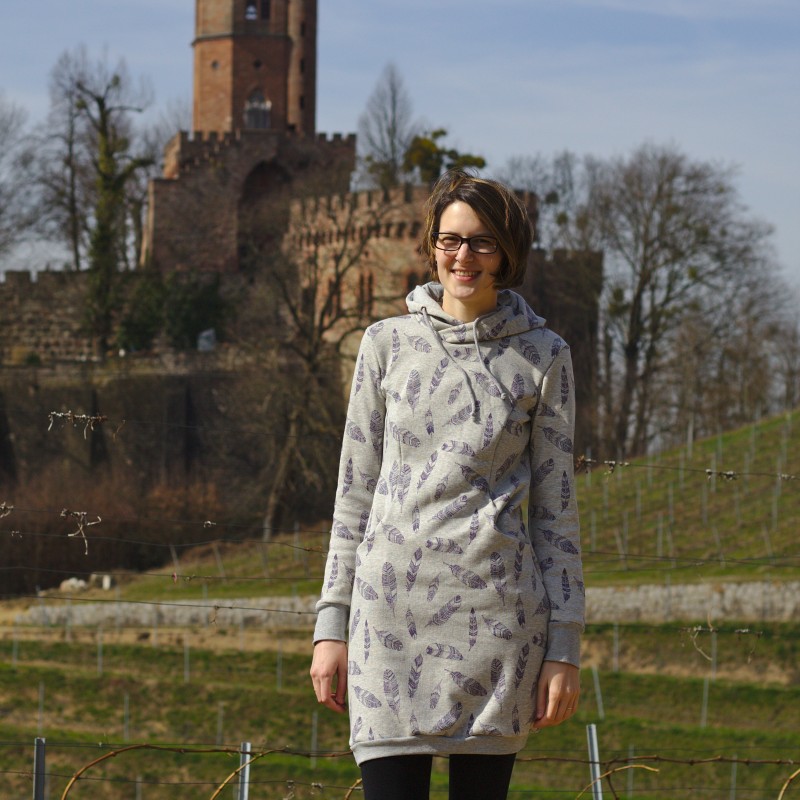 However I am pleased with how this sweater turned out. It is super comfortable and great for hiking, when it is not too warm. I think Ottobre might be a good source for some basic/ everyday wear patterns and I've seen that they also publish menswear patterns. I will definitely try those!
Macht's gut!
Katharina