5 days before we took off to spent some days in a holiday apartment that has a sauna I became aware that I didn't have a proper bath robe. How convenient! I thought I had everything and didn't really need to sew more clothes, but here I was. Without bathrobe! So I immediately started looking out for a suiting fabric, The holiday was only a week or so away and I knew I wanted 100 % cotton terrycloth.I don't have stores nearby selling that so I decided to buy online which was a little tedious, but in the end I ordered some terrycloth via ebay that weights 440 g/m which I think was perfect for a bathrobe, not too thin not too thick. I went with purple but I would have liked a dark red better, but it was almost sold it. I only ordered 3 m. I knew I wanted to sew Burda 2653, which I have sewn before twice(here and here) and I know I used more fabric than 3 m, like a lot more. I don't know what got into me. In the end I had to shorten the bathrobe and I had to cut the sleeves cross grain. But I'm glad I figured something out and ended up with a bathrobe at all.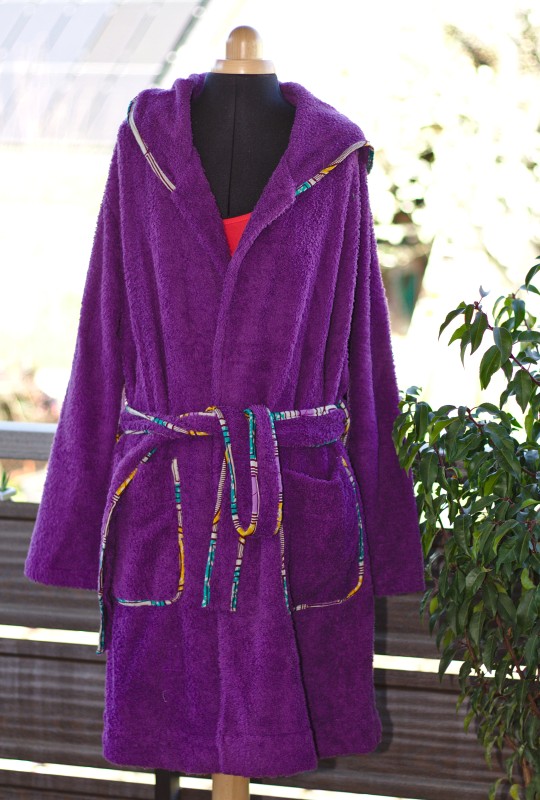 The bathrobe still is long enough, it covers my knees and the cross grain sleeves are not noticeable.
The pattern does not seem to be available on the English Burda site. Here is a link to the pattern on the German site and here is one to the pattern on PatternReview.
It was a lot of tedious work taping the pattern pages together. The pattern comes in two large separate parts divided on 87 A4 pages and you can also buy it already printed. I have made this pattern before but unfortunately in another size than what I need for myself. I actually didn't cut the size I would have needed, which is 36 in Burda patterns, but I cut size 38/40 as this was the smallest size available. I thought that I could simply cut the pieces without seam allowances, so that the bathrobe comes out a little smaller, but to my surprise 1,5 cm seam allowances were already included in the pattern. Remember, this is a Burda pattern. I have never seen already included seam allowances in their patterns. What is also noticeable about this pattern is that you can download the instructions for free. However they are not available in English, but in many other languages and the pictures are kind of explanatory.
I decided to sew version a, which is the version with the hood, I only adapted the length. I thought about grading down a size or two, but I didn't have that much time and I kind of didn't think that would be fun and so I decided that the fit of a bathrobe isn't that crucial ;)
I cut into the fabric and immediately finished the raw edges with my serger, because terrycloth frays a lot. I still find purple fluff all over my apartment.
It would have been a quick project had I not had the idea of using bias binding as decoration almost everywhere possible ;)
Why did I do that? I had this wax print in my closet for ages and I didn't really know what to do with it until I accidentally realized that it looked pretty nice in combination with the terrycloth. So I cut some bias binding. The print on the wax print is diagonal to the grain and thus parallel to the bias, that's why it looks like I haven't cut the binding on the bias, you just have to take my word on that :) It cost me some nerve to apply the bias binding, especially at the edges of the waist band it got tricky. I had to redo some seams, but at the end of the day the thing was finished!
I also bound the pockets, the facing edges, the hem, the hood edges and the belt loops. I finished all the inner seams with my serger. And now that I think about it, I think it would have been nice to also bind the inner seams. But I'm glad I only had the thought just now or else I wouldn't have finished the bathrobe in time.
But so I did and I looked great in it, hehe ;) Okay, it was a little wide at the shoulders but I'm still very pleased with how it turned out.
I'm also pretty pleased with Burda this time. Nothing to complain, apart from the restricted size range. I even think the instructions are understandable. And if you're not sure if you will be able to understand them you can take a look at them in advance which is pretty cool.
I thought about showing you some pictures of me wearing the bathrobe, but meeeh, I wasn't sure if I really wanted that and so, well there are none ;)
Macht's gut!
Katharina