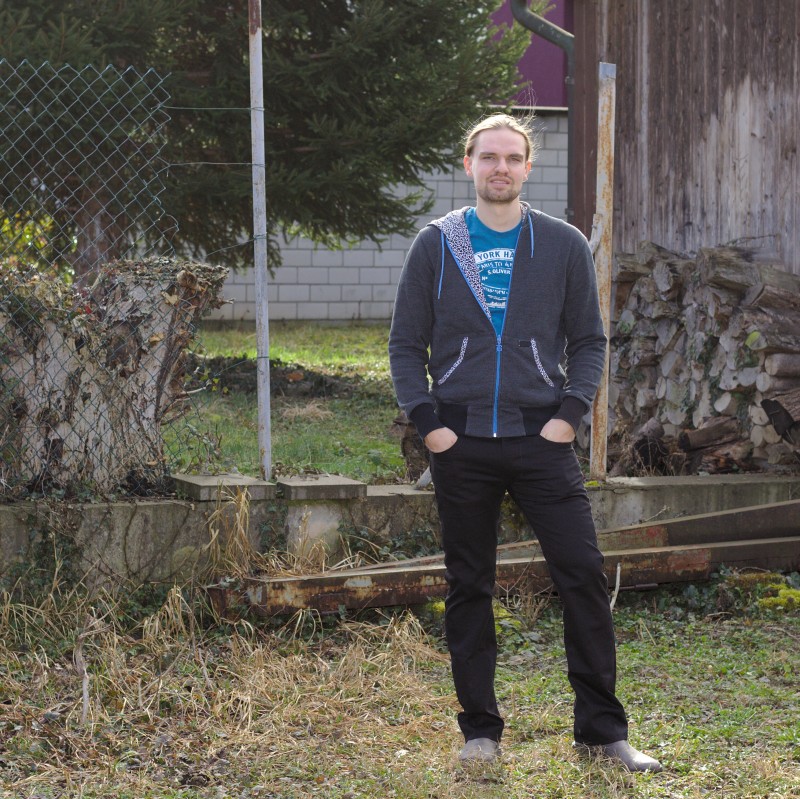 Not so long ago I blogged about a pair of jeans that I made for Marvin. I used the Thread Theory Jedediah pants pattern and I wasn't that satisfied with the outcome. I think the pattern just wasn't what I was looking for, the cut simply isn't the style Marvin usually wears and likes. It is a little too wide at the upper leg an too narrow at the lower leg. Thankfully Cornelia commented on the pants, hinting me to a German blog, where someone else hints towards the free jeans patterns of the French company 1083.Oh man, I was sooo excited when I saw this. 1083 is a company that sells locally made jeans and shoes. And they have published 3 of their patterns under the Creative Commons 3.0 license, which basically means, that everyone can do with it whatever they want to and of course everyone can use it for free (under ' Kit Zéro Kilomètres'). You get my excitement now, right? Two of the patterns are for women's jeans (both designed for non-stretch fabric, I will definitely try them too) and one of them is for a pair of men's jeans!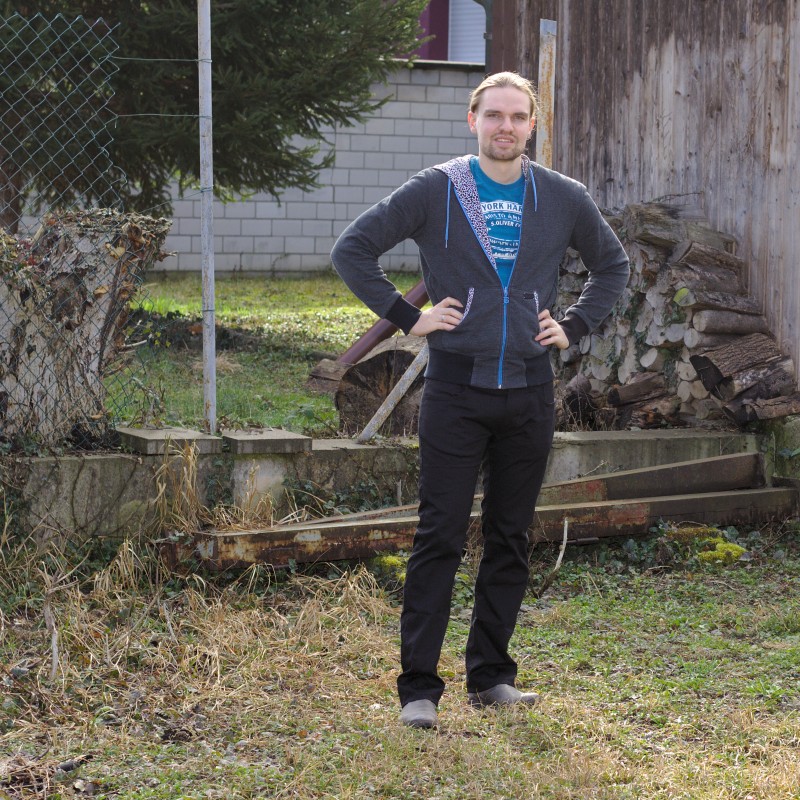 You don't find that much about the patterns on the website (or at least I didn't). You find a lot about the company itself and their concept. The concept sounds great and the prices are totally reasonable. I have read that there are kits available to make your own jeans, but I wasn't able to find them in the shop. However, I did find the fabrics 1083 uses, they sell them too (under Nos Denims)! The denim fabric is produced in France and the price is reasonable, however, shipping cost are kind of high, so I didn't order right away. But I will do that in the near future.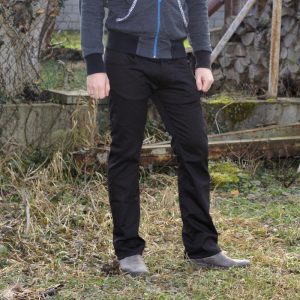 First thing I did was try to find out as much as possible on this pattern.  The RTW jeans made from this pattern are all made from non-stretch fabric so I knew what to buy and work with (the only stretchy fabric 1083 sells is called FlexDenim). On the rtw pants' website there is also a  measurement chart (tab 'Guide des Tailles'). I measured Marvin and found he would fit into 33 waist and 32 length (and that is what he usually wears in rtw pants too). Because I am always very much afraid to make something too short I cut size 34. But I took the extra length out in the end. Of course.
Now I was ready to print out the pattern (there is another pattern name printed on the first side, don't let that confuse you) and tape it together. I had problems doing that. The first taped together row and the second one didn't seem to match, there were some centimeters missing. I checked the pdf but I don't think I cut off too much. I think there might be something wrong in the pdf. But that wasn't that fatal, because mainly that destroyed the front leg. And there is a mirrored pattern piece of the front leg in the pattern. I checked, it seems to be the same pattern piece, it must be (I cannot be sure, because well, there are a few centimeters missing ;)). I think it is simply twice in there to make cutting exactly on grain easier. As I was too lazy to add seam allowances to the same pattern piece twice anyway, I just ignored the first front leg piece and only cut out the second. Oh yes, there are no seam allowances included in the pattern. I added 1.5 cm everywhere. I also didn't use the buttoned-front-fly pattern pieces. Marvin wanted a zipper and I like sewing zipped front flies better (because that is all I have ever done;)). I added the front fly placket piece to the front leg before cutting, you can sew it to the front leg easily and that seems to be what the pattern wants you to do, but I didn't want that. So I didn't do that. Because I can! I didn't use all the pattern pieces, because I didn't want the buttoned front fly and because I didn't want that triangular topstitched detail above the back pocket, that the rtw pants have. I'm saying I didn't want it. What I mean is : Marvin didn't want it.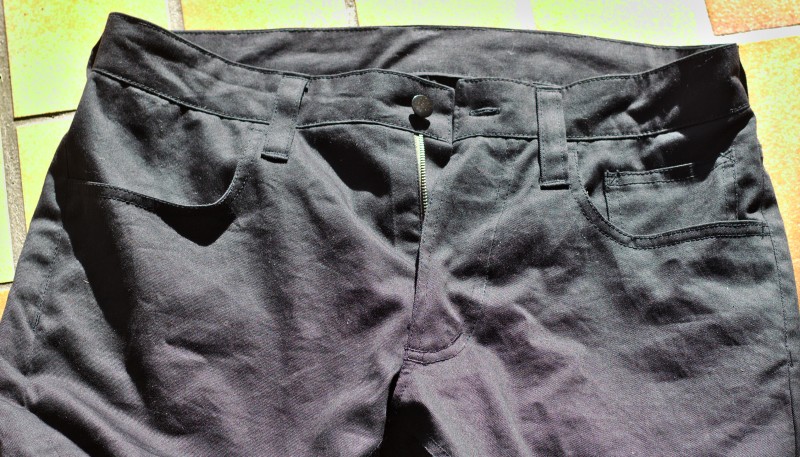 The waistband is one pattern piece and because I find that a seam at the upper side gives the band more structure and stability I divided the pattern piece lengthwise and cut two waistbands, one inner and one outer.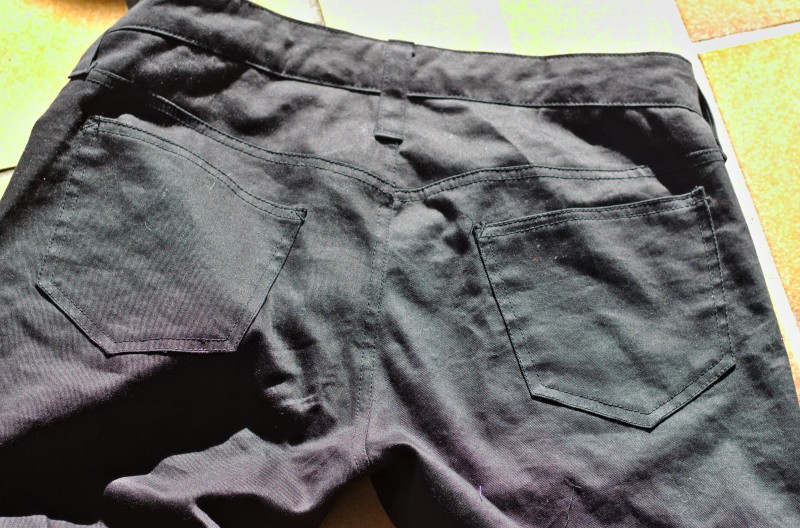 In the end, my pattern pieces looked like the pattern pieces of the Ginger Jeans pattern. How convenient! ;) I would have used the Sew Along , if I didn't know it by heart at this point. I love that Sew Along and I love the Ginger Jeans pattern.
There are also instructions printed on the pattern. They are in French and they seem to be very 'basic', I don't know what exactly they say. My sewing French isn't that advanced (I know what 'fabric' means, and 'I want to pay with card please', that's all I really need). But I know those instructions cannot say that much. If you don't like making a zipped fly I would advise you to check out ClosetCasePattern's Morgan Jeans tutorial on installing a button fly. I haven't tried it yet but I bet it is great.
In an early stage of the making of these pants I basted everything together to see if it fits. And as every time I do that, it did fit. Okay, the legs were too long. It seems that things only do not fit, if I don't try the fit beforehand.
The fabric I used is cotton twill that I bought online at Stoff&Stil. Marvin wanted a true black pair of Jeans and I think it is kind of hard buying denim online and so I went with the twill. It is on the lighter side of twill fabrics and it has a shininess to it, that I like. I also ordered topstitching thread at Stoff&Stil just to try it out. I really like the way it looks, it is matt. But I had loops on the wrong side of the seams unless I increased the tension a lot.
And I know this will be coming as a shock to you: I didn't add any decorative stitching to the back pockets. AND I used black serger thread. You see, I didn't know if this pattern was going to work out and I didn't want to put too much effort into the details. Plus the black of the fabric swallows everything. It is so hard to photograph black pants, I hope you see enough on the pictures. But if not, I ordered some more denim. Just for you, my dear readers!
Marvin wanted bar tacks instead of rivets and I found one last black jeans button in my stash, so this pair is really completely black. No, wait, that is not true! I didn't have a black zipper with this stop automatic that was at least 18 cm long (because that was the length I needed) and so I used a green one.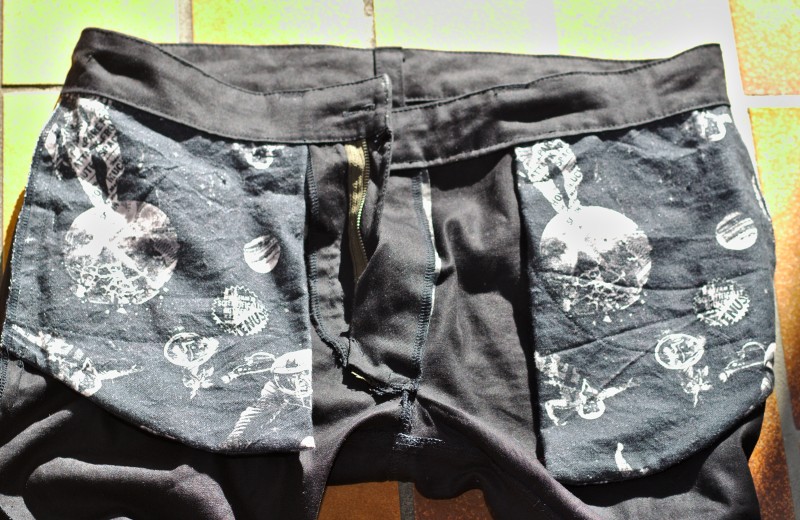 The pocket lining is a bit more fun! I bought it at Stoff&Stil too and I really like the print, but I knew it was too thick. I used it anyway and now you can see the pocket seams from the outside. Oh well!
I added another fun feature! I added the coin pocket to the left side of the pants, because Marvin is left-handed ;) Haha! I told him that I attached it to the wrong side, because I cut it out wrong and he said that this is a feature as he is left-handed ;) What an engineer he is! ;)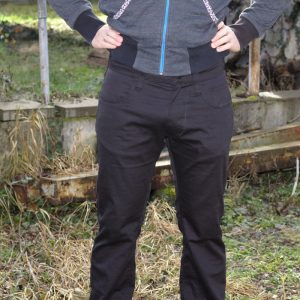 I am reeeeally happy with the pattern! I didn't have to think too much and it fitted Marvin out of the envelope (or right out of the printer that is). I think it is great that it is free. 1083 say they offer it for free, as sewing your own jeans is the most environmentally friendly way to produce jeans. How right they are. It is also the most fun way, if you ask me ;) And I will totally order that denim fabric. I mean, shipping is free for orders over 200 € hehe. I just need to order a lot of fabric. Or some shoes. I can always use new shoes!
Marvin is also very happy with his new pair of jeans. That is even more important than that I am happy. Although I think I am pickier than he is. Now that we have a working pattern I can start the mass production, since I don't go shopping any more Marvin doesn't  either and he really needs some new pants! It is good that I have these superherosewingpowers (even in French!) and I am going to put them into action now! ;)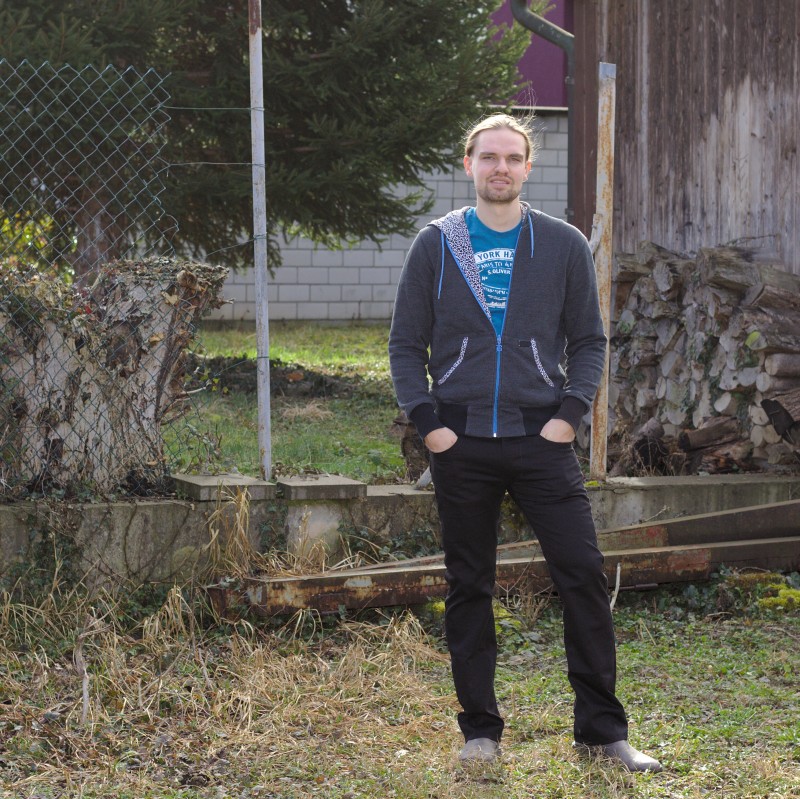 If you have any questions on the pattern or my process feel free to ask me. I might even be able to translate some French to English.
I feel like there are a lot of links in this post. Please know, that I linked so much, to make it easier for someone who wants to sew this pattern. I didn't get anything for linking up, the links are no affiliate links and as usual all the opinions in this text are 100% my own.
Macht's gut!
Katharina