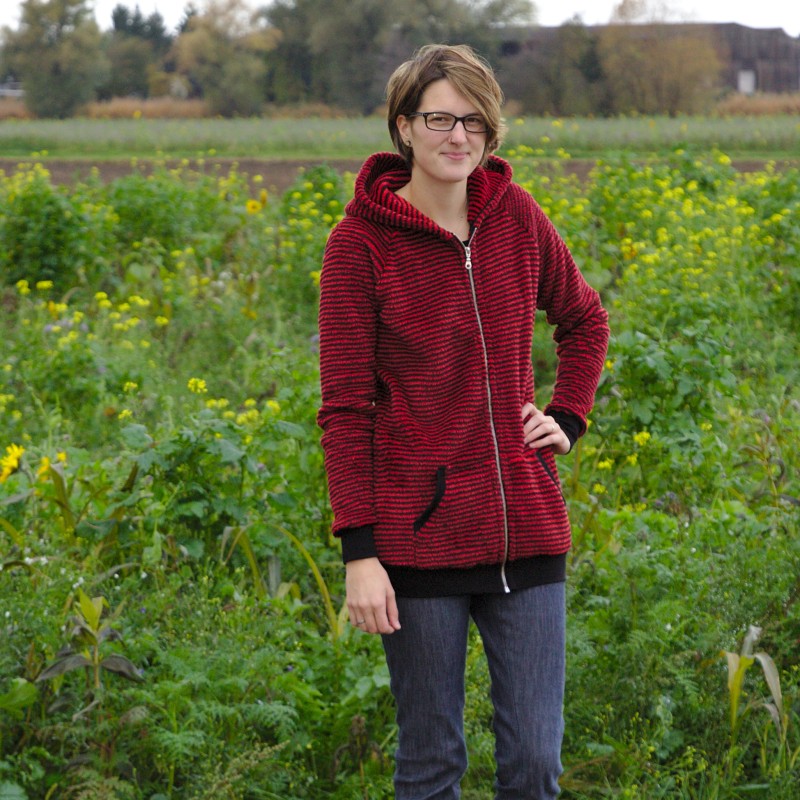 It is time of the years again when I sew zipped hoodies. That is because wearing hoodies this time of the year is so practical. You can wear them shut, you can wear them open and you can easily take them off. This is crucial for this kind of weather right now. Super cold when the sun is away, a lot warmer when it shows up. And insanely warm inside, especially on trains. I don't know why it is always so hot inside of trains. I'm only on it for like 10 minutes and I have to take my jacket off each time. anyway, moving on. Another great reason for me to sew a hoodie was that I needed my new serger for that ;) And that I had bought this fabric without having any idea what to do with it.I just bought it because I thought it looked nice and fury and warm 8okay, and it was on sale). Turned out that it gave off a lot of fluff and needed to be turned into garment right away. Apart from the fraying the fabric is great. It is super soft and warm and looks nice from both sides and because of that I turned it into a Hoodie.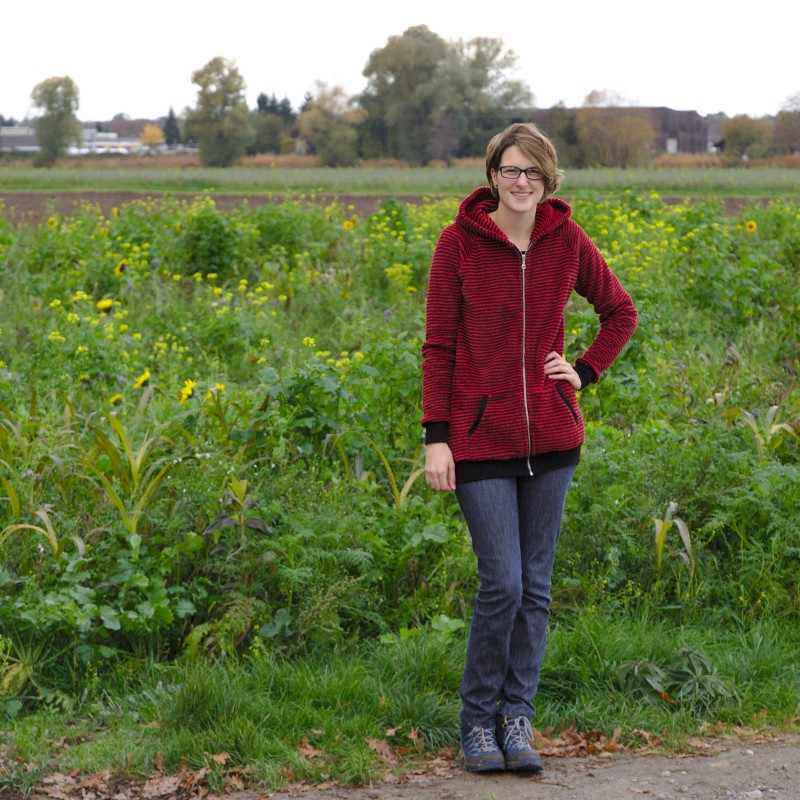 I chose a pattern from a German designer Janice by Pattydoo. I sewed this pattern once before and liked it a lot! Pattydoo is an apprenticed seamstress that started a sewing pattern business a few years ago. Her patterns are well drafted and the instructions are very clear. However most of them are only available in German. But the instructions are all available as youtube video, so you can see what needs o be done. Also she sells the patterns for very little money, this one for example only cost me 3 €.
I myself am not a huge fan of video tutorials, I just don't like following them. I like written instructions a lot more. But as I omitted the facings because of the much too bulky fabric on the inside of the hoodie I had to change the assembling order and didn't need the instructions anyway. Everything got a little easier this way. But this also meant I had to deal with hiding the serged seams. Well, I didn't have to. But I wanted to.
So first I wrapped the serged seam allowance in the hood with woven bias binding, laid it to one side and stitched it to the hood.
Afterwards I assembled hood and jacket. The jacket was already assembled at this point, the zipper was attached but not yet turned right side out. The front of the hood was still unfinished. I wrapped this seam allowances with bias binding too and stitched it to the jacket.
Then I wrapped the whole center front with bias binding, folded it to the wrong side and stitched it to the jacket.
Et voila: all looks clean ! :) Well, okay, my stitching lines are a little wonky. I blame the bulky fabric!
I sewed the hoodie in size C with corresponds to size 36 but has its own name because German sewers tend to not measure themselves before deciding on a size to sew. This goes so far that a lot of the German pattern designers do not even include a measurement chart in their instructions. Madness, if you ask me. It is also not usual either that they include seam allowances in their pattern. I don't know if that has tradition here, I mean, Burda doesn't do that either, but I like it better when it is included. And thankfully Pattydoo includes seam allowances in her patterns.  In this particular case the included seam allowance is only 0.7 cm which is a little small for my taste.
The waist ribbing is smaller than suggested in the pattern, because I ran out of ribbing ;) There are no pattern pieces for the ribbings, but the measurements are given in the instructions. I lengthened the bodice and the sleeves each by 10 cm. And I found the zipper in my stash. No clue how it got there: But I'm not complaining ;)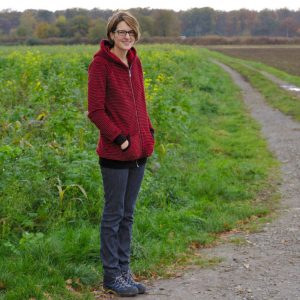 The jacket has proven itself on two hikes so far. It is very cozy and warm and light. On the pictured you see here I amd wearing it with my first pair of Ginger jeans that I also like for hiking.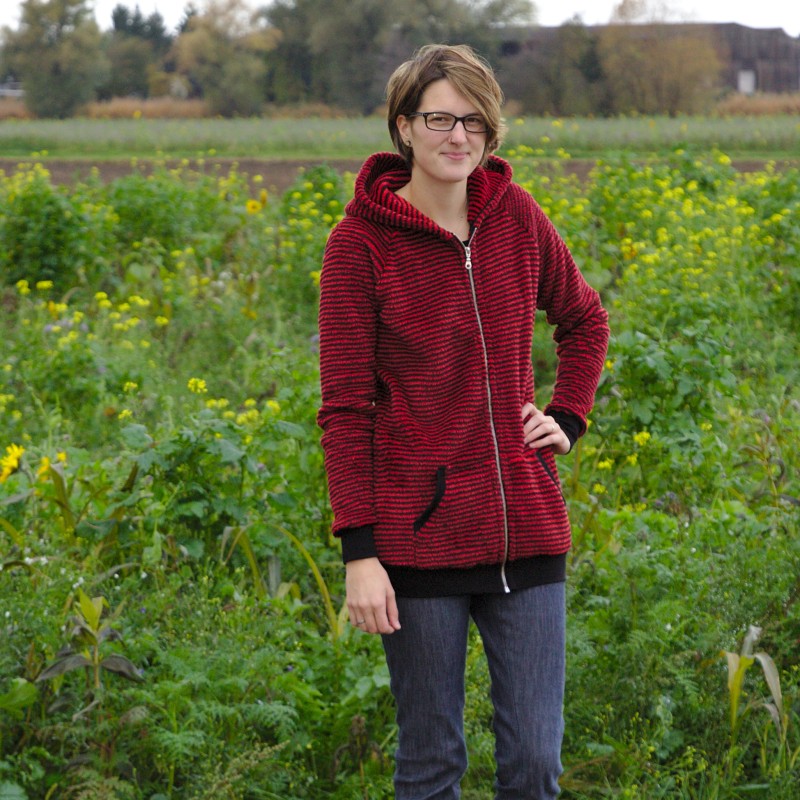 And that is it from my side for today! Thank you for stopping by and reading :)
Katharina