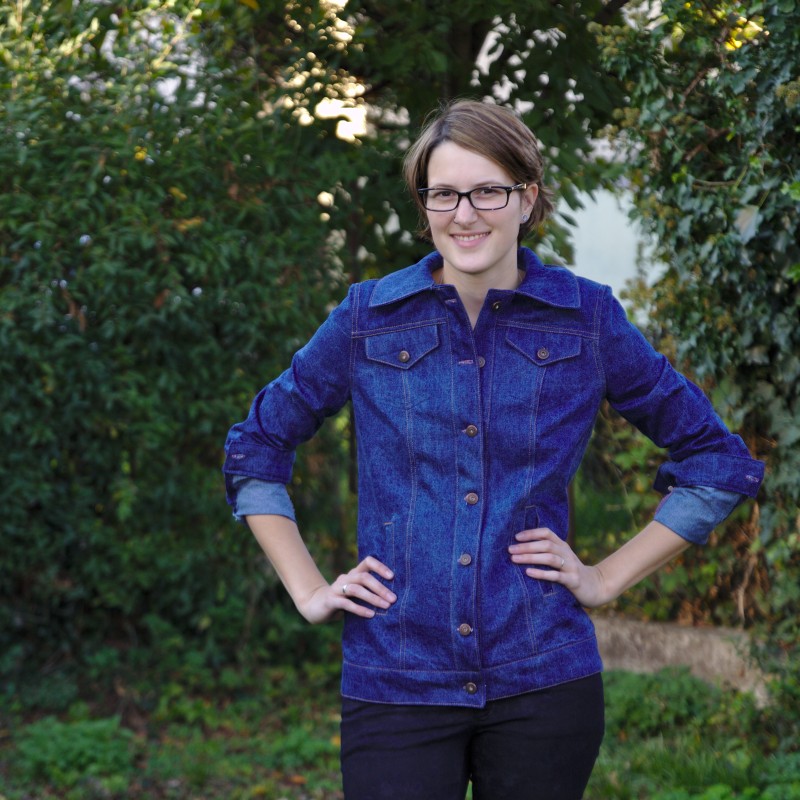 A little over a year ago I sewed my first denim jacket. Oh how proud I was! I since wore the jacket often and it is one of my favorite pieces (and again, what isn't?). But I always had the intention of making another, improved version of this jacket. I wanted pockets, a better fabric and most important: real jean jacket wrist cuffs. The first version was more of a trial. When I was looking for a pattern I didn't find anything that wasn't Burda. And with Burda I always need a trial run, especially when I'm sewing something a little more sophisticated like a jean jacket ;) The pattern I used is Burda 7018. At least it is not from the magazine but a single pattern. The instructions are better with these. When I sewed the pattern the first time I wisely added 1.5 cm seam allowances directly to the pattern. I gave myself a big pat on the back for that! Thank you Katharina from one year ago!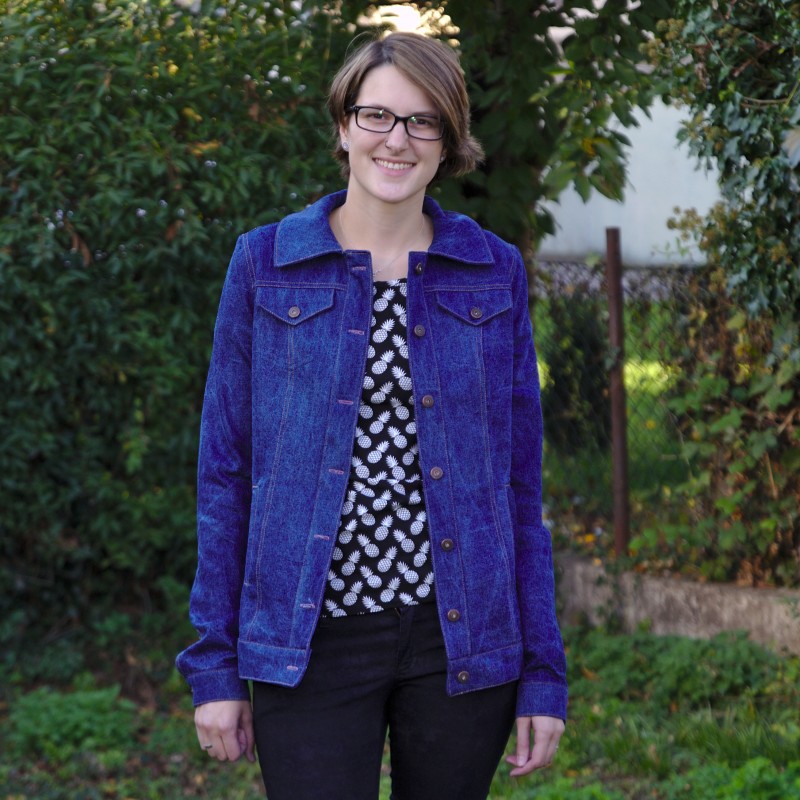 You see, there almost is nothing more annoying to me than adding seam allowances to pattern pieces directly on the fabric. I am one of those philistine sewists that pin the pattern pieces to the fabric and cut along the border lines. No tracing or anything. Bah! And so everytime I had to add seam allowances myself I simply added them 'by eye'. Which means: I pines the pattern to the fabric and cut approximately 1.5 cm away from the pattern. Well, guess how that turned out: you never knew, it was always a surprise.
This time I wanted a long jacket. These days it is kind of a trend to wear ones jean jackets rather short. But ugh, I have a severe phobia against short garments. Before I started sewing I had no choice but to always wear too short garments, because I'm too tall to fit into anything lengthwise. Since I sew I kind of often overdo the lengthening a little. because of said phobia and that might have happened here too. The jacket could be a bit shorter I guess. But maybe my eyes are just used to seeing short jean jackets and the length is fine. The width however is size 36 which is my usual Burda size. But not the one the measurement chart tells me to wear. I tells me I'm a 38 or 40.
I bought the fabric at a dutch fabric market here in Germany, You see the dutch people are well known for their beautiful and inexpensive fabrics. And so there are dutch fabric markets here in Germany. There are a few real dutch seller but most of them are Germans. Clearly I bought tis fabric from an original dutch seller ;) It is a rather heavy denim without any stretch and it looks just a little washed out! I like!
I put a lot of thought into the topstitching color. In the end I decided for gold as I always do! I find myself unable to sew denim and not use golden topstitching thread :D Because I couldn't decide on the color of the button holes some of them are pink other are navy blue ;)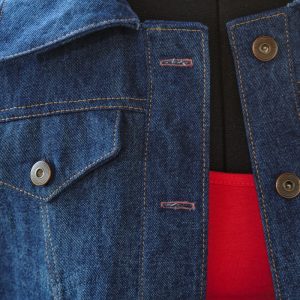 One decision making problem followed the other with this jacket and thus I need ages to complete it. Plus I wanted to make flat felled seams and I sewed them like in the Ginger Jeans Sew Along. I found it super hard to sew the seam allowance down blindly from the other side of the fabric! I should have done the flat felled seams from the other side. As if the right side of the garment was the left side. But once started the other way around I didn't dare to change that and so I was stuck with this technique. That caused a lot of seam ripping and hand sewing.
In the end I decided that it would be okay to serge the sleeve and armscye seam.
I changed a few things and added some things here and there. For example I made welt pockets! I really suck at that. But I won't get better until I practice more. Also there is nothing that some contrasting topstitching could not hide ;) I used two tutorials for help. They're both German but maybe the pictures will be a help to someone someday: first one , second one.
For the wrist cuffs I simply looked how they were done on Marvin's rtw jacket and copied them, muhahaha. Wasn't hard at all. I also made the waistband wider and the button plackets shorter and added inside pockets under neath the fake pocket flaps. so the pocket flaps are still fake but there are pockets on the inside underneath the flaps that you can only reach from the inside.
In my mind that list of things I have changed about the design seemed muuuch longer :D I feel like I spend ages on all those alterations!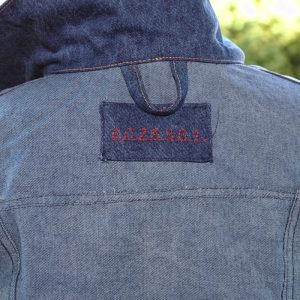 Well, there also may have been other reasons why this jacket took me so long. A holiday for example ;) and a visit at my parents in law. I blame them! But all kidding aside the jacket was more work than what I'm used to. But I do love the outcome a lot :) And I'm glad I paid attention to details, like my heavy metal patch on the inside ;) and the loop for hanging the jacket that I forgot on my previous version.
I guess I don't have to go into detail writing about the quality of the instructions? Typical Burda I'd say. My review on the instructions would easily be more detailed and longer than the instructions themselves ;) I constantly find myself guessing about what they want me to do. But as this was my second time and I have sewn a few garments so far I didn't have problems. But if you sew this pattern be prepared to look things up in the Internet and it is really helpful to have an rtw jacket near you for reference.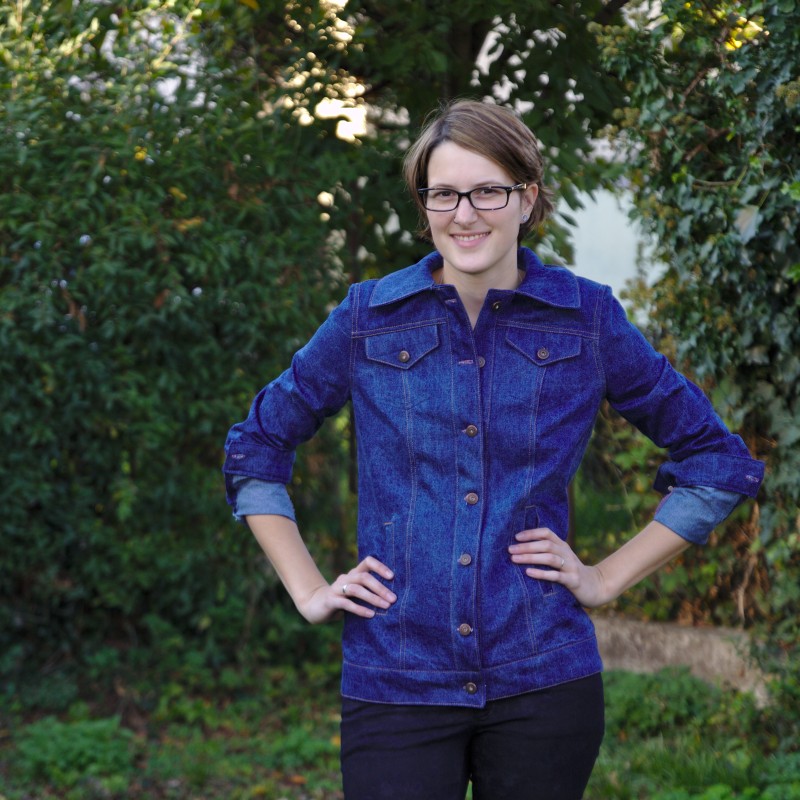 Now I hope that the temperatures will stay as they are a little longer so that I can wear this jacket a lot, I really think it deserves that :)
Macht's gut!
Katharina