Today I start pulling sweaters from my stack of handknit sweaters I told you about last week ;) I'll start with the oldest one. I knitted it in February but as there was a lot going on my life the first half of the year I wasn't able to blog about it before it got too warm. Luckily it got colder again and so the cardigan already got a lot of wears. It definitely fills a gap in my wardrobe (as if there really was one… ;)) because it is red and warm and cropped. I'm not sure what was first the pattern or the yarn.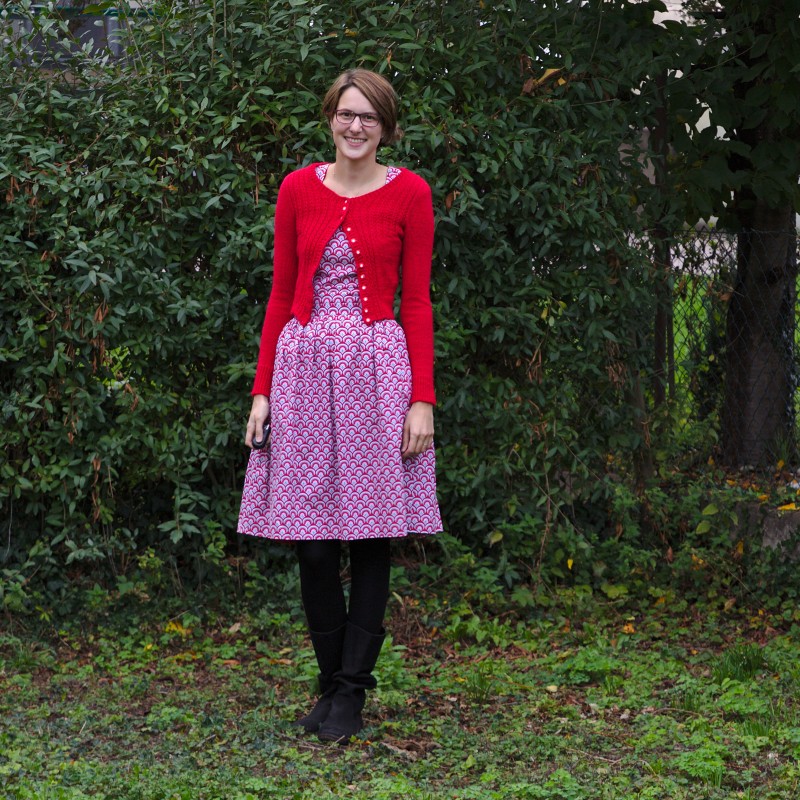 The pattern however is Alecia Beth by Justyna Lorkowska aka Lete's Knits (and here's the non-Ravelry Link). She also wrote the Peacock Eyes Cardigan pattern that I love a lot and have made twice. There were a lot of reasons why I had to knit Alecia Beth. First one is that it is named after P!nk who I liked a lot when I was around 12 years (okay I'll admit it, I still like her ;))
Second: I'm a fool for mock cables. I don't know what it is, but I love knitting them, seeing them and basically everything about them. Third: the pattern calls for fingering weight yarn and the older I get the thinner the yarn or something. And forth, and this should not surprise anyone: the cardigan is knit from the top down. Another fun thing about the pattern is that the sleeves look like their set-in but actually their not! They are knitted with the contiguous sleeves method, similar to raglan sleeves you knit the yoke and the sleeve top in one but the places where you do your sleeve decreases are at different places, so that the sleeve has a different shape. I used that method once before with the Pixelated Sweater, but I wasn't totally convinced of the fit, I had some wrinkles at my sleeves. However the sleeve caps here are shaped a little differently and I think that does the trick, the fit like gloves or whatever you say if something fits you ;)
Well, as expected I loved the instructions. They're great. Totally thoughtful and everything. Everything you do is explained in summary first and then the constructions guide you through each step row by row. On the first glance everything looks a little confusing I have to admit. I think that is because of the mock cable pattern. They are what makes this cardigan a little difficult. But really only a little. I would not recommend this pattern to the total beginner though. Chances are they might get frustrated because it's just too much stuff at a time.
Other 'difficulties' with this pattern might be the ribbing were you have to knit stitches through their back loops and maybe the I-Cord Bind-Off at the button bands. I thought an I Cord Bind Off was something hard. Well, turns out it is super duper easy, the name just sounds so fancy. From no one I will no longer be impressed if someone tells me about his I Cord Bind Off! ;)
The cardigan isn't as long as suggested by the pattern. I just stopped when I felt it was long enough. I knitted long sleeves however. In the pattern there are instructions for how to knit short, ¾ and long sleeves.
The yarn I used is Drops Alpaca in red (no. 3620). I bought 250 g and I cannot remember which project I had in mind. I used 2.5mm needles to obtain Gauge (28 Sts x 36 R = 10x 10 cm in mock cable pattern). I knitted size S (32 – 34 " bust) and in the end I ran out of yarn. I needed like 40 m more of something. Luckily I live in a city with a yarn store that sells Drops yarn, And luckily they didn't only have the color I needed but also the dye lot I had used. Weird right?!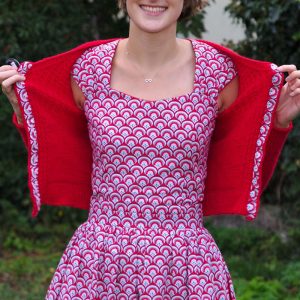 I wet blocked the cardigan. That means that I put it into my tub full of water and laid it flat to dry. Afterwards I stabilized the button bands with leftover fabric from my first Cambie Dress that you can see in the pictures as well :)
The yarn really is nice for a cardigan. It's warm, keeps its shape and itches only a little, because of the tiny hair sticking out of the plied thread. I like the cardigan as well. I think I could have made it a tiny little bit longer, but, well, I can live with that ;)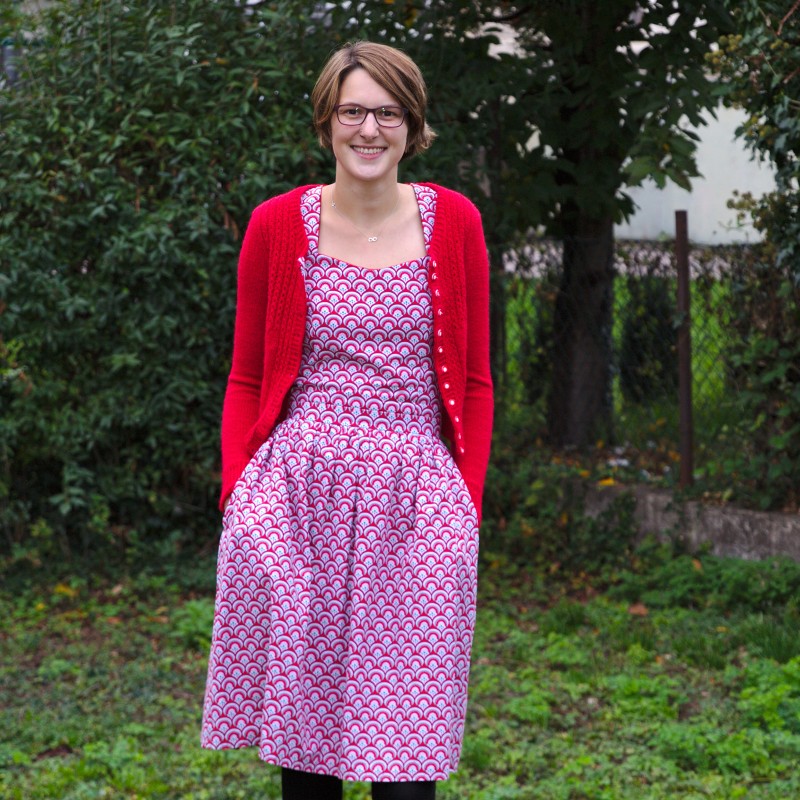 That is all I have to say for today. If you want check out the project on Ravelry :)
Macht's gut!
Katharina