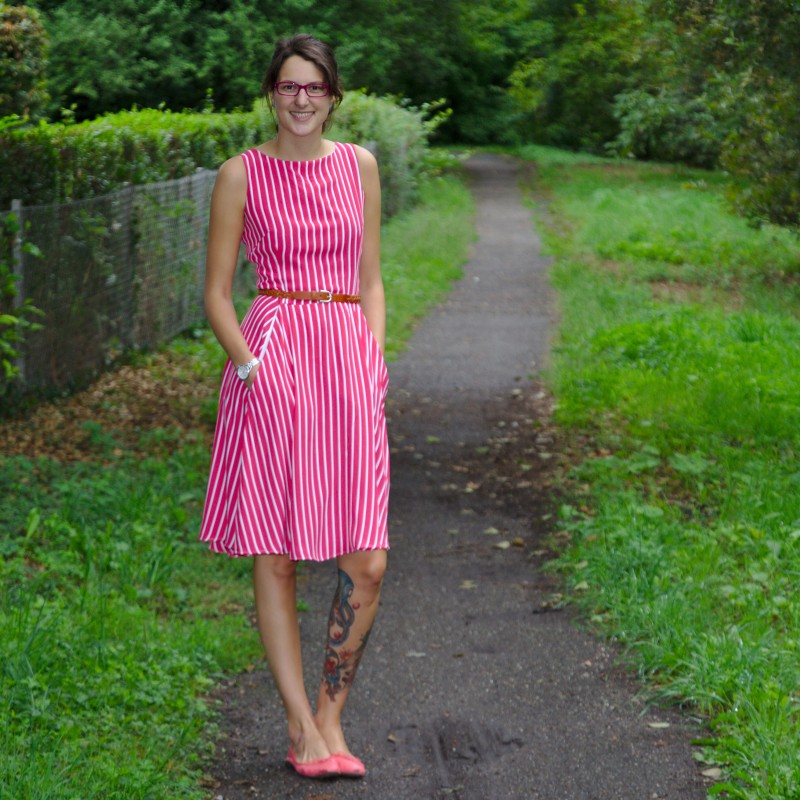 There is this dutch magazine: Knip. It is released monthly and always has a lot of beautiful patterns. Since last year it is transltaed into german and the german version of the magazine is called fashion style. What kind of a name is that? I am refusing to call that beautiful magazine that. To me it is still Knip and the dresses are called jurks. Funny language, sounds like someone is choking, jurk :D However, I bought the May issue before I went to Paris and fell in love with Jurk 19A (maybe the beautiful name played a part…). In Paris I bought the perfect fabric for this dress and in the end I made a Bonnell Dress from it.I already copied the pattern in size 36, which is one size larger than I would have needed, because the pattern is made for fabrics with a little stretch. It has a zipper and is sewn like a non-stretchy dress though. I already added the seam allowances directly to the pattern and I lengthened the dress. I lengthened it only half as much as usual, because I know dutch women are very tall. I'm kidding ;) Knip is just known to make larger patterns than other pattern companies ( but now I'm wondering: are they taller?) This all was a lot of work, because all of the patterns in this magazine are printed on one single A4 paper. No, not really, but they are printed all over each other and it took me half an hour alone to figure out that I was looking on the wrong side of the paper. I also made a muslin and adjusted the pattern a tiny bit and I was so disappointed and furious, when my pattern pieces didn't fit on my beautiful fabric that I went fabric shopping instantly! I bought this bright rayon fabric and it was on sale! Don't ask me what I was thinking when I again only bought 2 m of it. Why Katharina, why?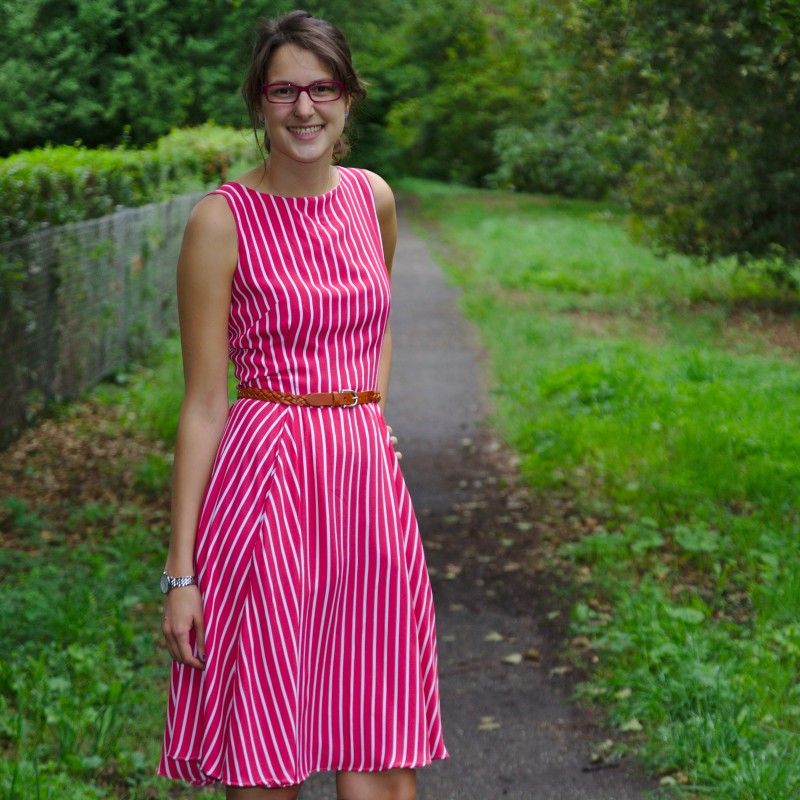 The fabric was wider this time and so I managed to get all my pattern pieces on it, I had to cut the pockets from lining fabric though and I was not able to pay attention to stripe matching.
As I know how shitty th instructions in those magazines are I did only once look into them, to find out how exactly the pockets are attached. That made me furious! For what kind of people are those instructions! Who is supposed to understand them? So I lay those instructions aside and I managed to sew this dress completely without them.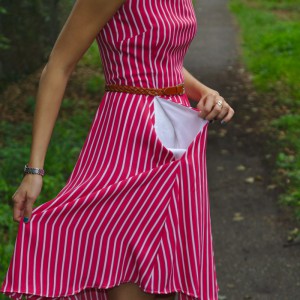 That wasn't so hard. This dress is sewn like any other dress with a doubled bodice. Oh, I completely lined the bodice, the instructions call for facings, but I liked lining better. I didn't line the skirt.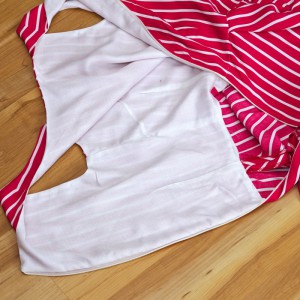 I bought tons of this lining fabric and never used it. I didn't prewash the fabric when I bought it and just recently I found out that it gets really soft, when you wash it! Pity I didn't find that out earlier I want this softness in all of my dresses!
When The dress was almost finished some other curiosities occurred. The dress was way longer on the sides than it was in the front and back.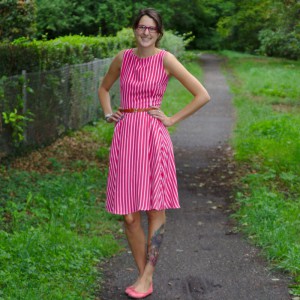 How did that happen? I don't want to say that there is something wrong with the pattern but I really don't know where that came from, it looked ridiculous. Also the bodice was too wide under the arms. Could have seen that when I made the muslin. On the other hand the rayon fabric changed its form from minute to minute, so maybe it is to blame..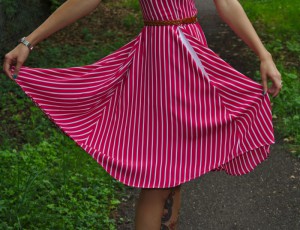 Sooo, that's not the end to the story. I'm wearing a belt as you can see. I'm not a fan of belts. I only wear them when I have to. And now take a look at this horrible stripe matching! Right, there is none! It couldn't be done (or: I couldn't do it ;)), the waist darts do not meet the side seams and therefore matching was kind of impossible. Also I was really angry with this dress and glad I was finished.. and so I had a great excuse to buy another belt ;)
The making of the dress reminds me a little of Final destination: the dress that shouldn't have been made! But in the end I conquered this dress, because it turned out absolutely wearable, don't you think?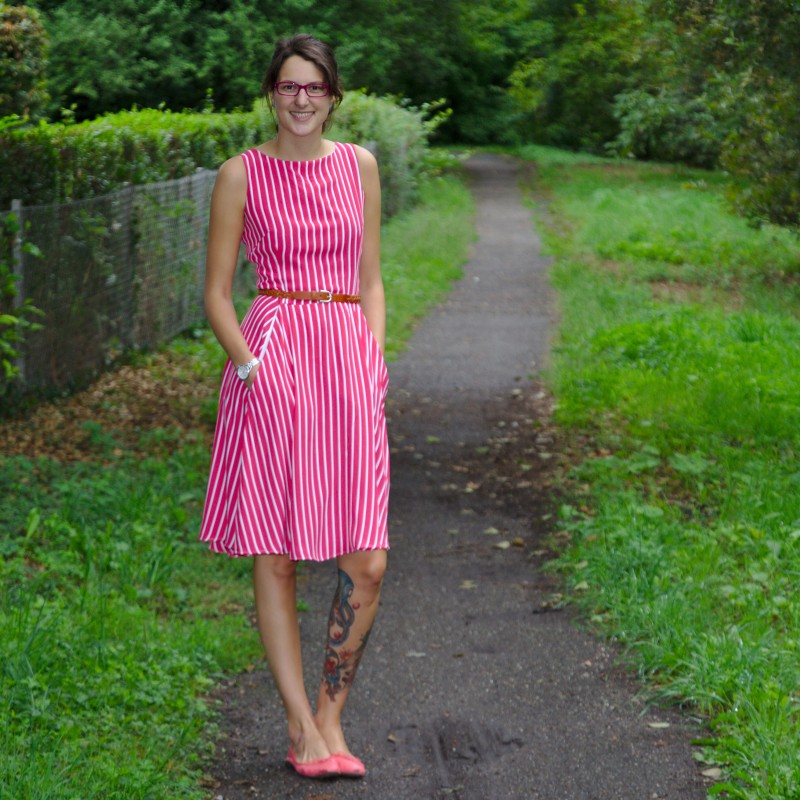 Ciao!
Katharina