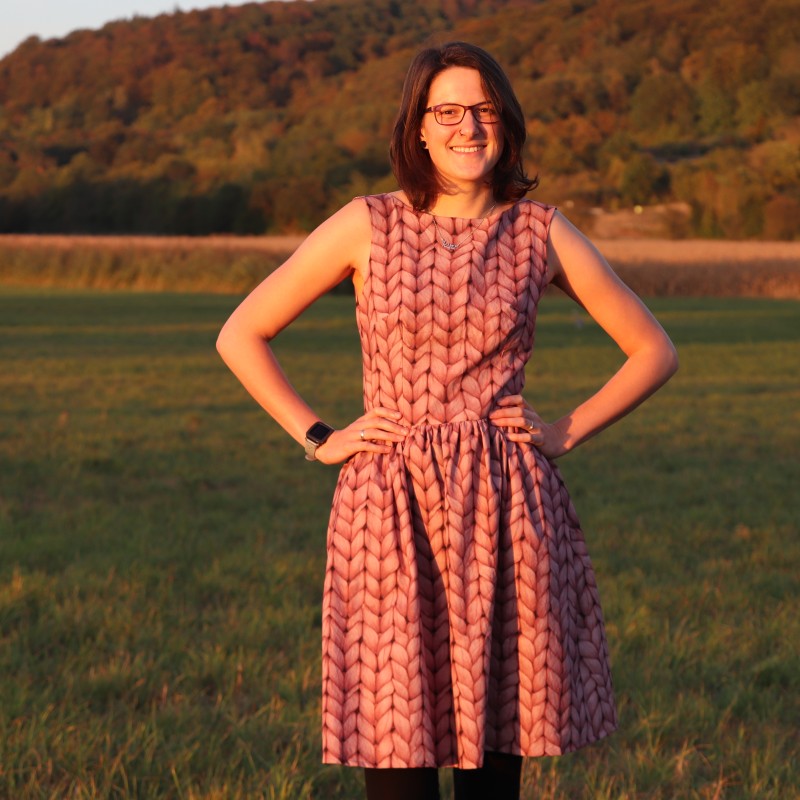 Slowly the temperatures are finally dropping and I can start thinking about wearing knitwear again :) I have knitted over the summer but the things I made were just too warm to wear even just for taking pictures. So I think I will drop them one by one on the blog in next coming weeks :) For the next summer I have taken measures into my own hands: I made a faux knit dress!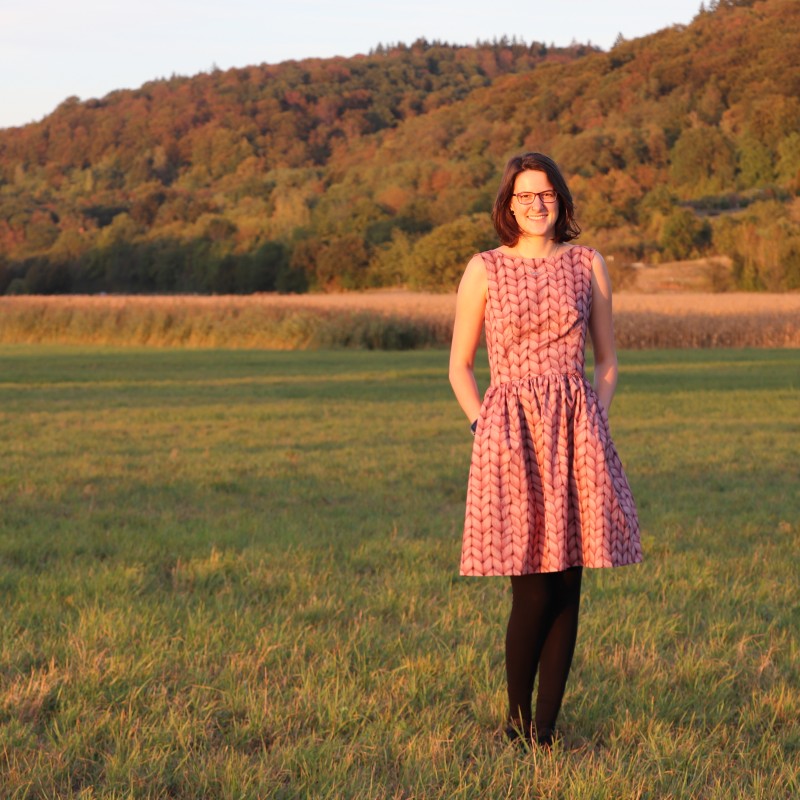 I found this fabric in catalog I got from Buttinette. In the catalog it was suggested to make a blanket from the fabric. So of course I wanted to make a dress from it ;) I ordered 2 m and when the fabric arrived I was pleasantly surprised as the fabric was rather light and in no way stiff, perfect for a dress and really not so perfect for a blanket.
So I searched my pattern stash for a suiting dress pattern. I wanted something simple to highlight the fabric and something with as few darts and seams as possible to not disturb the pattern. I decided to give the Emery Dress pattern a third try and sent it off to be plotted (because I'm getting old, my knees and hips hurt when I assemble pdf patterns).
I sewed this dress two times before. I had some fitting issues with the first version. the shoulders were not right and always shifted towards the neck and I blamed the lack of sleeves. What nonsense! :D The shoulders should not shift no matter what. What I didn't know back then was that I have rather straight shoulders. And this pattern was drafted for extremely sloped shoulders.
When I made the second dress I completely changed the bodice. The dress was too tight and the armscyes were way too high. I changed that later on but for my third version i decided to make a clean cut, throw away my old altered pattern and start fresh. I also went one size up, to size 6 because I have gained weight. There's a lot of positive ease in this pattern and for a moment I thought about sewing size 4. According to the finished measurements chart size 4 would have fit. But I wanted to have room in case I gain some more weight and also I wanted a dress that is comfortable to wear.
When I altered my new and fresh pattern I raised the outer shoulder point by 1.5 cm. My first dress also was a little too short, so I not only lengthened the bodice by my usual amounts but added one more cm. The bust darts were to far in the center of the dress and I shifted them to the sides by 3cm. And that was it. After a quick muslin I cut into my fabric.
The fabric was pretty wide. I didn't measure it but I bet it was 1.60 m wide. So when I had placed all my pattern pieces on the fabric I still had enough fabric to make short or even 3/4 length sleeves. I consulted Marvin and we came to the agreement that sleeves would probably disturb the print too much, so I went without sleeves and have now enough fabric left to make several pants pockets from it ;)
I didn't look into the instructions, I have sewn this type of dress so often that I know exactly how I like to construct it. I shelled the lining of the bodice, so that I didn't have to finish any seam allowances in the bodice or sew anything by hand.
I also completely lined the dress, not just the bodice. The fabric would be light enough for summer, but the print is more for winter I think and in winter I like my dresses lined.
I finished all seams of the skirts with french seams and the skirt has in seam pockets. If you're looking on how to french seam side seams with in seam pockets, here is a tutorial. And here is a tutorial on how to french seam the seam underneath an invisible zipper.
I joined both dresses (shell and lining) with some hand stitches at the waist. I hemmed the lining skirt by machine and the outer skirt by hand (and I hated it, but it looks so much nicer!).
The dress really is comfortable and I love how it looks! What great fabric. It has the perfect amount of craziness. It doesn't look suspicious from far away but is super clever when you are near enough. If you know what I mean!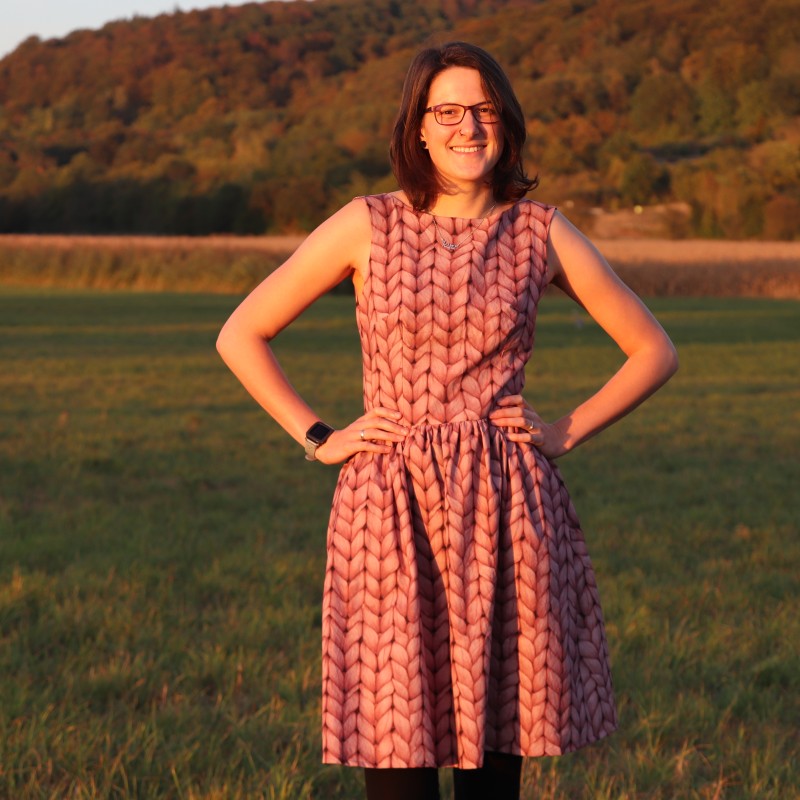 In Germany we're celebrating the Germany Unity today and so nobody is working :) I hope you're having a great day today!
Macht's gut!
Katharina