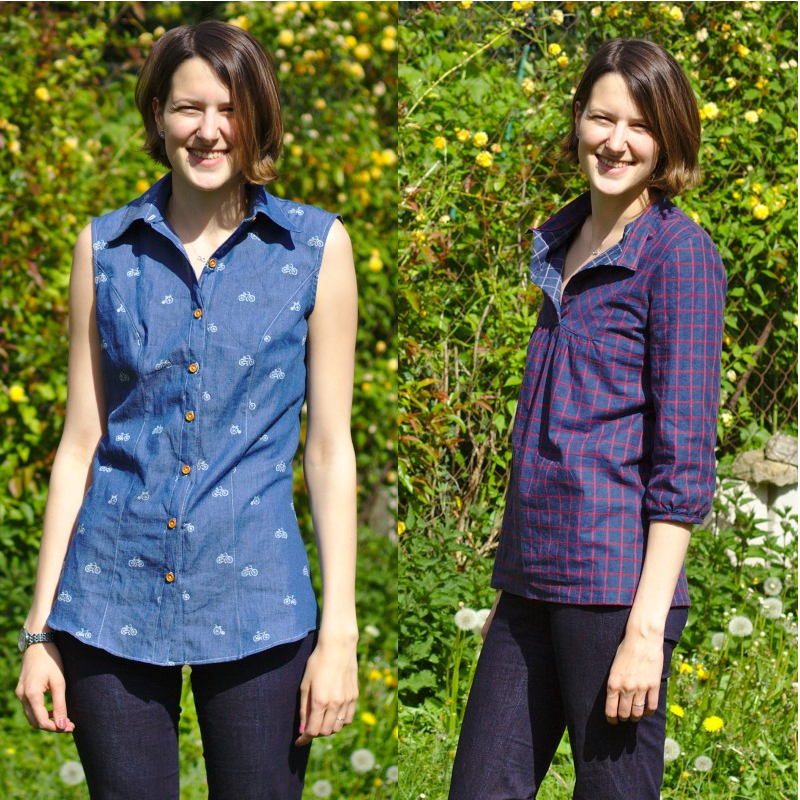 It is spring and my to sew list grows and grows. I am highly motivated and I have a lot more ideas than I have time to realize them. At least not all of them. Two new shirts recently made it into my wardrobe. Because I have made and written about both patterns several times I will show you both new shirts at once. Here we go.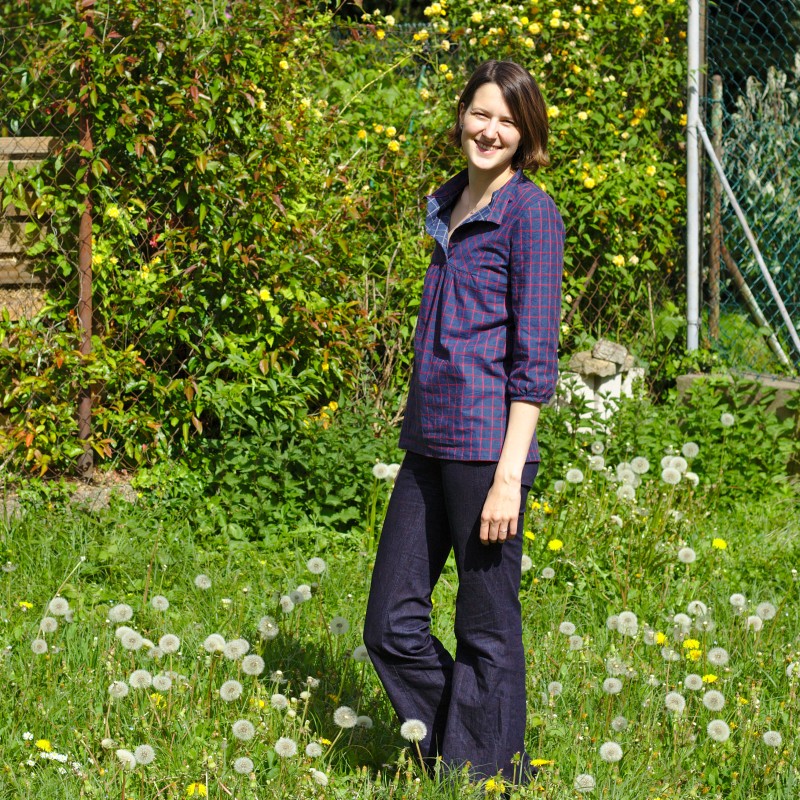 The first one was finished end of autumn of last year. But back than it already was too cold to wear it. I made the Wiksten Tova blouse, that I have made three times already. All of those 3 shirts are still part of my wardrobe and I wear them mostly in spring and autumn and like them a lot :) The only reason why I haven't made this pattern more often is because the wrong side of the fabric is always visible, so I need a fabric that looks nice from both sides.
When I traded this fabric at a sewing blogger meet-up in Stuttgart last year I knew I would use it for this pattern. It does not only look nice from both sides, it also looks different from both sides. It was hard to decide which side to use as right side but in the end the red stripes won. If you look through the shirts I have made so far you will see that red always wins. And blue ;)
I had about 1 m of this medium weight cotton and I somehow managed to cut all of the pattern pieces from the fabric. I even managed to cut the font inset on the bias. I sewed size S, which is what the measurement chart suggests and lengthened the pattern as usual. For my first two versions I took in the side seams and added buttons to the placket, but this fabric here was stiff enough to avoid that.
I French finished all seams except for the inset seam, I serged that one. As with my previous versions the swing process was quick and easy and fun. I liked the instructions and I like the fir of the finished blouse, perfect for spring and perfect for the office.
For the second shirt I used my favorite TNT pattern Butterick B5526 which I initially discovered on Lladybird. This is my 5th shirt I made from that pattern and I love ever single one of them. I still wear them all and I wear them a lot. I think they fit me great, they're exactly the right mix between casual and professional and even though they have some ease they're still figure hugging. They look great with jeans, but also tucked into skirts and they are very comfortable. But all 4 previous versions had long sleeves which meant that I couldn't wear them during summer. I did wear my sleeveless Bruyere Shirt a lot during the last super hot summer and so I planned to make another sleeveless shirt for the next summer. Which I did, obviously ;)
On my last business trip (oh yes, how grown-up am I?!) which led me to city of Essen, where I studied at the university I paid a visit to all those fabric stores that I thought I had missed dearly over the last 3 years. Turns out: they weren't that great. Somehow my brain often tricks me into thinking things were better in the old days. At least the fabric stores :D However, when I went to that store were nobody greats you, even if you yell 'Hallo' into the room I found a fabric with bicycles on it. And that meets all the criteria a fabric has to meet for me: bicycles. It is a very light chambray I think, perfect for a breezy shirt. So, when the saleswomen had finished bitching about the costumer before me that just left the store I was able to get her to cut me 1 meter of this fabric. And that is pretty much all I bought (well, I went to Ikea and bought some fabric there ;)). Very disappointing.
1 m was just enough for a sleeveless B5526. Well actually it wasn't quite enough, I had to cut the bias binding for the armholes from another fabric.
I cut size 10, which is one size smaller than the measurement tables suggest. After that the shirt basically sewed itself, ha. I have made this shits several times now (as I have mentioned several times now) and I kind of know the steps by heart. A little boring but also very relaxing. The instructions are great though. Super detailed and with descriptive drawings. The seam allowances are included in the pattern and I really don't know why I don't sew Butterick patterns more often. They are a little harder to get here than in the US I think.
I french seamed everything! Hooray for french seams! I love making them. I don't know what it is with me. I topstitched all of the seams too. So I could have flat felled those seams, if I wouldn't hate flat felling seams. I am very emotional about my seam finishing.
I bought the buttons on ebay, simple small wooden buttons. They're great. I'm medium emotional about my buttons.
I didn't sew anything by hand. The collar band could have used some slip stitching before top stitching. It didn't turn out super neat. But I'm okay with that.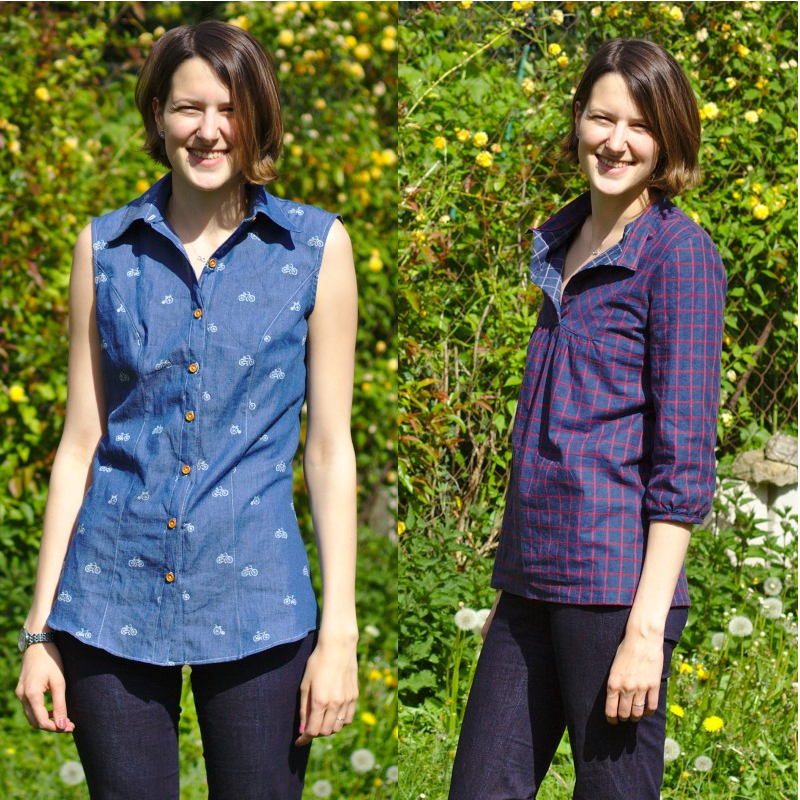 And that is it! And just so you know: right now I am planning on participating on Me Made May. I thought I could simply upload outfit pictures to my sidebar. I also ordered a selfiestick. And I'm telling you, it is super hard to take pictures of yourself with this thing. At least when you're as tall as I am, because the camera has to be so far away and thus the arm gets heavier and heavier and the looking-good (or rather: not goofy) gets harder. I need some more practice I think! ;)
Macht's gut!
Katharina