It seems to be anew thing with me that each time I go somewhere I know exactly where the next alpaca far is located. How convenient! So when we last spend a week in a holiday apartment in the black forest there was the Kreuzmatthof only 10 km away  from where we stayed, which of course was totally coincidental. So I wrote an email to Sabine asking if I may visit and maybe buy some wool, she almost immediately answered that I may :)
The farm is located in Zell am Harmersbach, which is a small city in the Black Forest area. In guidebooks it is always mentioned how nice the historic city center is and everytime I get to Zell it pains me to see that the main road leads directly through this historic center which totally ruins it for me.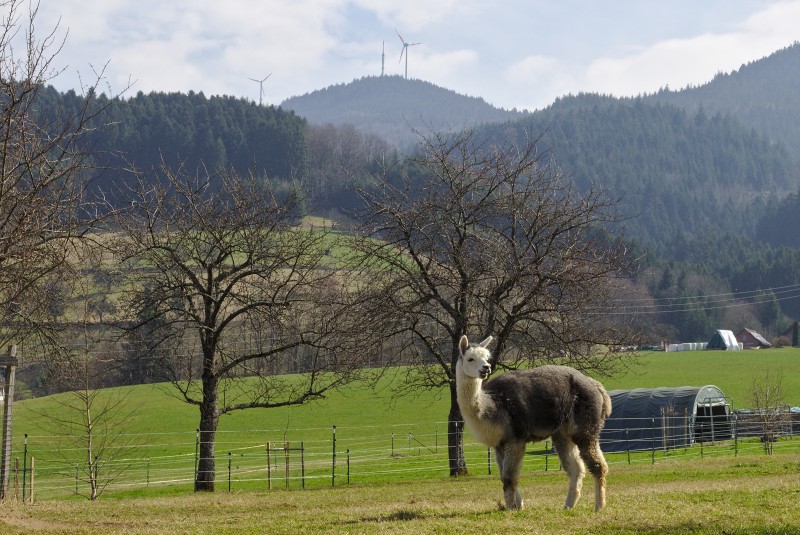 But the Kreuzmatthof is located a little outside of Zell. You drive down the main road and then you make a right turn and suddenly there is nature all around you. It looks like it does on the postcards there, totally beautiful! Almost no other people, but a few alpacas. We were allowed to feed them some carrots and in return the alpacas let Marvin take close up pictures of them :)
And of course I bought wool :) Roving to be exact. I bought about 30 g each of 5 different plant dyed rovings, about 150g of white alpaca fiber carded with pink sheep fiber and some more simple white wool. All of the rovings consist of alpaca and sheep fibers because they were easier to card this way. The sheep do also live on the farm but they were eating grass somewhere and we didn't get to meet them.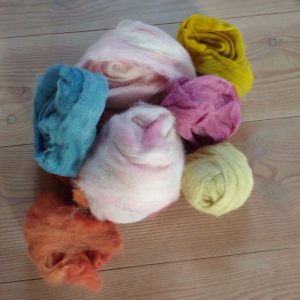 When I bought the wool I already had a project in mind: the  On The Spice Maket Shawl pattern by Melanie Berg. The pattern was gifted to me by Katharina (lingna), which I appreciated a lot and so I wanted to make the shawl special.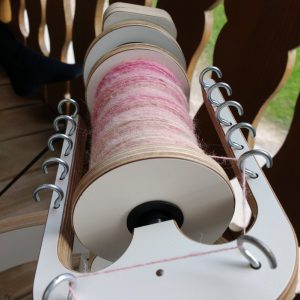 Back at the holiday apartment I hurried to end my current spinning project and started spinning the pinkish wool (yes, of course I had the spinning wheel with me;)), though I initially had other plans, but whatever. I mean look at that gorgeous roving!
And it was sooo much fun! I loved the colors, the fiber was easy to spin and the fact that I knew the alpaca from which the wool came made it even better  :)
Spinning the colorful fibers was maybe even a little bit more fun. Only 30g each, so I was finished which each color quickly and could admire another color way. I had to card the plant dyed roving before spinning, it was too felted to spin it directly, but it was fine after carding it once.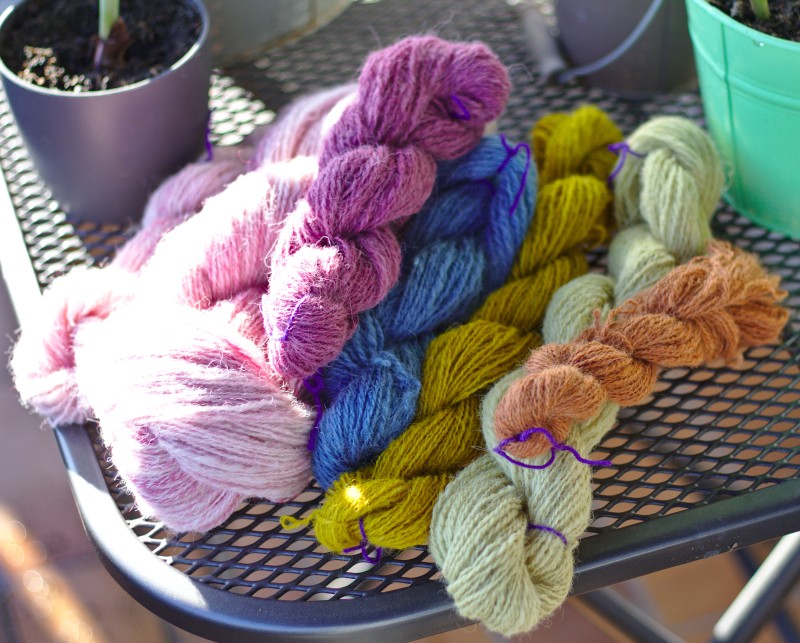 I tried to spin as fine as possible to end up with a Sport or Fingering weight yarn. As I only wanted to knit a shawl from the yarn the actual gauge wasn't that important but I still managed to end up with Fingering Weight yarn with 14 WPI and an average grist of 420 m/100g (here  you can see the actual grist of each skein I made). I 2-plied the threads btw.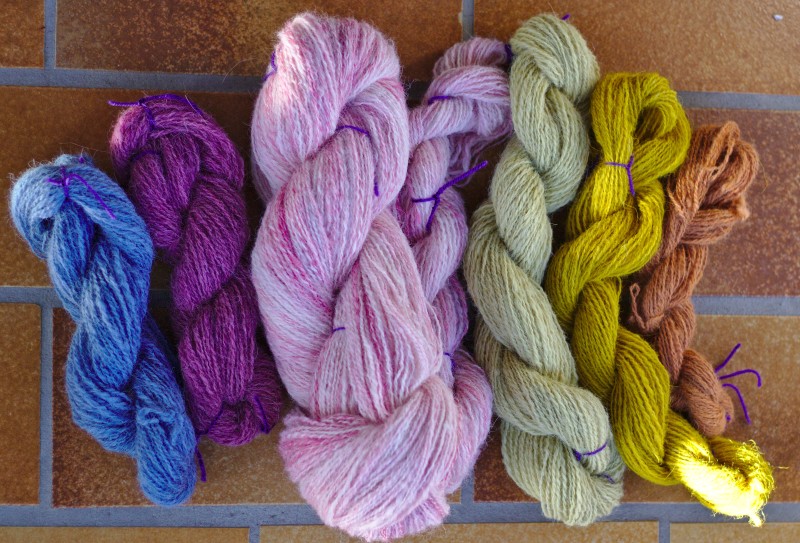 Sooo, after bathing and winding and everything I was ready to start knitting the shawl! The most difficult part was to decide on the color ordering. I even changed it half way through the scarf and chose to arrange the colors differently from the pattern. But that is why you knit, to chose your own arrangements of colors, right?! :)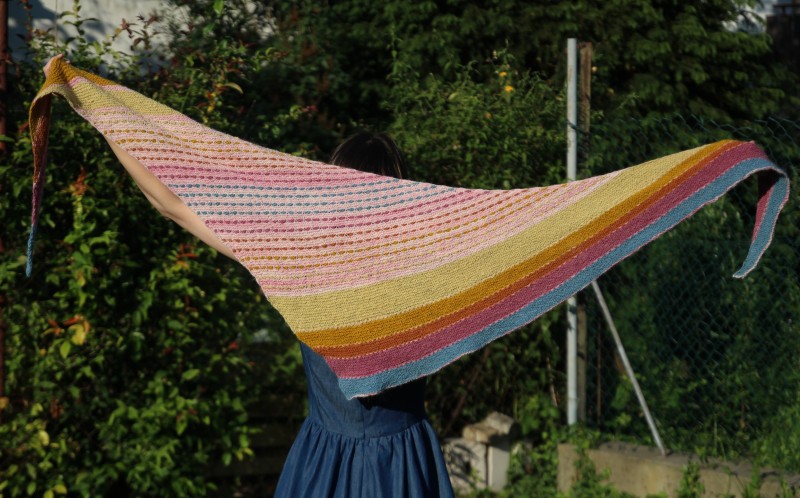 The instructions are short but to the point. I didn't have any difficulties following them. You will need to work some short rows. The author suggest you do German Short Rows, but I worked Wrap and Turns as I find them easier especially in garter stitch where you don't have to pick up the wraps in the next row.
Apart from that you have to pay a little attention where to increase and where to decrease stitches but the shawl is very forgiving when you miss something. As I had one color less than the instructions suggest I needed to adapt my stitch count at some rows which wasn't that hard and noting I had to thing about in advance.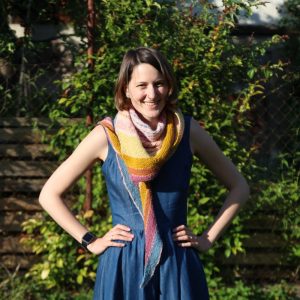 I didn't want to produce left overs so I knitted the last stripes as thick as my yarn let me, so as you can see the stripes are a little irregular. I bound off with the pink yarn, because I had enough of it left over and so I didn't have to worry whether I would have enough of the blue yarn to finish the bind off. I also like the effect. The bind off isn't a usual but also not an icord bind off, it is something in between.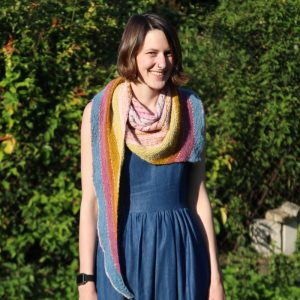 The shawl is asymmetrical which I thing I really like :) The width of my shawl isn't as wide as the instructions suggest because I worked with only 6 different colors instead of 7. But I am very happy with the width.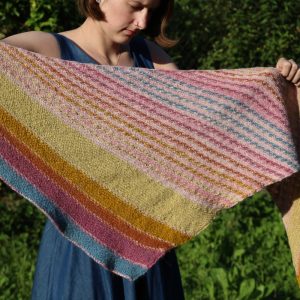 The shawl looks better from the right than from the left side as you can see in the picture above. That's normal and nonavoidable, I just wanted to mention and show it. So that no one will be disappointed :)
I wore the shawl once so far. It is a little itchy, but I personally don't mind. I love the color combination and how light it is. I'm very happy with how this project turned out and had a lot of fun during all of the construction phases :)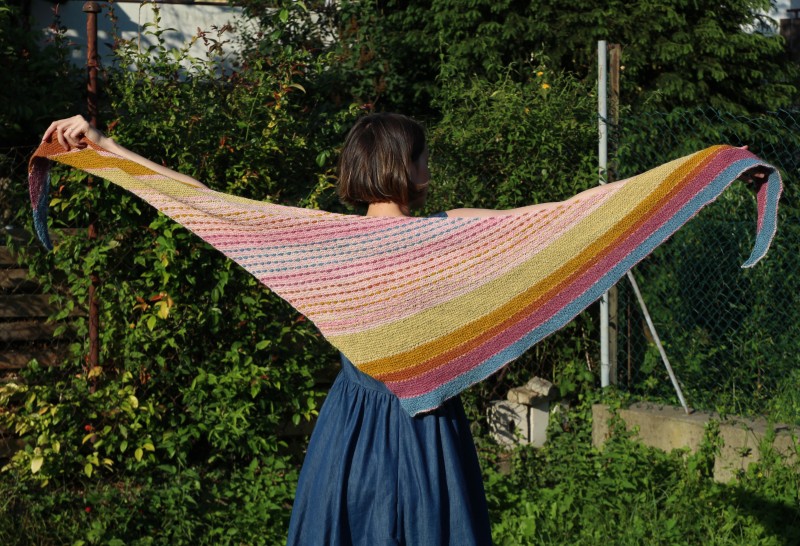 If you have any questions on the project please feel free to ask me. And if you want you can take a look at the knitting project on Ravelry here, here you can see what I made from the leftovers of the pink yarn.
Thanks for reading :)
Katharina