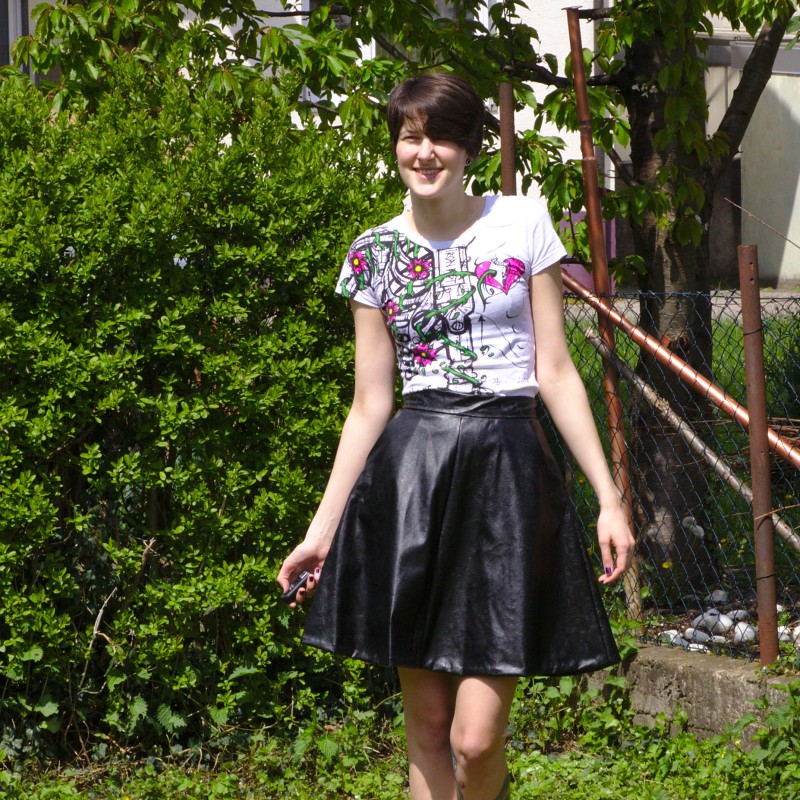 The reason why I didn't mention the pattern in this post's title is to get you at least a little bit excited. I might have sewn another pattern that I already have like 5 times in my closet, oh well. But as this project started with the fabric, I will tell you its story starting with the fabric. Believe me, this fabric is special. I found it in my favorite fabric store, which is located in Moers. I used to live nearby, but when we started working, Marvin and I moved like 400 km south. Even though I found fabric stores near where I live now, this fabric store has remained my favorite one. And so every time we visit my parents in law I try to visit the store. It got easier to convince everyone to go there since we gave Marvin's mother a sewing machine for her birthday. Since then it really isn't a question if we are going to pay the store a visit. It is more a question of when we are going ;) I love it when a plan comes together muhahahaha!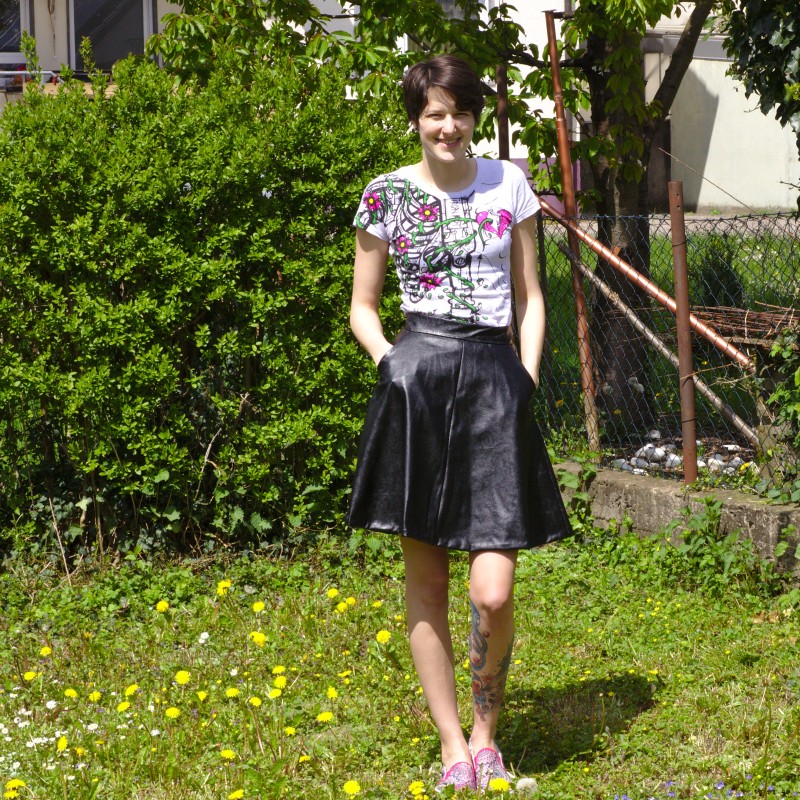 During my last visit I found the pink faux suede that I made a skirt and my wedding bag from. But much deeper in the same shelf that I found this fabric hidden in, I found this glorious.. well.. sticky piece of plastic.. that looked like fake leather! Plus it had a pattern and I love black fabrics with black patterns on them! Houray! The woman selling this fabric looked at me pitiful (now I know why!) and asked if I wanted to make pants from it! Was she insane you ask! Might be! You really don't want this fabric near your skin and don't even think about wearing it near an arm pit! The only option I saw was to sew a flared skirt from it!
When I sewed this fabric it reminded me of wale skin. Not that I know how wales feel like, but it felt like what I'd imagined wales must feel like. Well, wale skin for sure isn't as elastic as this fabric and most likely also not that sticky! Well again I brought my Teflon foot to light, turned on the top feet and off I went!
At the beginning I thought topstitching would be a good idea. I tried once, ripped the seams and swore to myself to never try that again with that skirt. In addition the stitches I made left tiny holes. But what would a real pain-in-the-ass fabric be without the feature to destroy itself while you try to sew it?!
But that wasn't all, nono! The fabric didn't only feel like wale it also smelled like it and worse! Disgusting I tell you! I didn't want to wash it at first, because it was so peculiar and I thought that I might destroy it! Also it sure was 100 % plastic, so it wouldn't shrink or anything. But I couldn't bare that smell! So I put the half finished skirt into the washing machine and it came out fine and smelled nice, what a relief!
Another thing I haven't talked about yet is ironing that fucker. Don't even mention that! As soon as two right sides of the fabric touched themselves they melted together, never to be torn apart again. So pressing seams open wasn't that easy!
I realized very soon that this skirt wasn't anything I wanted to wear to the office. So I went all in, shortened the skirt and bought this metal zipper! The ebay seller said it was an old zipper made in the DDR! Makes the skirt even a little historical right?!
I hemmed the skirt by hand after joining the inner and outer lower waistband edges by hand. That wasn't that much fun but much better than trying to stitch in ditches or machine hemming that fabric.
I also lined the skirt. Most of the time during the year I tend to wear my skirt with tights and they wear a lot better with a lining then. I always hem the lining quick and dirty with my serger.
And for those of you who haven't guessed the pattern by now: it is a Sewaholic Hollyburn Skirt. I sewed it in size 6 and used version A. I have always sewed version A, because I thought the versions only differ in length. Turns out: the also differ in width! Who would have guessed?! Now that I know that I might need to sew some more Hollyburns, don't want to waste a pattern version!
I think that this pattern really has earned to be sewn up by me so many times. It fits me well, it is simple, yet flattering and fun to sew. I love that the seam allowances are included and that every measurement is also provided in metric units! That makes it a quick sew for me.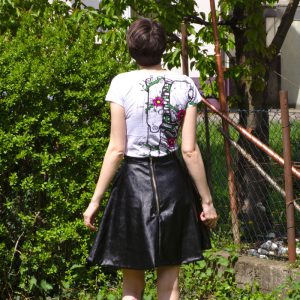 I also think the instructions are great. Not to short not too long, to the point, but precise where it matters. I only didn't follow them when it came to inserting the zipper. Instead I worked with Megan Nielsen's tutorial which inserts you a zipper absolutely neat in no time! As I couldn't pin the zipper to the fabric I used double faced adhesive tape instead. You can buy really narrow tape intended for sewing purposes here in Germany. It even has its own name. But it is just slim double adhesive tape really.
For those of you who are interested in the fit of the Watson Bra: I'm wearing it in these pictures.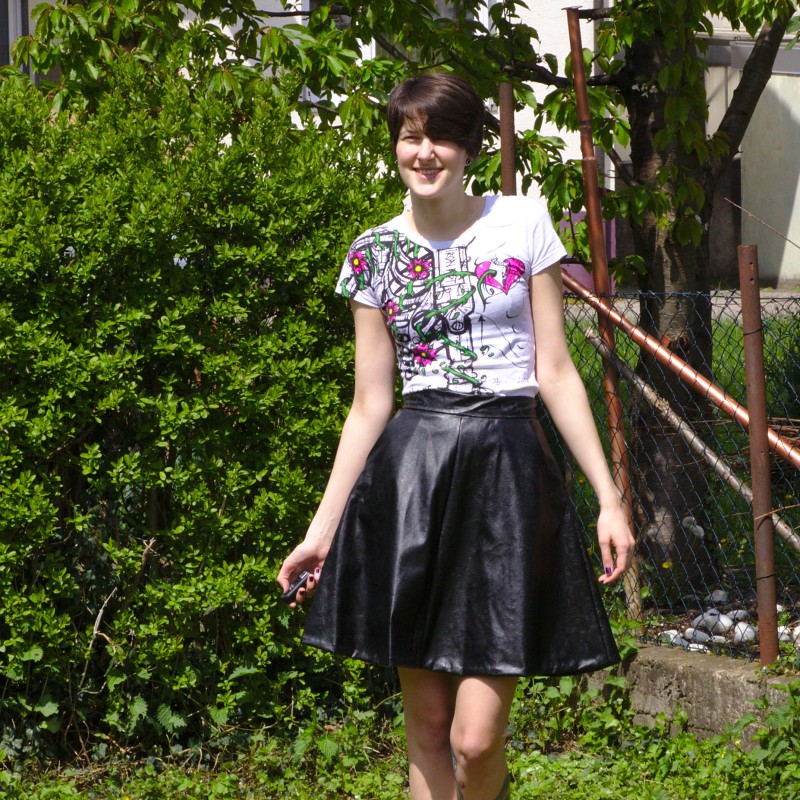 Have a nice day y'all! If you want you can take a look at what I'm wearing during Me Made May on my Flickr page!
Thanks for stopping by!
Katharina