Again I'm late with my contribution to the German Bag Sew Along Challenge. I have finished the bag at the beginning of April but I didn't find the time to blog about it. you see I prefer blogging about making clothing. And I really enjoy writing super long post and writing them in German and in English. And that just takes time and thus it is sometimes hard to find the motivation writing about bags. So the fact that I take part in the challenge is what motivates me here. April's theme was Jeans Upcycling. It was mandatory to make a bag from old jeans. I think old jeans are a great material for bags. I have made two so far that I use all the time. You find them here and here.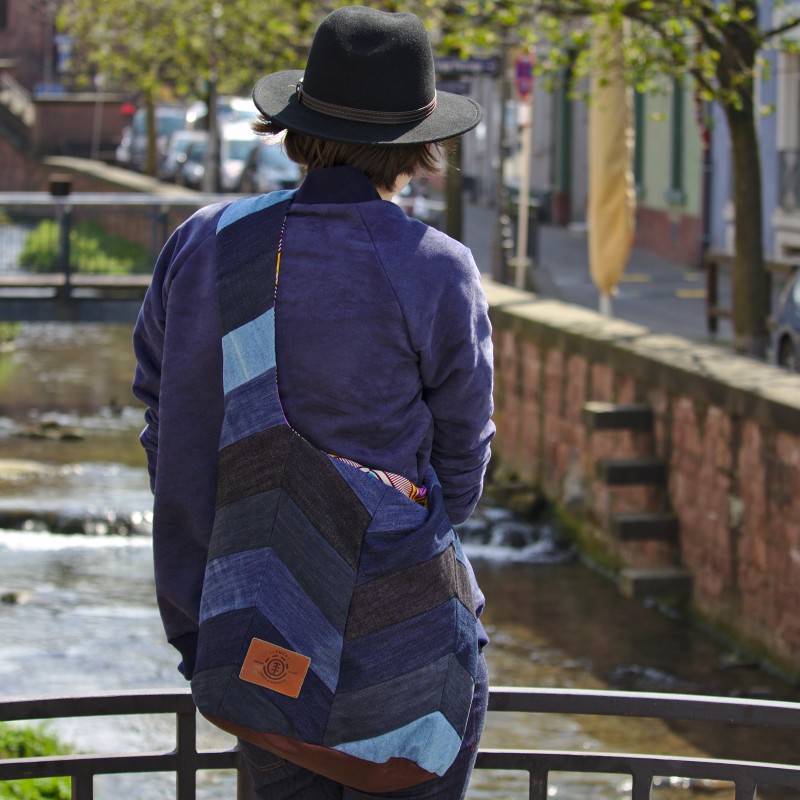 Somewhere in the Internet I found this idea to of a Jeans Chevron pattern and I decided to got for it. So I cut some of Marvin's old pants into stripes and I sewed darts in an angle of about 60° one from the one side of the stripe, one from the other into each stripe. Afterwards I sewed the stripes together until I had a rectangle that covered the bag pattern piece of the Lula Loise Shoulder Bag pattern. I cut the lining from some wax print and applied back pockets of old jeans and a carabiner for my keys to it. The bottom of the bag is cut from some leather scraps, that I had in my stash.
The assembling of the pieces was totally simple. This is not a super duper hard to assemble bag and the instructions were great. I mostly stick to them, but I didn't cut the main piece on fold, because that would have been harder with the jeans stripes, I didn't topstitch anything, because I liked it better this way.
What I didn't consider while sewing the jeans stripes together was, that what looks like the side seam during cutting would turn out to be the center front seam once that bag was finished. I didn't take care that seams matched at the "sides" or anything, because I thought it wouldn't be too visible. Oh well. It is so super visible now.  But what you're gonna do?Nothing! I can live with that and I still love this bag and use it a lot! In fact I'll just say I did that on purpose to make the bag look more upcycled or something!
The photos are a little older. My hair was longer and I had to tame it with this super hiking hat :) If you want more information on my jacket you can find them here, information on my jeans can be found here :)
Have a nice day :)
Katharina