Usually I am not a fan of citrus fruit colors, especially orange and yellow. And if you have been following my blog for a while you know there now is a big 'but' coming up. So, here we go: but my aversions vanished a little in the past 6 months. Having a closet full of blue, red, green and purple sweaters might have had an impact. Having sweaters in every color of the rainbow is a great justification to make another one. Not that I need a justification, I'm past that stage now ;)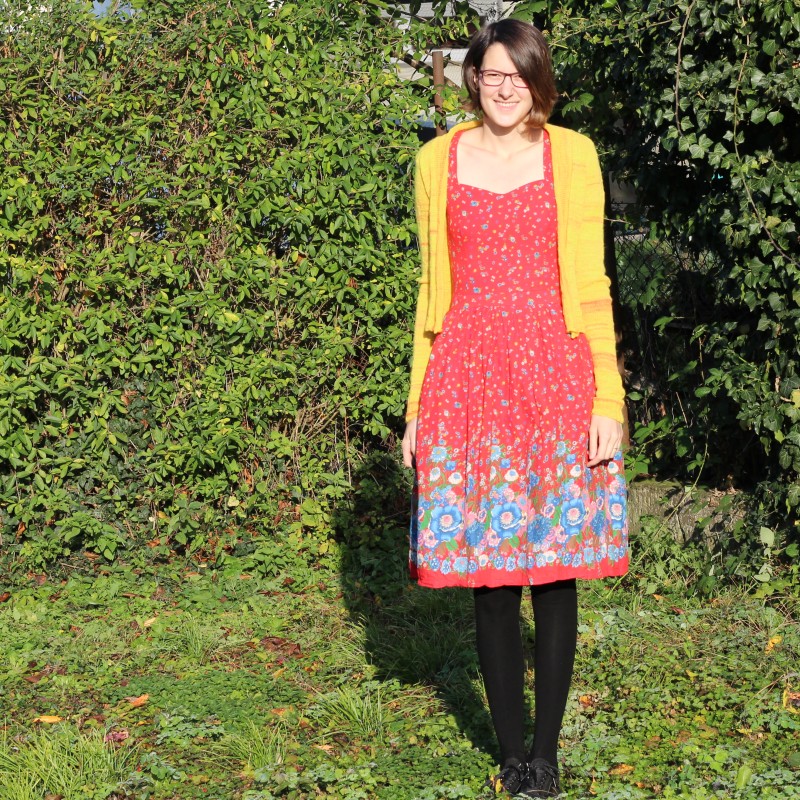 So happy yellow it was! I had ordered 300 g of Blue Faced Leicester roving top at a German onlinestore where I entered the wrong address and it was all a big drama. Except for that it was not, because the delivery man knows me so well by now (probably because I order a lot of wool) that he knew where I lived just by looking at my name.
So once that package arrived I could start the dyeing. It had to go fast. I was participating in this year's Tour de Fleece and I was so highly motivated that I ran out of fiber after a few days! How could that have happened?
For those of you who do not know what the Tour de Fleece is: it is an event parallel to the Tour de France, where people ride their spinning wheels instead of their bicycles. Everybody can participate, there are official teams (spinster teaming up, even having a captain!) and unofficial ones. Some take this a little more serious than others. Because this was my first year and because I wanted my Tour to be about the fun I joined Team Chantimanou. Chantimanou is THE online spinning teacher in Germany. And there were not many rules to follow except for 'have fun'. And I did!
I was so inspired that I set my mind on dying something myself and dying in a color I usually wouldn't. So as already established (;)) I dyed yellow. And because I thought that the fibers looked a little dull in the pot I added just a tiny bit of red. And whoooooooom, the red was all over the place. Oh well. As usual when I dye I was pretty upset with myself for fucking up AGAIN! But once the roving was dry, I kind of liked how it looked. The color looked much darker when the wool was wet. So I reconciled with myself and gave myself a pad on the back for being such a great indie dyer. I had to drum card the roving afterwards to justify buying a drum carder because the fibers felted a little, because of the cheap dyes I used oO. Common mistake for me.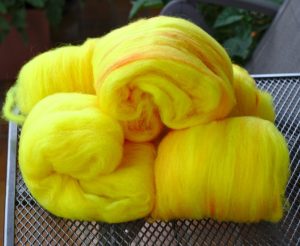 I drafted the roving preeeety thin. And it took me ages. But I was afraid, that otherwise 300g would not be enough for a whole sweater. Well, I overdid it ;) I even chain plied the yarn and it still is a little thiner than sockweight yarn. Let me tell you the whole story!
The Tour de Fleece is also about challenging yourself. Ohhh how I love challenges. So first thing I did was to challenge myself to finally learn to properly do a short draw. I had been spinning for about a year then and I still did something in between a short draw and a long draw and I was holding my drawing hand peculiar from the top.. people were already talking about it… So I sat myself down and forced my hand to obey and at the end of the week I did a proper short draw.
And because that wasn't enough challenge for me I also chain-plied for the first time. Basically what you do is make a crochet chain with huge stitches from the single and ply it. Thus 3 threads are always next to each other. It took me a while to get the hang of it, but I managed and I'm pretty proud of myself :)
Imo chain plying has two big advantages over regular plying: you don't break up color gradients (so orange was plied with orange and yellow with yellow) and you have no left overs.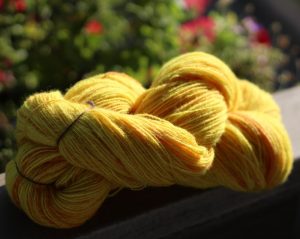 In the end I had produced 300 g Blue Faced Leicester yarn in Fingering Weight, with 14 WPI and a grist of approximate 470 m/ 100g. Pretty thin! I told you!
Now a word on the Blue Faced Leicester sheep. A breed that is pretty hyped right now, from what I've found. It is the only breed I have ever seen printed on a banderole, apart from Merino. Spinning the fibers was very convenient and easy and the finished jacket is almost as soft as merino, but not so sleek and slippery and I bet the yarn is more durable than merino. I will keep you posted. For now I'm a fan!
I made a Featherweight Cardigan from the finished yarn. It is my second one. The first one, that I made for my wedding is already beginning to fall apart and pill a lot, because I wear it so often. The color is just perfect. This time I had more yarn and so I knitted everything a little wider and a little longer. I wasn't that happy with the knitting instructions of this pattern. And still I am not a fan. The instructions are kept very plain and simple, where I think they could be more explanatory. The cost-benefit-ratio just isn't ideal is all I'm saying.
I went with size 35.25 ". I cast on more stitches underneath the armhole and I rearranged the sleeve decreases but apart from that I knitted everything as per the instructions.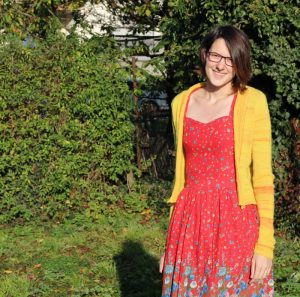 When I was almost finished it became apparent that I would have more than 100 g left over once the cardi was finished. So I briefly thought about making this cardigan longer. But I feared ending up looking like Big Bird if I did. And so the cardigan stayed short ;)
The fact that I had so much yarn left over means that this jacket is a real featherweight, it weights less than 200g. I'm not sure though if it will become a wardrobe staple, because I don't have that many dresses with yellow in them. But maybe that just means that I have to sew some more?!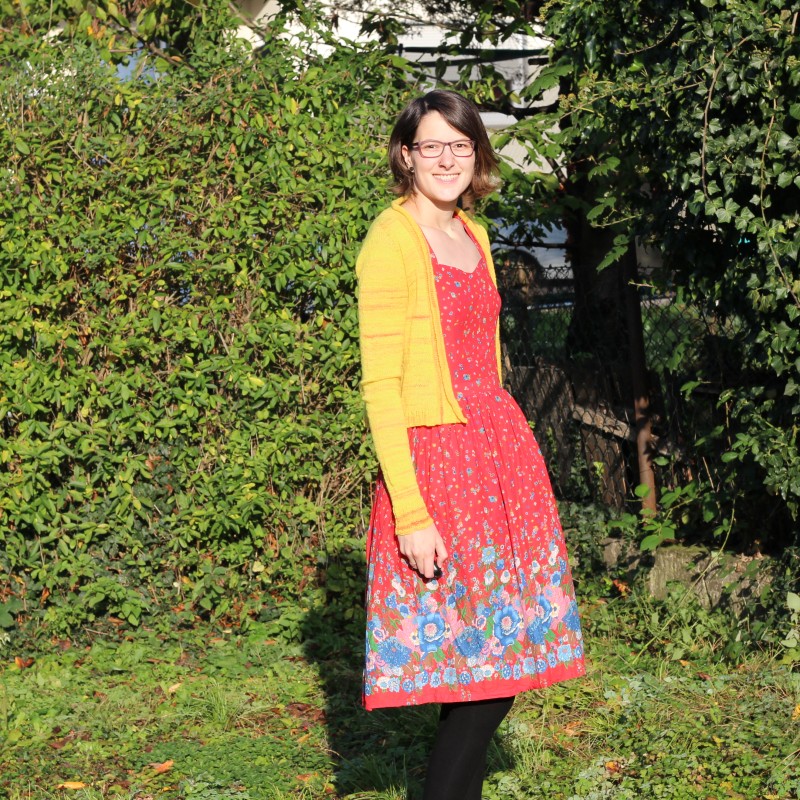 As usual: don't hesitate to ask me anything about this project. And if you want have a look at the cardigan on Ravelry :)
Macht's gut!
Katharina