Hello all, I have returned from Iceland. Naturally, you might think, everyone has to return from a holiday someday, but in Iceland I wouldn't take that for granted, Iceland is different and every year there are tourists who do not return, or at least not alive. Well, I guess Iceland wasn't made for mammals, and all mammals that live there seem to be imported, human sheep and horses and that's about it. Sometimes you have whales.. ;) There's danger in every corner and everything looks an smells so hostile, huge waterfalls, hot steam coming out of the ground smelling of sulfur, volcanoes, cliffs, very cold weather and magma formations as far as the eye can see. No trees, no birds, no noise.And totally fascinating! The best thing is that you can almost go everywhere, touch everything and no one is preventing you from doing something stupid, which sometimes is falling off a cliff or getting burnt, but that also means: adventure! We had a great time, it was exhausting and cold but there are so many things to see right next to each other. The tourism is increasing a lot though, so if you want to see Iceland and being able to see everything at short distance and without many people around you should go now. The blue lagoon is already full. SO full you have to pre-book at least 2 days in advance in winter.
As we knew about the weather conditions in advance I packed a lot of warm stuff. Well as much a I could because my suitcase had only limited space ;) I thought that 8 -12 °C didn't sound that cold, but the wind is. I wore my skiing jacket almost all the time and was so happy that I had brought some knitted cardigans. Well to be on the safe side I did also buy a little bit of wool in Iceland. ;) It was surprisingly cheap, about 2 € per 50 g. I found it was cheapest in grocery stores (cheapest was Nettó). I also visited the Alafoss wool store, but the yarn was more expensive there. Well more about that when I have finished my sweater :)
As we visited Iceland in May I took daily pictures of my outfits and can now proudly show them off: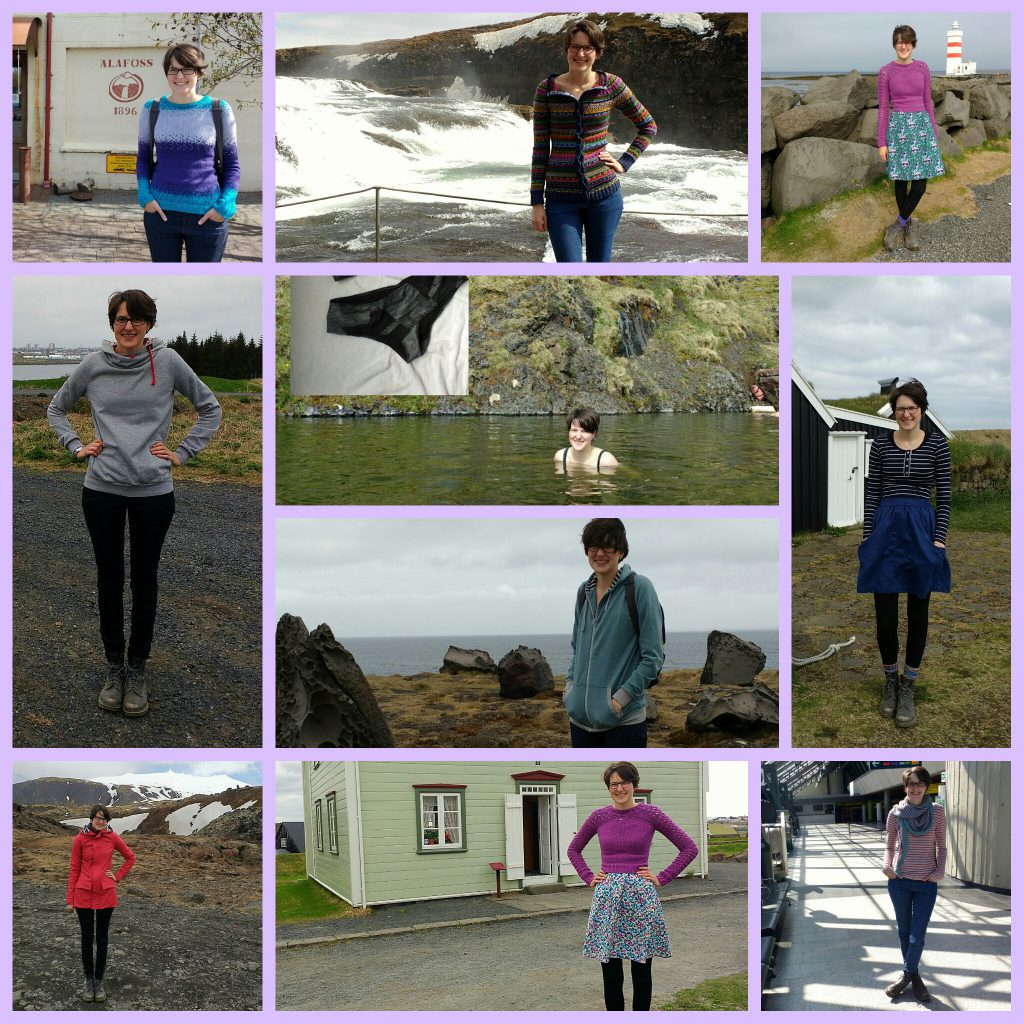 I took my skiing jacket off for the photographs because I didn't make it myself. What I did make myself are the tights I'm wearing in the pictures :)
Thanks to MeMadeMay I finally found the motivation to start making tights. I don't know about you but I don't fit into tights. My legs are simply too long, like 15 cm too long. I always buy tights in the biggest size available, but then they are too wide.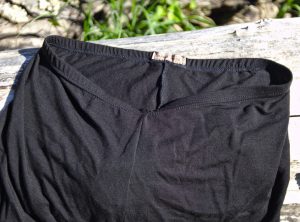 Thankfully Carolyn, who right now is having a year of handmade (including shoes!), once published a tutorial on how to draft your own tights pattern. I spared me some work and used a free leggings pattern from CUT Magazine as a basis. I simply taped some sheets of paper to the end of the leg to shape the foot of the tights according to Carolyn's tutorial. Well, that's what I did. I only have one seem at the inner side of the leg and so I only made one dart at the inner side of my foot to shape the heel. I ended up with a pattern piece looking like this:
I closed the seams with a 3 threads serger seam. I started with the heel dart, closed the inner leg seams and afterwards the crotch. then I attached an elastic band at the waist. My first attempt got too long, but I made two more pairs and they turned out pretty good :)
I bought the fabric on ebay. It had 17 % spandex and the rest is cotton. The tights feel really good against the skin, much better than bought ones, as the fabric is able to breathe.
They do feel more like leggings. I also found that they are warm enough, even for Iceland and that the seams are not noticeable wearing-wise as well as seeing-wise. I even like wearing them with flats.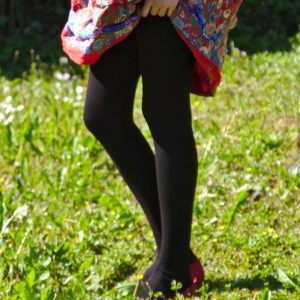 And because I really was eager to make some tights I also knitted a pair ;) I think that was the most boring project I have ever knitted so far! It took ages!
I used a free Drops pattern to make these. I made some small adjustments, knitted the short rows a w&t's, used a three-needle bind off for the crotch, lengthened the thing, made more decreases and added feet. I also did the decreases different, I did them so that they do not disturb the ribbing so much. You can read more about that on Ravelry.
The leggings turned out pretty wide, a little too wide for my taste.Next time I would knit fewer stitches. I use sock yarn that I bought a while ago. It is fingering weight and I used 400 g, but I think 300 g will be enough if you don't knit so many stitches and if you don't have super long legs (I think I also overdid the lengthening).
Because the tights are too voluminous and heavy I didn't bring them with me to Iceland, so I didn't have the opportunity to really test them yet. They are itchy I can tell you that. Think I will make a second attempt with fewer stitches and in a more decent color. I will let you know how it went :)
Thanks for reading and bis bald :)
Katharina