'Alpenglühen': I don't know if you guys know this word, but well, this is the pattern name of a cardigan I made recently. I don't even know what Alpenglühen means, but dict.cc finds a translation to it (alpenglow) so this must be a thing. However I didn't buy the pattern because of its name, but because I liked the way it looked. And because I had the perfect yarn for it. And as usual I have a story to this project. As you might have noticed: I love telling stories!  I'm so glad I found blogging, I have an outlet for all of those stories and no one is interrupting me while I am telling them. Plus I don't have to listen to the boring stories other people tell. Haha, I'm kidding, I love listening to stories as much as I love telling them :) This story is about the yarn and my grandma. She knitted me a dress once. I didn't know how to knit back then and asked here if she could knit me something. Well, she is always asking what I want for my birthday/Christmas and I thought this would be a great idea and fun for her. Well as it turned out: it wasn't. My grandma is kind of a perfectionist when it comes to making things for others and instead of just enjoying the knitting she was constantly worrying about whether I'd like the dress. As my grandma isn't the most experienced knitter she kind of bought a yarn that wasn't great for the pattern. Much too stiff and too warm. I also asked her to lengthen the sleeves, which she did, by 15 cm. So I had this overall huge dress with those super long sleeves which was way to warm most time of the year. It also was so stiff that it looked kind of a like armour. Well after having it in my closet for 4 years and never wearing it I decided to open the dress up and use the yarn for something i like. I still feel really bad about ripping all my grandma's work open, but well, I think it was the right decision, as the yarn is really lovely and I have good use for it.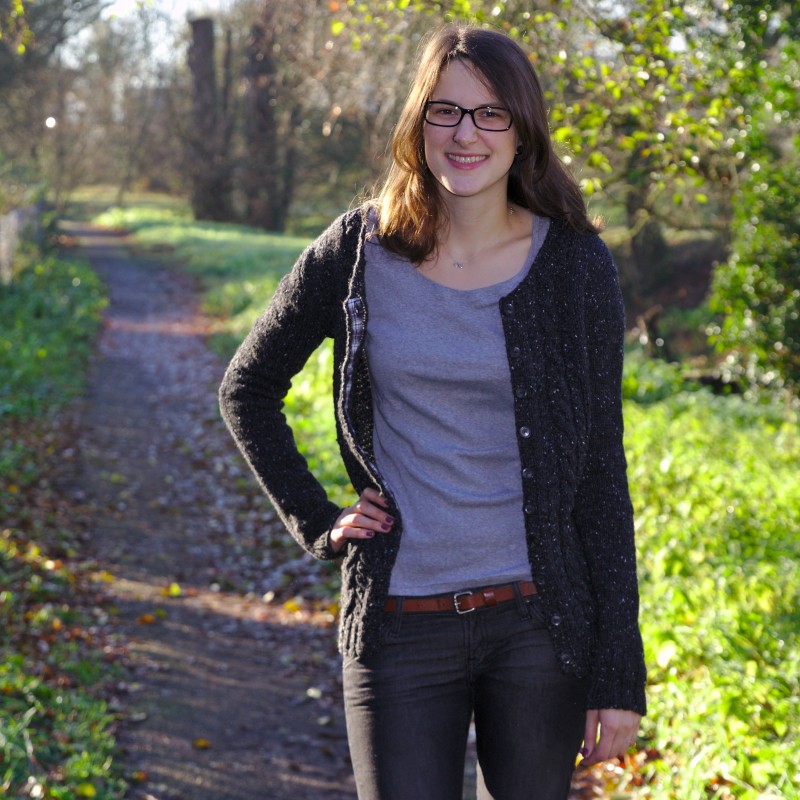 However I didn't tell my grandma that I would destroy the dress and I don't plan to do so. That means that I have no idea what kind of yarn I used for this project ;) It is some kind of tweed yarn and has a lovely texture. I made a swatch and decided to go for 4 mm needles to make the Alpenglühen Cardigan from it.
The cardigan is knitted bottom up, the sleeves, however, are knitted top down. The construction is totally seamless. The body shaping is done with de- and increases in the back. I think it looks nice but it makes it a little harder to add decreases to the body.
I chose size S according the the measurements chart. As you may see the cardigan sits a little too loose (for my taste) and the shoulders are way too wide.
I also was kind of disappointed with how the instructions are written. Everything is so messed up and confusing. In one line it says you should do something after 8 rows of knitting. In the next line it says you should do another thing after  5 cm. Why not stick to either rows or length? I disliked that there were no charts given for the cables. they are far from complicated but I like it better when I can read charts instead of written cable instructions. While I was knitting this cardigan I was kind of furious and decided to never knit anything from that designer again. Then some time passed and I forgot about that. Than after wearing that cardigan I am back to not buying anything from her again, because of the bad fit.
Another story: in the end I ran out of yarn and had to piece together my leftovers to finish the cardigan. I would have had enough yarn if I wouldn't have made the mistake to rip the dress from the bottom instead of from the top. I am used to knitting top down, but my grandma did this one bottom up.. I took my some trials to figure out what I was doing wrong ;)
I stabilized the button bands with fabric, as I usually do. after some thinking and rethinking I decided to go with grey buttons, because I wanted the cardigan simple.
If you like you can check out my new cardigan on Ravelry, too.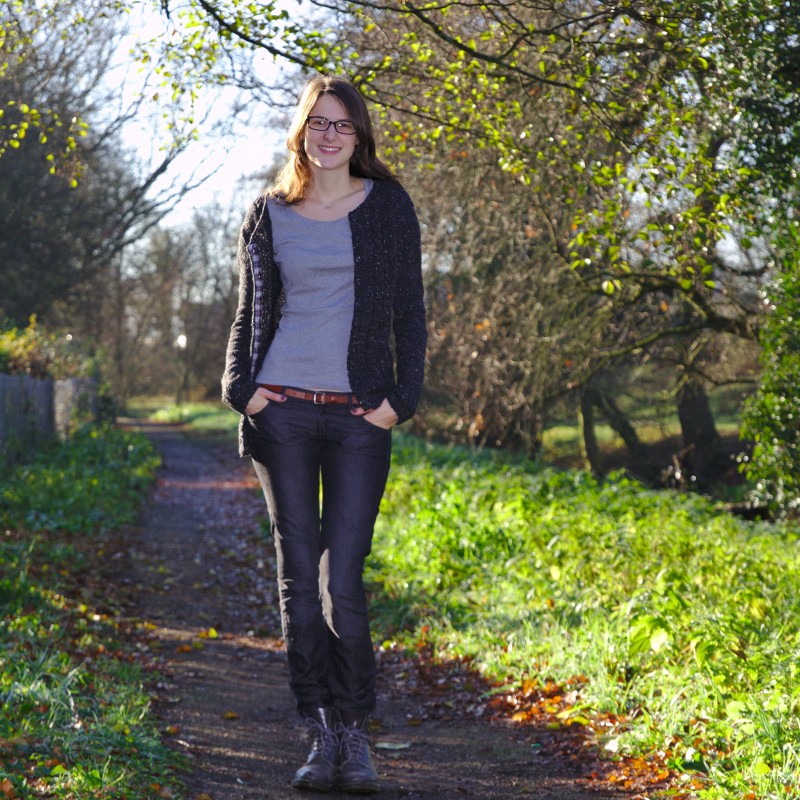 Macht's gut!
Katharina