This autumn I seem to make man third repeats of one pattern. I like to think that is a good sign. I feel like I have found some basics that I can rely on like the Ginger Jeans pattern or the Kelly Skirt. It is more fun for me to try new patterns but recently I also found joy in redoing a pattern and trying to make a really clean finish. I tried that with the project I'll show you in a second. It is my third attempt on Butterick B5526, my favourite and reliable shirt pattern and I am really satisfied with the way it turned out!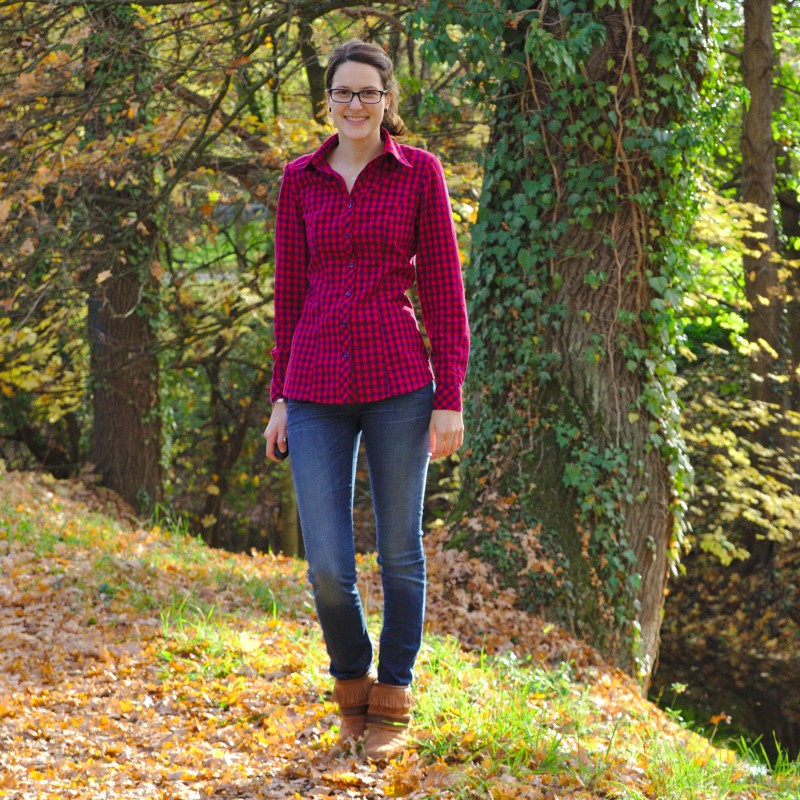 I decided to go with french seams were I can. I didn't dare to french seam the sleeve seam, hat seems really hard to me. But, well, I have left myself something challenging for the next try :)
I'm particularly proud of how the button bands and collar looks from the inside. I think it is really hard to catch all the fabric on the wrong side when you're topstitching from the right side.
Even the cuffs worked out fine this time :)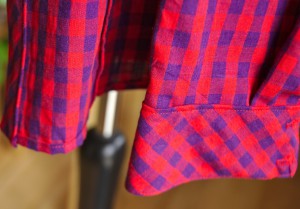 The fabric had a lot to do with my success I have to admit it :) It was a pleasure to work with it. It's a medium weight woven cotton fabric that I bought at a fabric market in Karlsruhe. The friend who was with me didn't really like it, looks to engineery I guess :D But I like that, well I am an engineer! This is the perfect work shirt, everybody will just assume that I am competent ;)
What I actually like about gingham is the look that placing the squares diagonally gives the garment, I just love that! And I love sewing that and thinking about the placement and stuff. I even tried to match the squares at the side seams, it's really good I am no perfectionist, because that didn't work out 100 %, but I'm still pleased :)
I sewed size 10 which is slightly too big for me I guess. But I like the way it fits me and I don't like copying patterns for a third time, haha :D
I used very light interfacing for the button bands, the collar and the cuffs. With time I found out that I didn't like those parts to be too stiff, but I think interfacing them makes the garment look a whole lot better.
All in all I really really like this shirt! I am glad I did it a third a time and I will do it several times more!
Thanks for stopping by! :)
Macht's gut!
Katharina