Almost 3 and a half years ago I knitted myself a color gradient sweater. I knitted it from some relatively thick cotton yarn and ended up using 7.0 mm needles and a lot of yarn. To achieve a kind of gradient color I knitted with 3 threads at a time, always changing the color of a single thread one at a time. The pullover was meant to be worn in spring but it got too thick for that and as it was knitted from cotton it also wasn't warm, enough to be worn during winter. I also ran out of yarn while knitting it, so it got a little too short and the sleeves looked wired and at some point I got rid of it. I cannot remember when, it must have been when I moved or something. I didn't even keep the yarn which I usually do..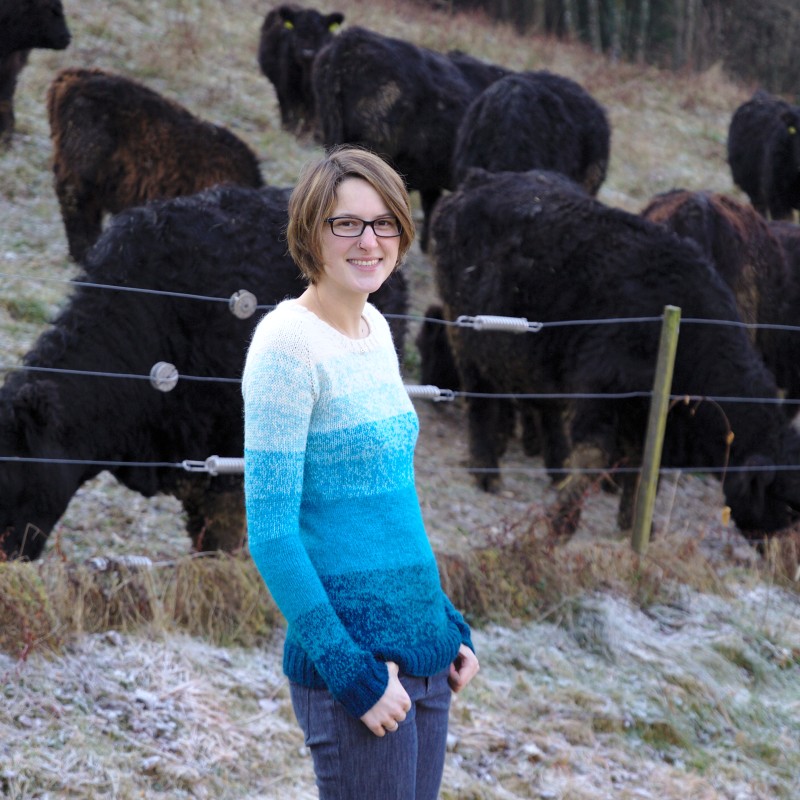 However, some time ago I received a mail from Jutta asking me about the sweater. She wanted to make a similar one and asked if I had some advise. So we got talking and at some point I really needed to have another gradient color sweater. I realized that this was definitely I gap I'd like to fill ;)
If I would have known by then that I would pick up spinning soon maybe I would have waited. Because what I wanted was a sweater that looked like it had been dipped into dye but what I got is a sweater that has stripes in slightly different colors;) That is fine too, but not exactly what I imagined.
But as I did not know about my glorious future as a spinner back than I started the hunt for yarn. It needed to be thin, as I was going to knit with three strands at a time again. I wanted at least 5 colours that worked well together and I didn't want cotton. I don't like cotton yarn, and I don't have a reason for that. As usual I wanted to use Drops yarn and so I ended up with Drops Alpaca. I'm a huge fan of the yarn and the animal:)
Also as usual I didn't buy enough yarn and ended up buying some more skeins from my LYS (local yarn store). Here are the yarn amounts I actually needed in order to finish the sweater:
3 skeins = 150g = 500 m in natural white (Color no 100)

3 skeins = 150g = 500 m in turquoise (Color no 2917)

3 skeins = 150g = 500 m in dark turquoise (Color no 2918)

3 skeins = 150g = 500m in teal ( Color no 2919)

4 skeins = 200g = 665 m in petrol ( Color no 7240)
I knitted a swatch with 4.5 mm needles and three threads at a time and obtained a gauge of 17 sts x 22 rows. How convenient, exactly the gauge that  Andi Satterlund's Miette Cardigan calls for ;)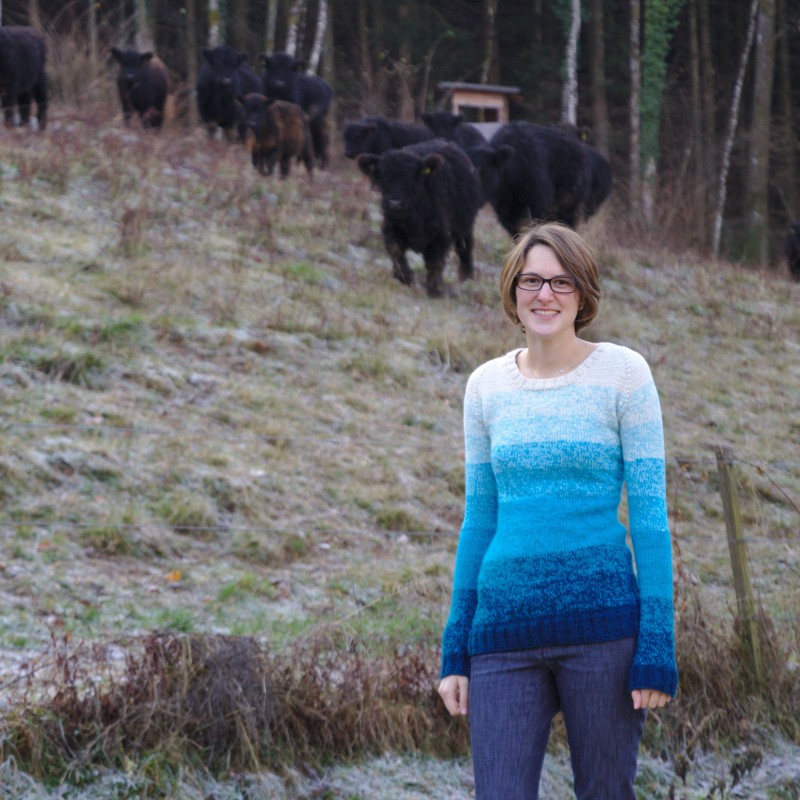 My initial motivation to knit this sweater without pattern was immediately gone and I agreed with myself that it made much more sense to simply stick to the numbers in the pattern that I have  knitted several times before. I knitted size 34 and made some modifications. Obviously I omitted the lace pattern and knitted in the round after completing the neckline. I also lengthened bodice and sleeves. Therefore I added some hip increases below the waist. I also moved the waist decreases to the sides and knitted a simple k2, p2 ribbing.
I calculated how long each stripe section has to be before I started knitting. I decided that I wanted to start with 3 white threads and end with 3 petrol threads but all other colors should not be solid. Meaning I'd switch from 1 white, 2 turquoise directly to 2 turquoise, 1 dark turquoise. I calculated that there would be 10 different sections. I decided on a length for the bodice (I measured the length of my favorite sweater) and thus knew how many rows I had to knit per section. In the pictures it seems like there is one very big stripe located at my waist. But actually there are two sections, 2 dark turquoise and 1 teal is the upper one, 1 dark turquoise and 2 teal the lower one. It just so happens that both colors very much look alike.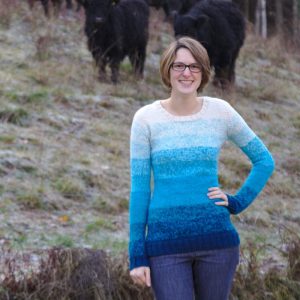 I needed a lot of yarn to finish the sweater, much more than usual. It is very heavy and very warm. Exactly right for the temperatures here right now:) I was planning on showing you a dress I've made today, but believe me it is so much easier and cozier to show off another warm sweater :)
Right after finishing the sweater I wasn't that much into it. I had planned for something less stripey and more continuous grading. After giving it some time I quite like the effect and I like the sweater on the pictures. Plus knitting was a lot fun and never got boring although the whole sweater is knitted in plain stockinette. Also the sweater is very warm and cozy to wear.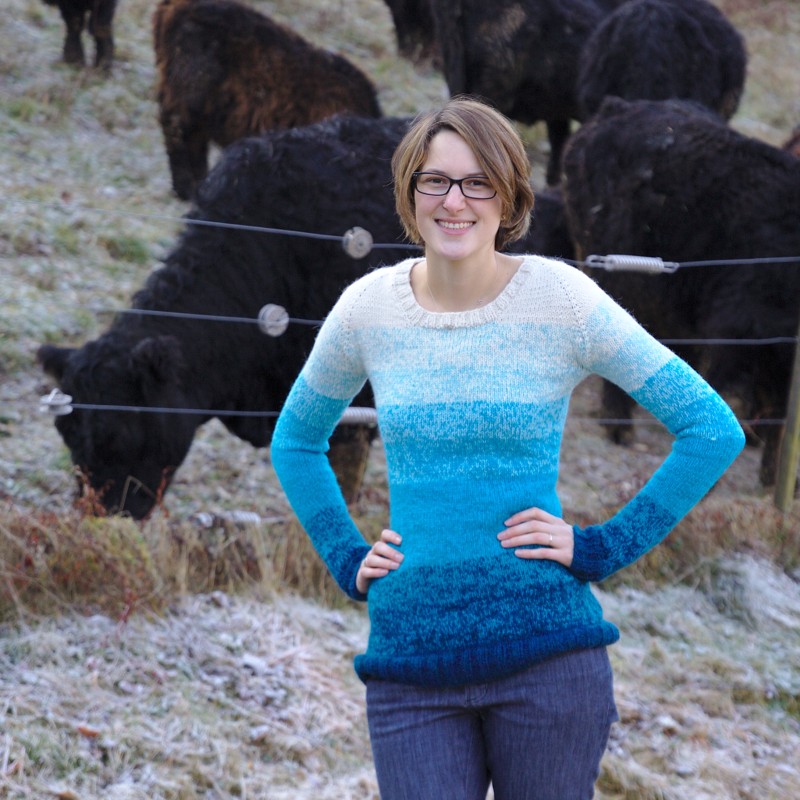 If you want you can look at this project on Ravelry. I wish you a great Wednesday :)
Katharina