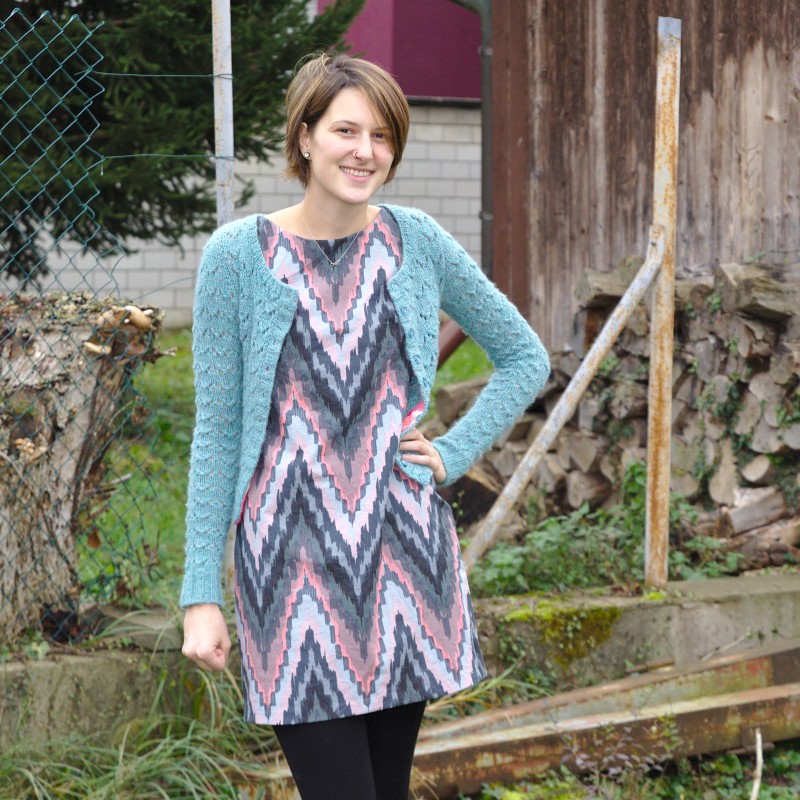 There are some projects that I spend ages on, when in fact they shouldn't't take me that long. Most often these are projects that I'm not very passionate about right from the beginning. Today I'll be showing you a dress where the passionlessness started with the pattern. Colette's Laurel Dress. Definitely not my usual style. Because,well: the bodice isn't fitted and the skirt isn't flared ;) But I found myself drawn to this pattern every other time. I have tried this pattern before once. I sewed the dress for a job interview and ended up wearing something else ;)I haven't worn the dress at all. I wasn't sure if that was because I didn't like the silhouette, or because it crackled every time I moved a little. Super annoying! Plus a dress with a simple silhouette AND a solid color seemed like a waste. And when I came across a really bold fabric with a huge pattern I thought that maybe this fabric compared with the Laurel Dress pattern could actually work for me and I gave it a try.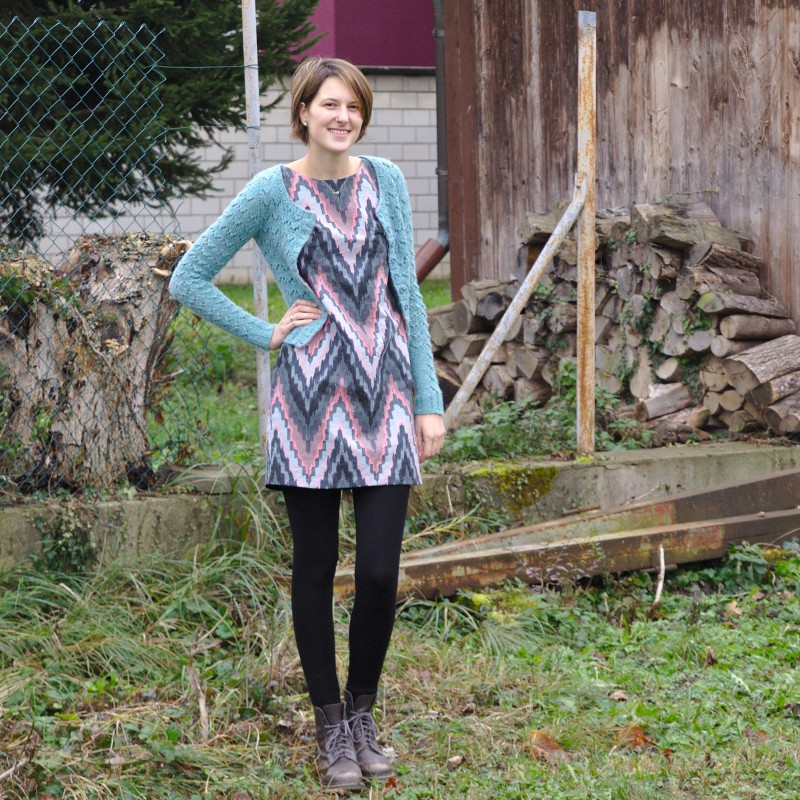 Initially I wanted to make a summer dress, but the fabric is very thick, I think it was meant for table cloths or something and so I thought it would be best to make an autumn/winter dress from it.
So far so good, the problems started during the cutting process.I didn't have that much fabric to begin with, only 1,5m and I wanted to do at least a little pattern matching and ¾ length sleeves. It took me some time to lay everything out and then I cut the back piece twice instead of cutting a back and a front piece. I could only fix that mistake by cutting off a lot of length. Now, as you can see, I can only bend over in this dress in a very back friendly manner ;)
I cannot really recall what exactly happened that made me take sooo long to finish this dress. First I had real troubles inserting the sleeves. Th armscye just wasn't wide enough. Then I couldn't really move wit the sleeves attached plus they were too tight. Then I had some issues with the lining fabric. It was shifting like mad and pressing and fraying real badly. I wanted french seems for the lining and that took me some time. I decided to finish the edges of the fashion fabric with my serger as the fabric was so thick.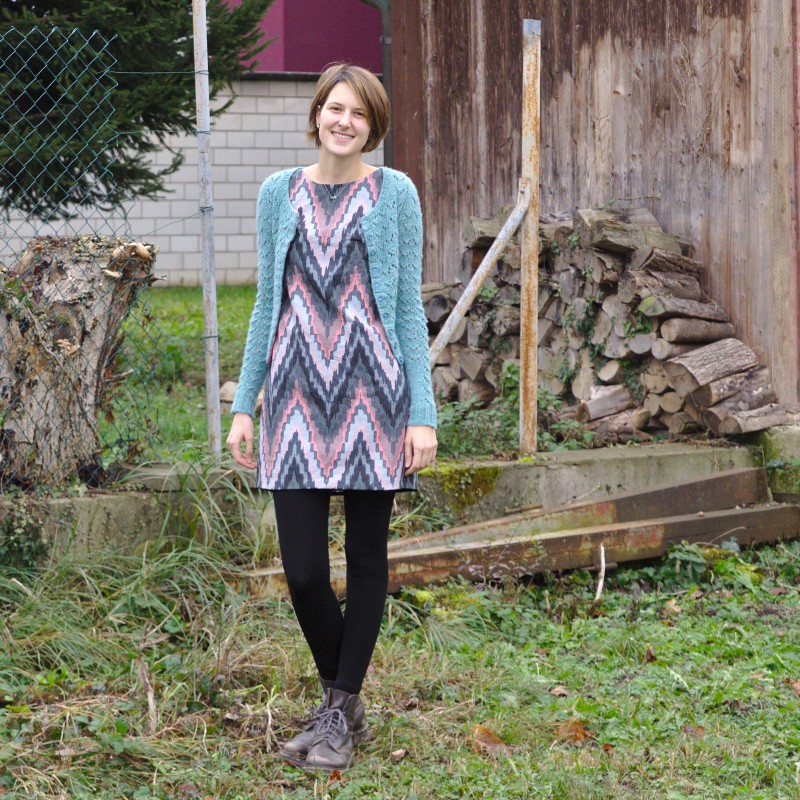 In retrospect I guess my real problem with this dress was that I imagined it to look completely different. And I just couldn't get it to look as I wanted it. It was a lot shorter and the sleeves really looked and felt weird. So shortly before I completely lost the fun I decided that I had to stop worrying so much and try to find a quick end to this make. I end up making the best clothes when I don't worry at all and just have fun and when I don't have a picture in my head of ho the finished piece should look. And so I ripped out the sleeves and finished the armscye totally badass with my sewing machine from the inside. Okay what was really badass about that was how I altered the armscye. I simply draw anew armsyce line on the dress while I was wearing it. adn it worked ;) I can move freely in this dress. I think I should have done some armscye alterations with some of my other dresses too. I never do them but not having fabric directly in your armpit feels great ;) Plus moving is a lot easier :)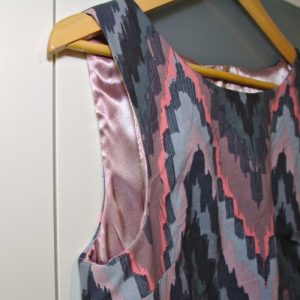 I applied bias binding to hem the dress and stitched it invisibly by hand to the dress. I hemmed the lining with fire. That was a lot of fun! I was soo annoyed by this fabric that it left me no other choice. And it worked like a charm ;)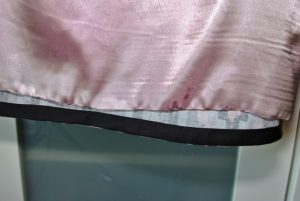 Annnd I was done ;) The thing is: I still don't know whether I like this silhouette on me. And the length. Oh the length. I don't want to have to check the position of my dress every few minutes. I just have to try and see if I ca deal with that I guess. What I do like is the pattern of the fabric and the fact that the pattern didn't destroy the fabric pattern a all :)
Oh maybe one or two or three words on the pattern and instructions. For this dress I didn't change the pattern, but I made some changes to the previous version. I chose size two, lengthened the dress and changed the armscye a little (to make it wider). For this dress I then changed the armscye completely but as I did this on the fly I cannot tell you what exactly I did. I took out a lot of fabric at the bottom of it, that's all I can say.
I think that the fit of the dress, apart from those sleeves, is as it should be. But the sleeves including scye were a little weird. The sleeves were way too tight, they were super hard to insert and the armscye was way to tight. But well, I don't know, maybe something went wrong during my disastrous cutting session ;) But if you're planning to sew this dress I would recommend making a muslin including sleeves.
The instructions tell you to underline the dress. That means you cut your pattern pieces from lining and fashion fabric and baste them together, treating them as one layer of fabric in all the steps that follow.That means that you will have to take care of the finishing of all edges. The neckline is finished with bias binding for example. I think using the lining pattern piece to make an actual lining makes for a faster and cleaner finish, so that is what I did. I don't know what advantages an underlining compared to a lining brings with it, except for adding warmth.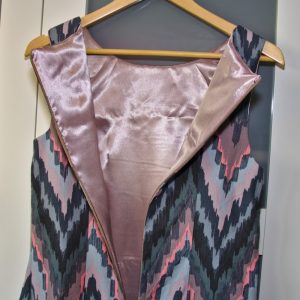 So, all in all, I didn't use the instructions that much. Well there are very few seams and steps to finish this dress, that I didn't actually need instructions. I just needed a lot of time and I'm glad that I can start something new now :) I('m still not convinced of this pattern and I don't think I will sew it again.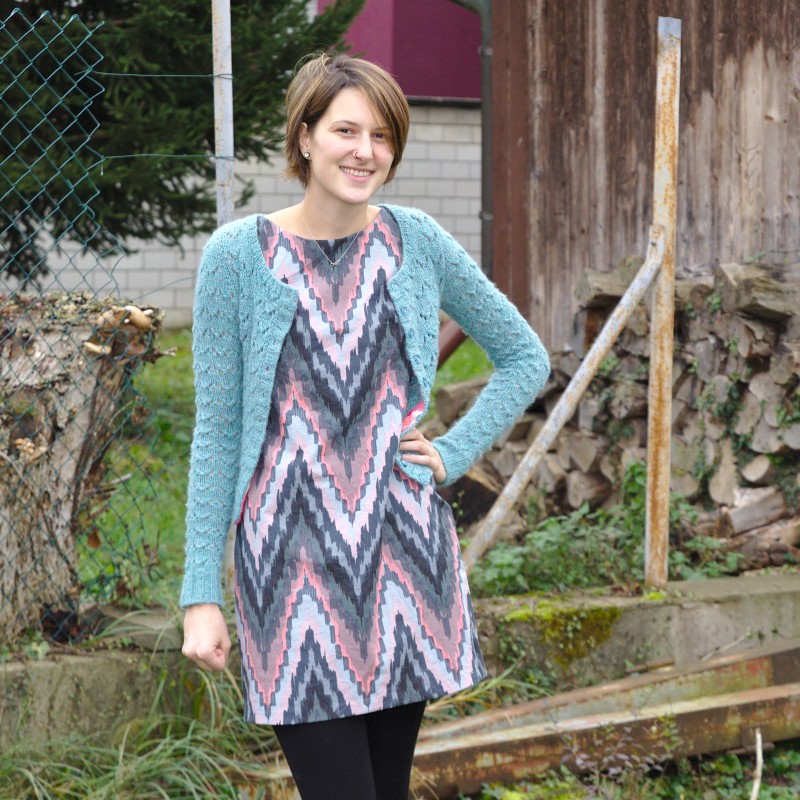 Macht's gut!
Katharina