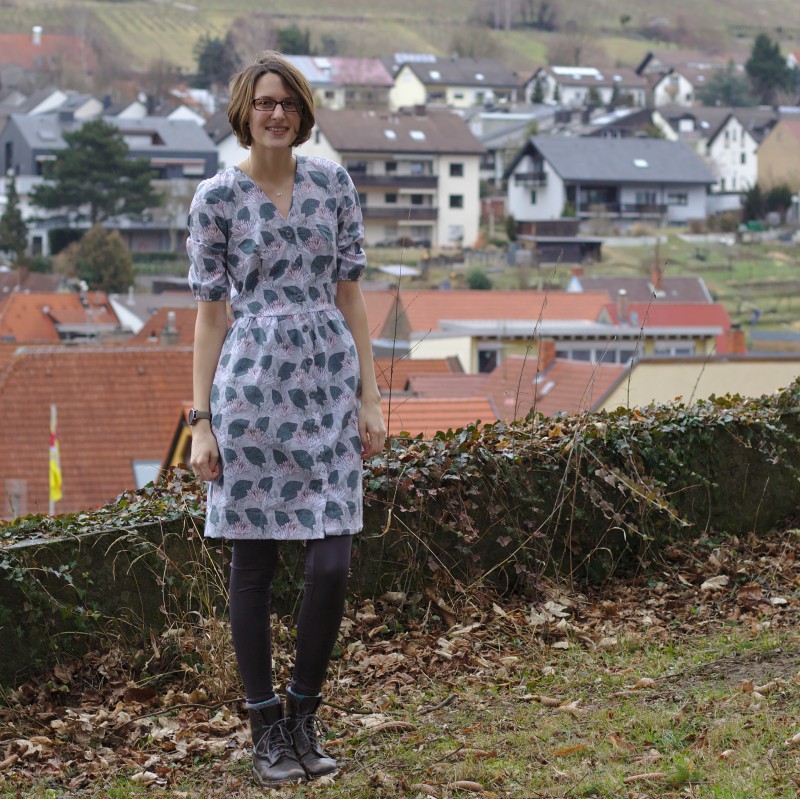 I sewed another dress! Winter is a good as over (at least that' s what I'm telling myself) and my dress isn't that suitable for winter weather, so that is very convenient ;) Last weekend there even was a short window of time were temperatures were above 0°C AND it was only raining a little. I Took that chance and asked Marvin to take some pictures of my new not so wintry dress :)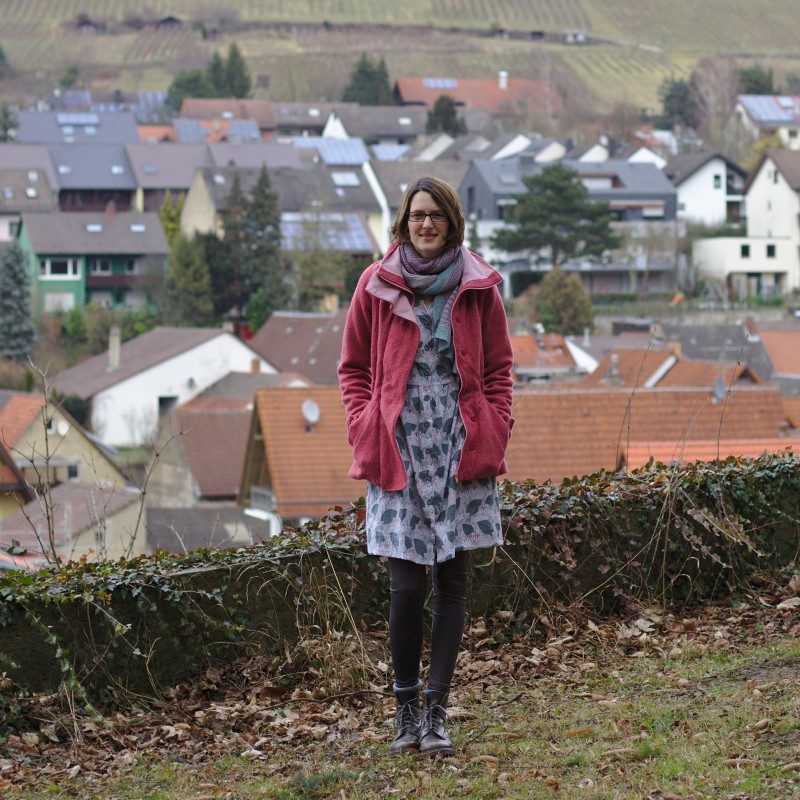 In order to keep warm I wore leggings that I made from this free pattern from some fancy outdoors fabric, that is only two way stretch (one way stretch if you ask me ;)) and thus the leggings aren't that comfortable. I don't want to call them a fail, but well, that's basically what they are ;) I Also wore my Color Affection Wrap that I made a year ago but never showed here on the blog. So here it is: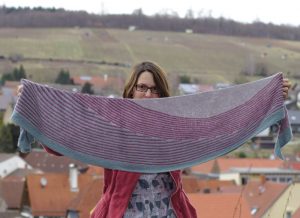 And here are some more infos on it.
Over all of that I was wearing my pink wedding winter jacket, that is my favorite of all!  I bought all the fabric and yarn in the pictures at almost the same time and I think that is why they all have the same color scheme. I seem to have been into pastel. And pink. But that's nothing new to you, is it?
I bought the fabric online at Stoff&Stil a year ago and they don't sell it anymore I'm afraid. It is a medium weight 110 cm wide cotton and I originally bought it to make curtains for my sewing room. I then decided I didn't really want curtains and now I have lots of this fabric :)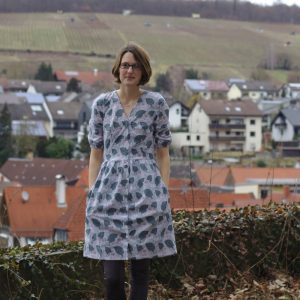 I have been wanting to work with this fabric for, well, almost a year now. I switched pattern choices a lot with this one. In the end I went with Megan Nielsen's darling Ranges Dress, a pattern I found it hard to find the right fabric for. I think those two work well together.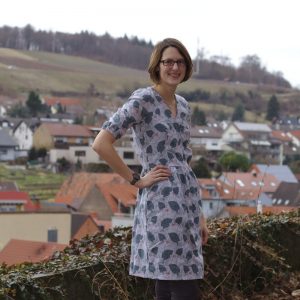 I bought the pattern on some kind of sale. Black Friday, Thanksgiving, Cyber Monday something like that. Since I've seen Christiane's beautiful version I've had an eye on that pattern. I like Megan Nielsen's Designs. Simple but with that certain something and great instructions.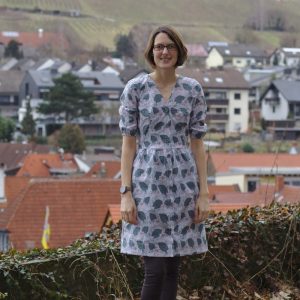 I started the sewing process with a bodice muslin. No, wait I started with picking a size. According to all the charts I should wear a size XS. But I sewed all my Megan Nielsen skirts in S and Christiane's dress is size S too. So just to be safe I cut size S and then I made a muslin. And the muslin fitted me well width wise. I also lengthened the bodice as usual for me by 4 cm in total. I had some serious neckline gaping going on and made a square shoulder adjustment to fix that. I didn't know I had square shoulders! But I often had neckline gaping problems. Mystery solved, the adjustment worked very well ;) I could have straightened the shoulder seam I little more I guess as the back neckline still gapes a little.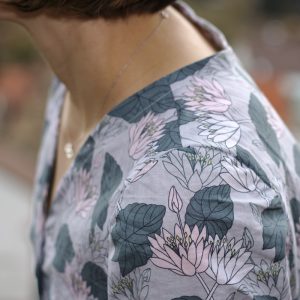 Another issue I had was tightness at the upper back. I couldn't fully move my arms to the front. What I had to do was, I think, a broad back adjustment. I kind of did that but in a very unfancy way. I simply added some with to the bottom third of my back armscye. I'm not that good/experienced in altering patterns. I can do the standard stuff and I surely can lengthen patterns but when it comes to sleeves and armscyes I always find myself a little overwhelmed. I am not even sure where you want to have excess fabric and where you don't. I mean you need some excess fabric to allow for some movement. I also find that it is hard to determine the point at which you#re only making things worse. With sleeves it often happens to me that I fix one issue but create another. Oh well, I have siome tings still to learn here. I ahve ordered a book on that now. But as I can only get better when I try and fail more I did that ;)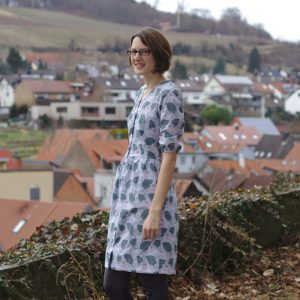 And in the end the sleeves turned out comfortable at least :)I don't know if they're supposed to look like that but they feel good :)
During the cutting process I realized that the skirt pattern pieces might be almost exactly the same as the Kelly skirt pattern pieces. I didn't check, but they are both basically rectangles so chances are high :) All the pattern pieces are kept pretty simple really. You don't have to cut the button backs separately and there is no collar. You don't have cuffs but some elastic that gathers the sleeve hem. And instead of cutting facings you finish the neckline with bias binding.
All simple but effective solutions, all of them neatly explained in the instructions. But the sewing was  little boring I have to admit. So boring that i seemingly stopped all the thinking and forgot to interface the button bands. I only realized when i was cutting the button holes open. Oh well. Would have been nice if the instructions would have reminded me, but I also could have thought of that myself!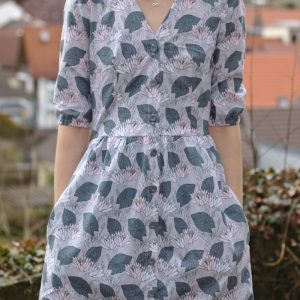 I didn't line the dress (and I'm wearing a slip dress underneath for that reason) in used french seams on the inside of th dress.
French seaming the gathered waist seam was a little tricky but doable. The same applies to side seams with in-seam pockets.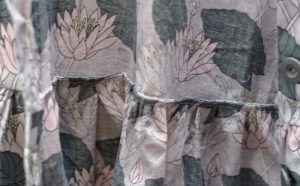 As already mentioned the sleeve hems are gathered by elastic bands. That was easy, is very comfortable and looks nice :) I am not sure what to make of the sleeve length. Do I like it, does it looks weird? I don't know yet.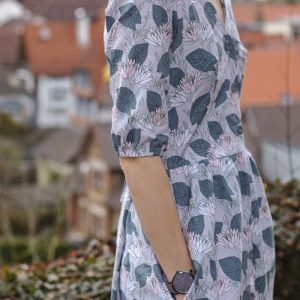 Another thing that makes the dress very comfortable is it's wideness that is being controlled by two bands in the back of the dress. So you can widen the dress will you eat, very practical! ;)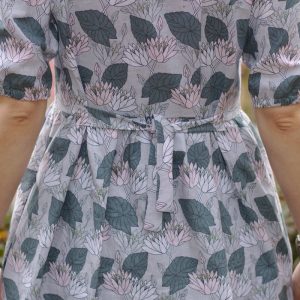 The hem is extra wide (like the one of the Kelly Skirt) and I sewed it even wider!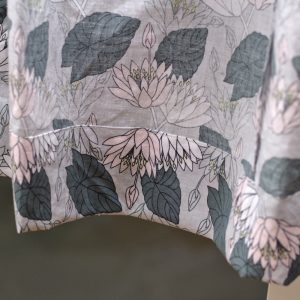 I think the pattern is worth being sewn another time. It is so simple that it will be easy to modify it. and it is so simple that it looks great with some bolder print.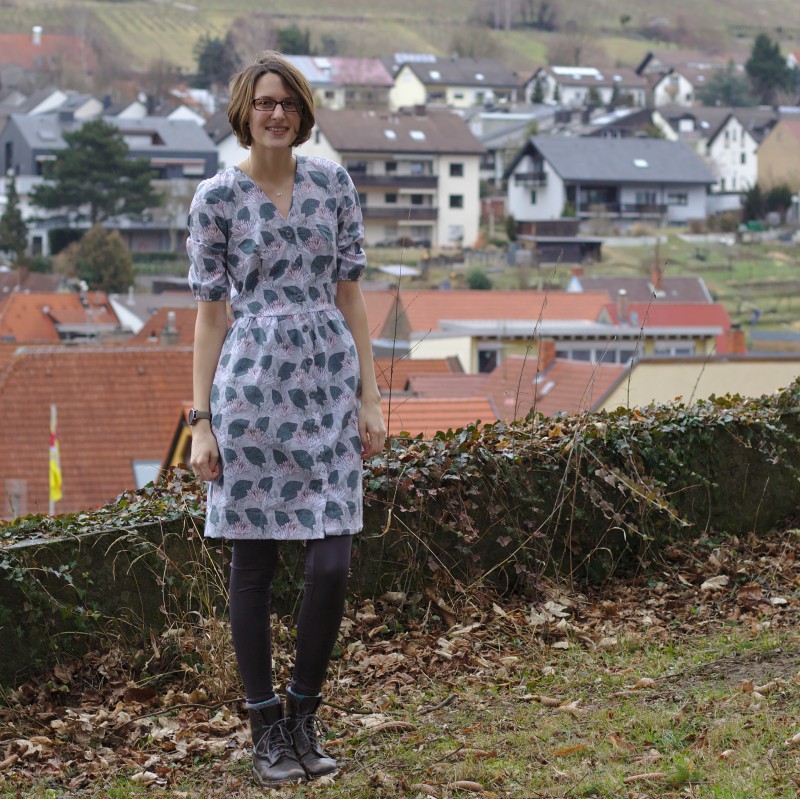 Have a great day and thanks for stopping by!
Katharina