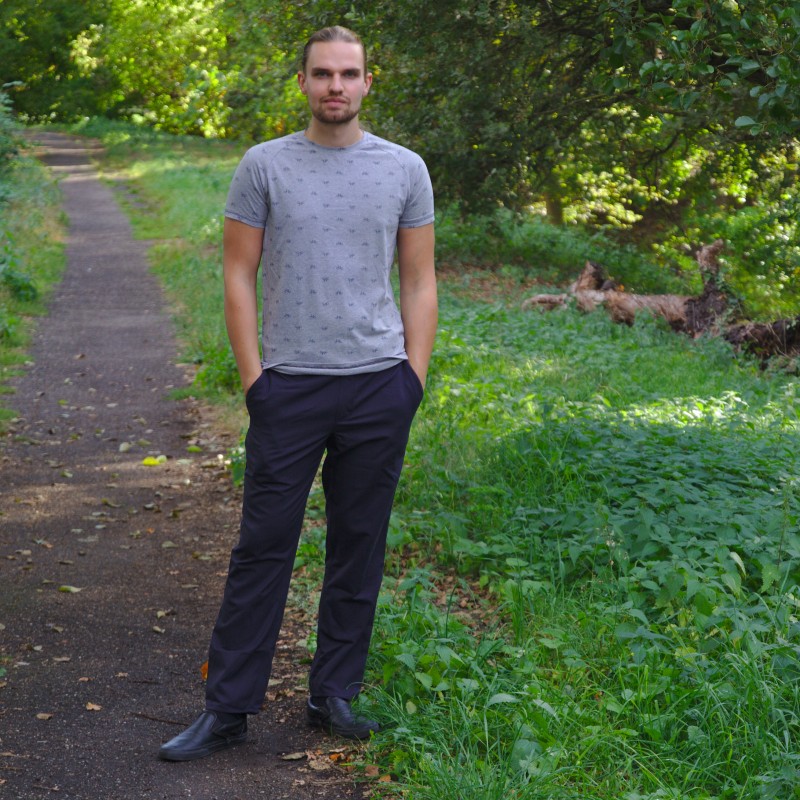 Poor Marvin has nothing to wear! Since I'm sewing all of my clothes no one is forcing him go fashion shopping and he starts to realize that he could use some new garments. As my closet is bursting (which btw is a problem of a too small closet if you ask me) I liked the idea of sewing something for him from time to time. Unfortunately it is much harder to find patterns and fabric for men, but you now me: nothing can stop me! ;)And so I always take what I can get! If there is a fabric that Marvin might like I buy it. Even if it costs more tha I would normally spend. So far he always liked the fabrics and the pattern I picked for himand that really motivates me a lot and makes me lock harder for fabrics and patterns.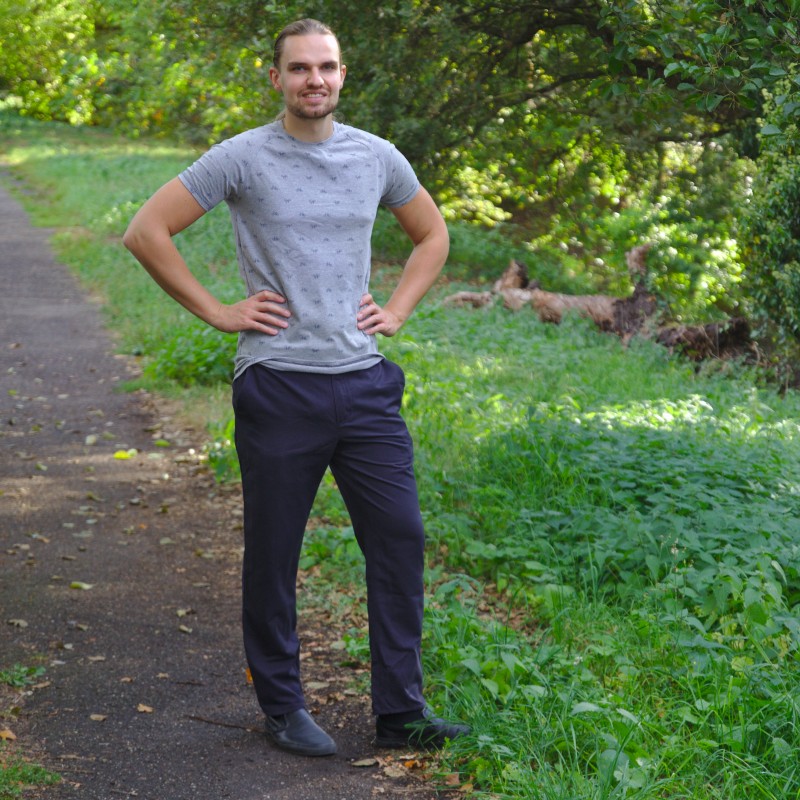 As I've already said there aren't many men#s patterns out there and because Marvin liked his last Jedediha and Tom Outfit I just made him another one. So the pants are the Thread Theory Design Jedediah Pants and the Shirt pattern is from Pattydoo and called Tom. When I sewed the pants last time I cut size 32, because that was exactly Marvin's size according to the sizing chart. In the end the pants were too tight and so I decided to go for size 34 this time.
As you can see, that turned out well :) I'm so glad to now have a pants pattern that Marvin likes and that fits him :)
I bought the fabric on sale in a local store. It was on sale because there was one white thread webbed in. But I bought it anyway. There is cotton and wool in it, it falls very nice and feels good against the skin. For a short instance I thought about making a dress for me from it ;) But I didn't :)
I#M not a fan of the instructions. They're kind of messy and confusing in my opinion. When I sewed the pants some of the  Sew Along's photos were missing, but I think that is fixed now.  I mostly worked according to the  Ginger Sew Along, which I think is great!
As contrasting fabric I used something I has in my closet for some time. I made Marvin a Shirt from it a while ago.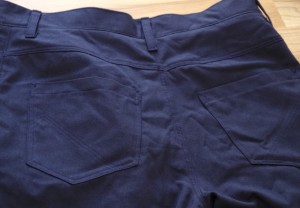 Again I cut notches into the seam allowances and so I could do flat felled seams. That has append so often to me! I think I'll need to make a note on the pattern pieces so I will remember that next time!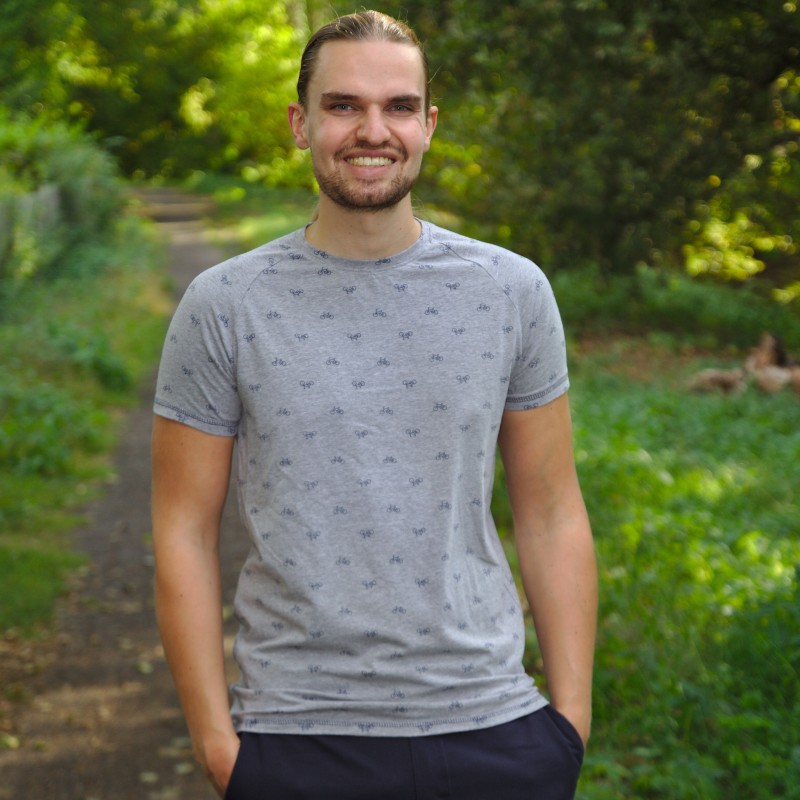 The T-Shirt fabric was really expensive. But when I saw it I knew Marvin would like it and he has worn this T-Shirt already a lot! unfortunately I didn't have enough fabric to make another Shirt for me, but Marvin wouldn't be happy about me wearing the Shirt as he does anyway (and I wouldn't too..) I don't think the instructions of this pattern are available in English, but there isn't much to instruct with this pattern ;) It is a fast and easy make. It fits Marvin very well in Size M (which he wears according to the chart too), there are seam allowances included in the pattern and the pattern was really inexpensive. There aren't many German pattern Designers who make such good patterns. I don't even know one other German Designer who includes seam allowances in her patterns.
I'm happy that Marvin is happy with his new clothes! he doesn't mind that they aren't perfect and have some minor flaws and so I really like sewing for him! :)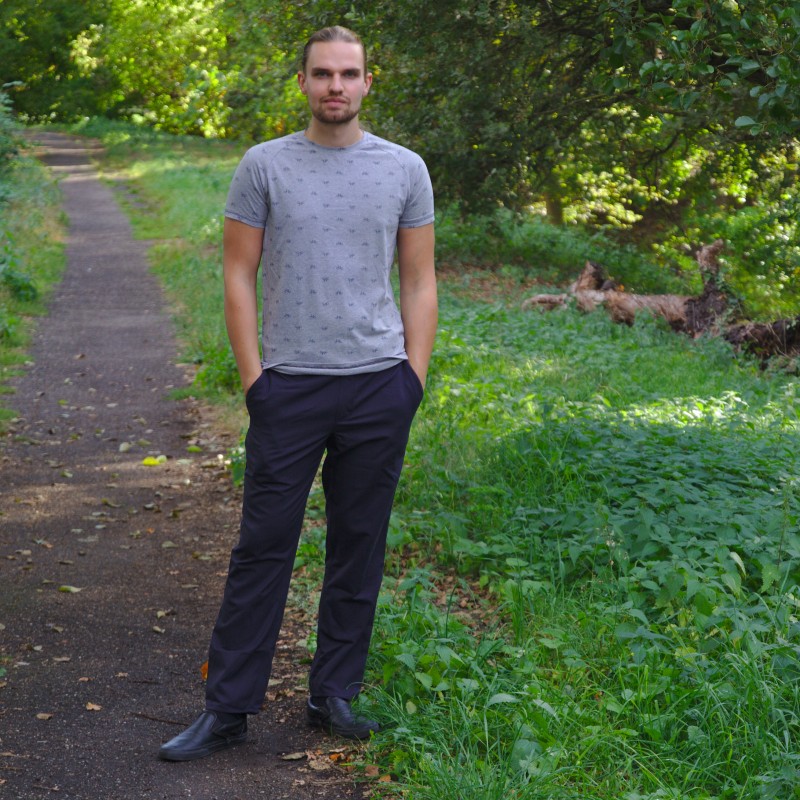 Macht's gut!
Katharina