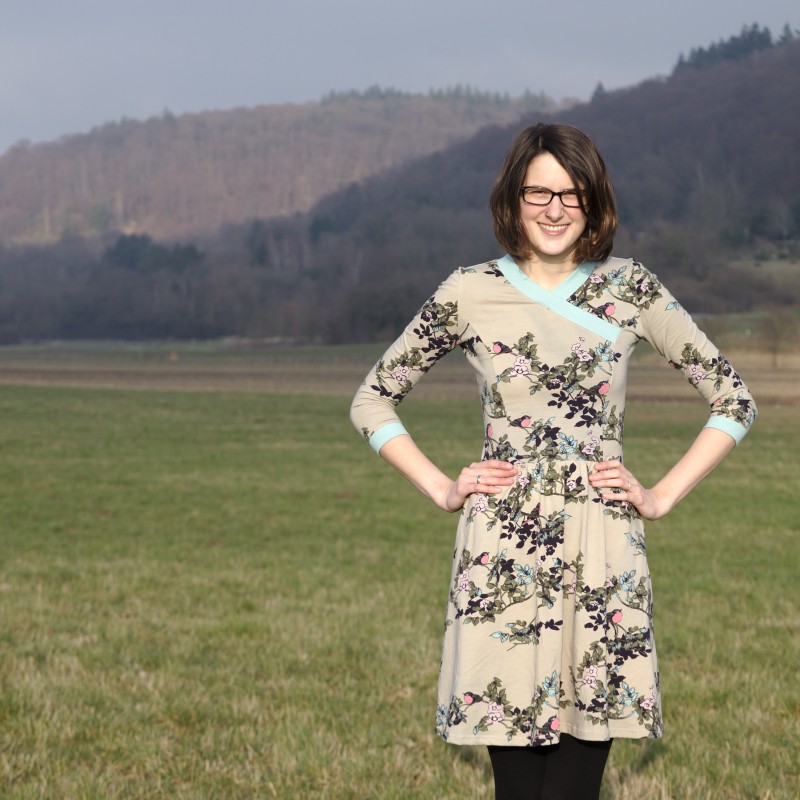 Last weekend I finally sewed a dress that I initially planned to wear last spring ;) I ordered this super cute fabric at Snaply, a German onlineshop known for their innovative sewing gadgets. Apparently they also sell beautiful knit fabric. I ordered two meters of this springy bird fabric and paid 14.30 €/m. Sadly the darker colors bled out into the light beige during the pre-washing procedure. I tried to cut around the baddest stains, but I didn't manage to avoid them all.The intensity of the colors in the print differs a lot. However, I thought that by paying 13.40 €/m I wouldn't have to deal with things like bleeding out. Oh well. With this fabric I also ordered two knit fabrics described as Slub Jersey and they distorted a lot after washing, I couldn't even figure out were the grain was. They only cost 7.70 €/m each though. However I also ordered two fabrics that I made tshirts for Marvin from and they still look great, plus I have another fabric in my stash that looks fine after pre-washing.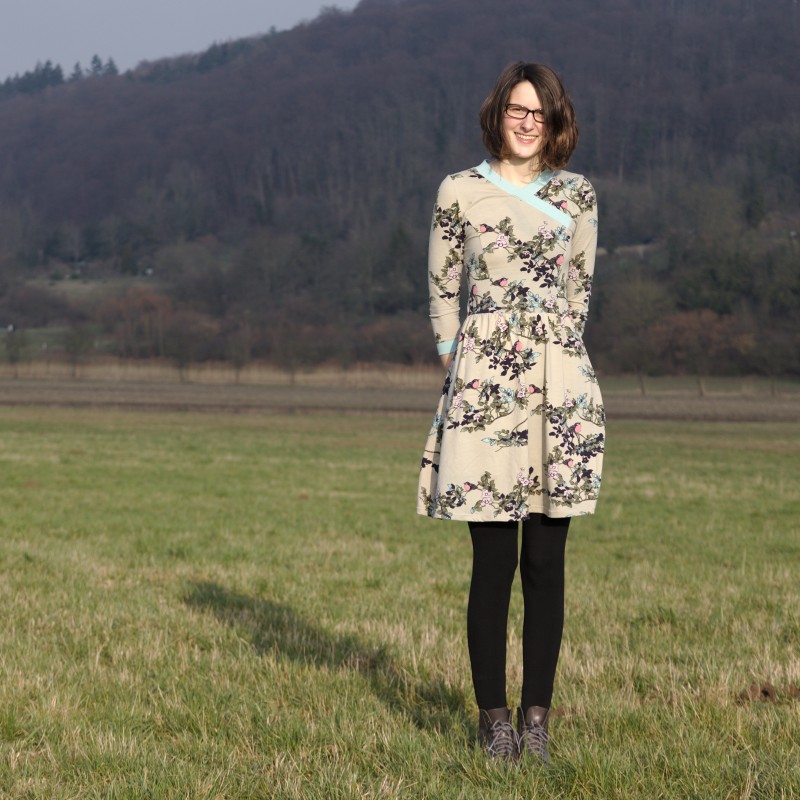 Well, you never know. Instead of being frustrated I put the fabric in my closet and never thought about it again, haha. Well, that can't be true, because at some point I bought matching ribbing fabric. I couldn't find a ribbing in the same beige-color and I didn't want to use dark green or black and so I went with baby blue and it is almost the exact same color as the blue leaves in the print. The whole time from first spotting the fabric to buying the ribbing my plan was to make a Pattydoo Mira Dress from it. I had the pattern in my stash for a while then and I thought that this fabric would be perfect.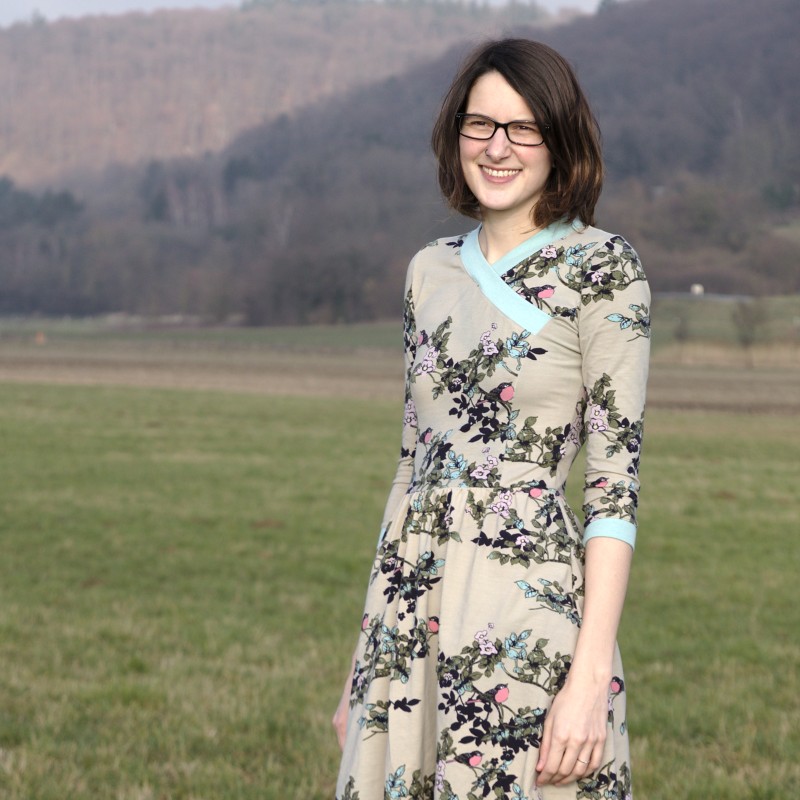 However, the fabric stayed in the closet, and I found another one that I thought would look great made into a Mira dress and so it became one. I wore that dress a lot in summer. It is uncomplicated and I really like the fake wrap neckline.
Even though I knew exactly what I wanted to make and had all the supplies it took me until now to finally make the dress. I'm not entirely sure what my problem is with knit fabrics. I guess I don't like that sewing with a serger is much faster. Knit fabrics forgive a lot fitting wise, the serger is much louder and less delicate than a sewing machine. I guess I like to take my time when sewing and try to be accurate or something.
Once I set my mind on really starting this project I was done in less than two evenings. Including cutting. I already had the pattern prepared, in size C. I had to change the sleeve pattern pieces, as this time I wanted 3/4 sleeves, but there are marks in the patter indicating where to cut for short, 3/4 and long sleeves, so this wasn't much of a hassle.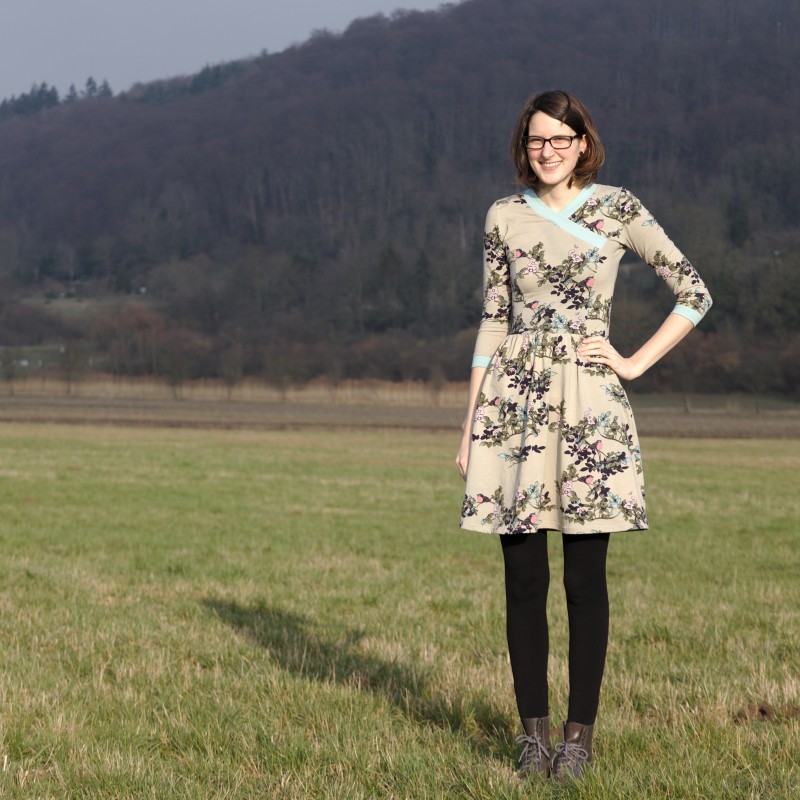 Assembling the dress didn't take that long either. The instructions link to a video tutorial, I watched it when I made the pattern the first time. The instructions also have an overview over the video tutorial, listing the main steps covered in the video and the time when those steps are shown in the video. I used that table as a guide/short instructions and it worked fine for me. I usually listen to something while sewing and thus I'm not that into video tutorials, they're just not entertaining enough!
Instead of pleating the skirt as suggested by the pattern, I gathered it. I found out that I don't care that much for pleats in knit fabrics, I had the impression that the additional weight of the pleats pulled the bodice of my first dress down. I used clear elastic to gather the skirt. I cut the elastic the same length as the bodice's circumference at the waist and pinned it evenly distributed to the skirt. I then used a long straight stitch and sewed it to the skirt while applying tension to the elastic. Afterwards the elastic goes back to its initial length and thus gathers the skirt. I then sewed the skirt to the bodice. Colette published a well described blog post on this technique.
I decided to use the ribbing fabric at the sleeve and skirt hem too, but I realized that the fabric wasn't wide enough to hem the skirt with it, but I still wanted to use it for the sleeves. To hem the skirt I first overlocked all around the hem, pressed and stitched the hem down with a twin needle. Serging the raw edge of the hem first gives it more stability and the twin seam becomes flatter.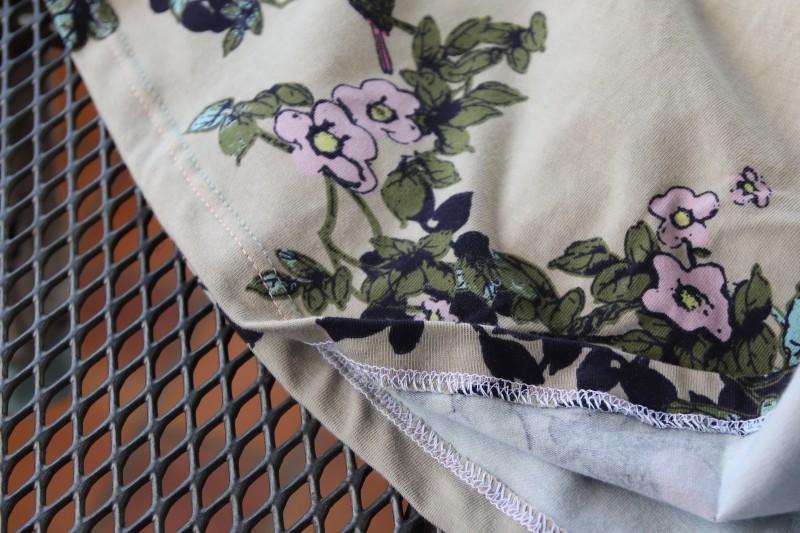 I also topstiched the seam allowances of the ribbings down because I had matching thread! Ha!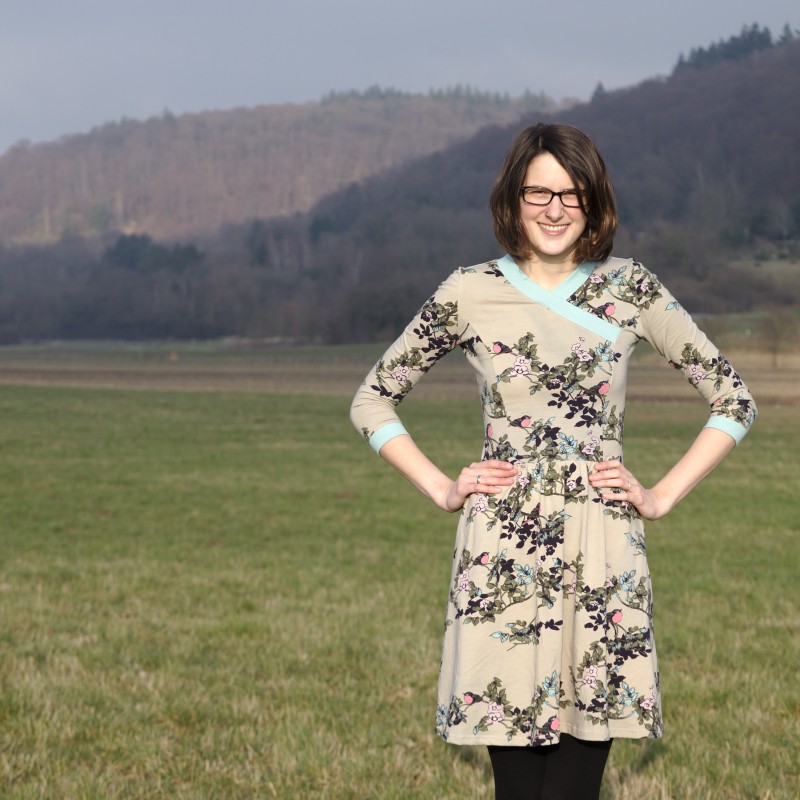 And that's it for today. I'm pretty happy with this dress and I'm sure it will get worn a lot this spring! I also really like this pattern I didn't have to make alterations other than my usual lengthenings. The pattern even comes with two neckline versions and 3 sleeve lengths and it only costs 3€, even when you don't speak a word of German I'd advise you to give it a try, if you like it :)
Macht's gut!
Katharina