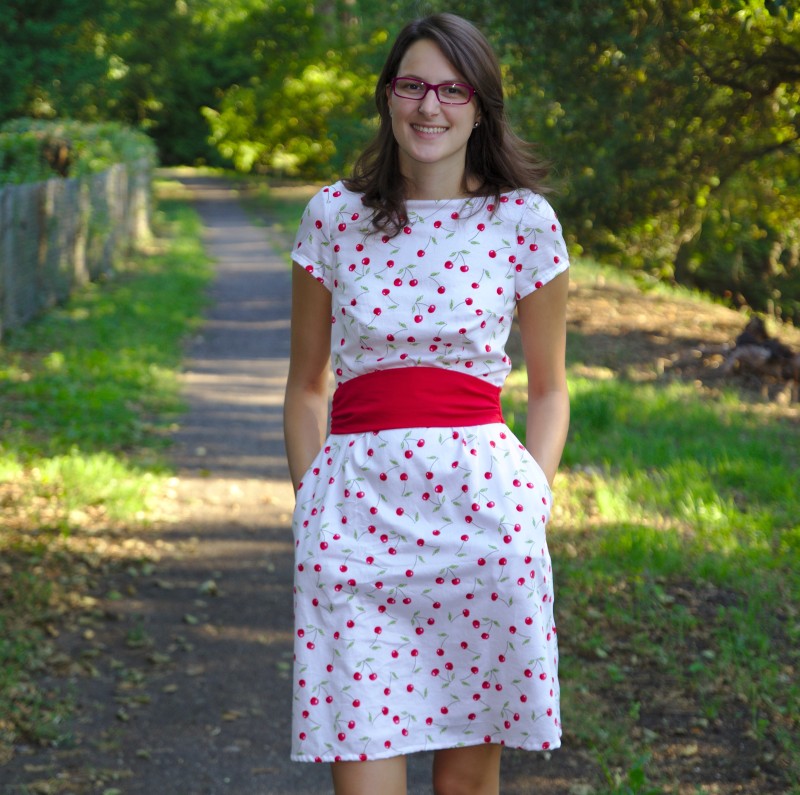 Here's another pattern I bought when there was this Thanks Giving/Black Friday/cyber Monday/Whatever huge sale over at Colette's. Peony it is and it has been on my hard drive since then. I never found the right fabric for this dress Sale. When I didn't work during June I went through my stash and I found a cotton-sateen fabric that I bought once to make a blouse from it, but I never did and I figured that this fabric would also be great a s a dress I don't know what is going on with me. Maybe its my increasing age that makes me wanna have more white dresses. Few years ago I hated white. And I mostly wear back, I guess my metal girly days are really over now ;)
As I wanted to make a blouse from this fabric I only had 1,5 m but this was enough to make a Peony with sleeves! Isn't that great? :) I had to line the dress though because you can even see the seam allowances through this dress.. You can just look just through this fabric, ugh!
As I completely lined the dress there was no need for any facings or something. The fabric I used is from ebay. I bought 15 m of it when I started sewing because the seller said it could be used as lining. But this fabric is just awful. It is thick and so loosely woven that it falls apart as soon as my scissors touch it. But it is white and I am always happy to get some of it out of my stash!I
Everything else went fine with this dress! It was quick and easy to sew. Great dress for beginners I think. There are , as usual, Lengthen/Shorten Lines in the patterns and the seam allowances are included. There are horizontal and vertical bust darts in the pattern as well as vertical back darts. The skirt front is gathered a little, but not much. The skirt is a separate pattern piece.
The cummerbund is not sewn to the dress it is an extra part that you can wear or not. The dress has in-seam pockets and an invisible zipper. I sewed size 2 and it fits me well.
I even sewed 2 cummerbunds, because the color of the first one was a little to dark it didn't match 100 %, so I made another brighter one. When i look at the pictures I kin of like the dress without cummerbund best I think. And I am not sure if I am wearing the bund wrong, is it upside down? However the darker one matches my new cardigan, that I made for this dress better, so I'll keep it. I'll show you the cardigan another time.
That's it with this dress! I am really unsure about those cummerbunds.. What do you think? Which one is better, or does the dress look better without one?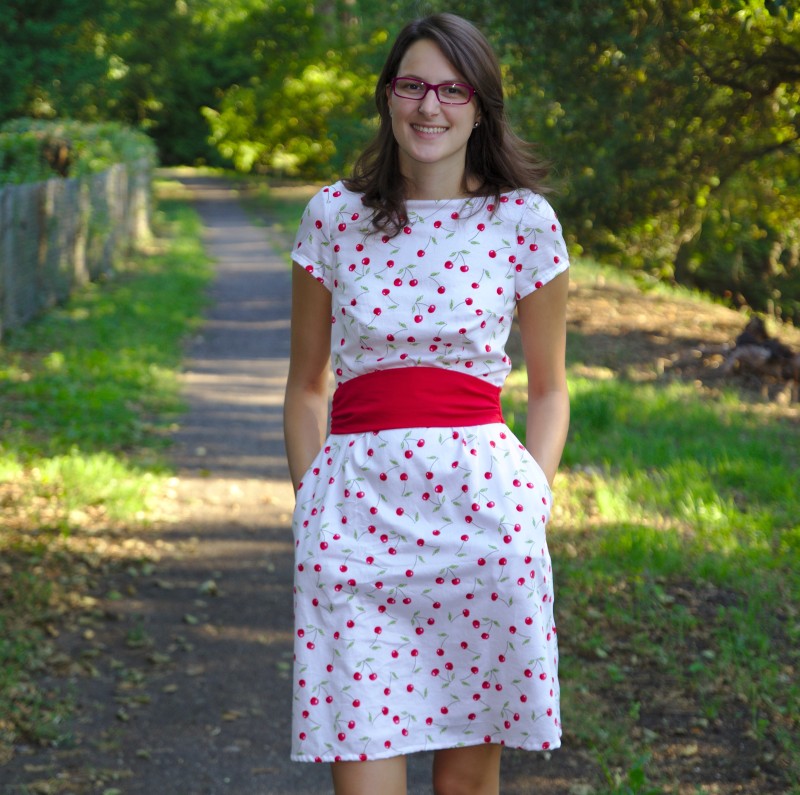 Have a nice day y'all!
Katharina