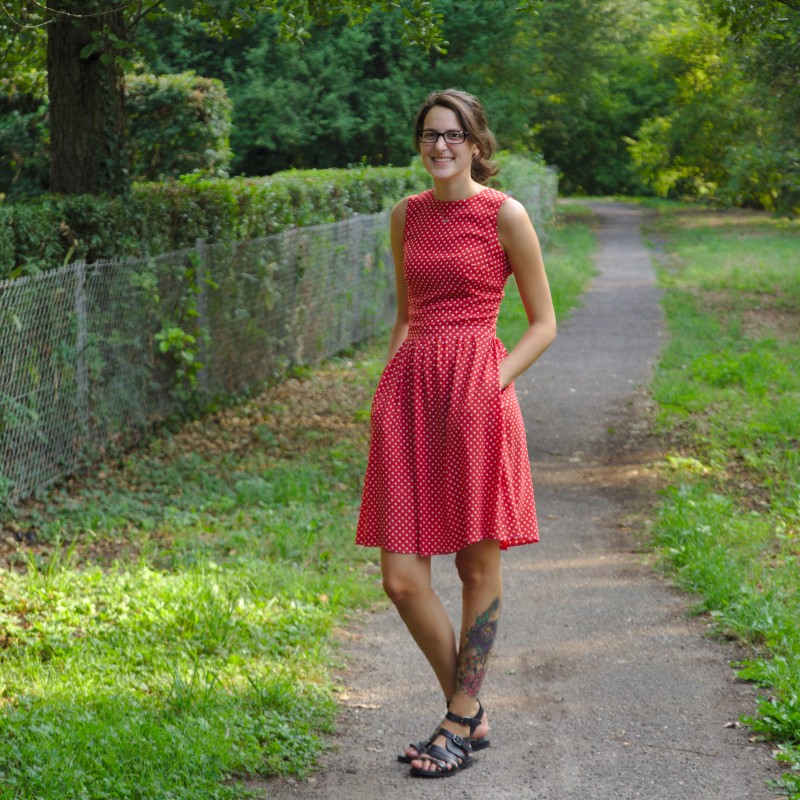 I have a story to tell you! I had the whole June off! I was in between jobs and decided to take a month long break! And it was great. As I had read on several blogs the city of Paris is great for fabric shopping.. Guess what I did back in June! ;) Before I moved to Kalsruhe in southern Germany I lived near the Netherlands, it is a fabric shopper's paradise there I tell you! And now I was on the look-out for an alternative and I realized that there is a train stopping at Karlsruhe, that stops in Strasbourg and then: PARIS! Yay!It only took me 3 hours to get to Paris and I paid about 80 € for both directions. I arrived in Paris at 11 am and I was back in Karlsruhe at 9 pm and in between all I did was looking out for fabrics in Paris! :) I used Lindsay's Google Maps Map (thanks Lindsay) and converted it into a .gpx file so that I could use it in Osmand and thus without Internet connection.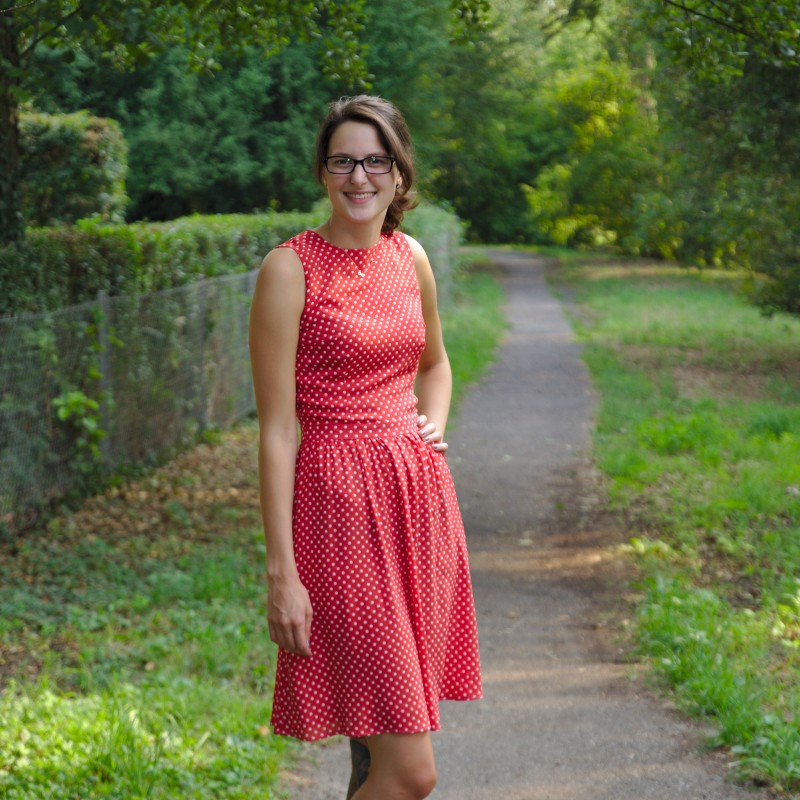 I started at the fabric district right next to Sacre Coeur. The biggest and most famous store there is the Marché Saint-Pierre. It has several floors and everything a sewist can even think of! Per floor there are abot 6 people that cut your fabric and 2 checkouts. But there are a LOT of other stores in this district. Most of them sell Coupons. Coupon just means that the fabric is precut to a length of 3m. There were coupons that cost over 100 €.. silk or something. But all in all the fabric is very inexpensive there but it might take some time to find the right one, because there are LOTS of fabrics and coupons and everything! I was a little upset that most of the stores only sell 3 m of fabric. I almost never need 3 m of one fabric and 3m of a fabric take a lot of place in a backpack and they are heavy. I made a huge mistake when I bought 6 m of lining.. Why did I do that? It's not like I wouldn't get my hands on cheap lining anywhere else. My other mistake was to leave this district to take a look at all of the other stores. Most of the other stores where small, or closed or expensive and they where far apart from each other and so I walked through Paris with all of that fabric in my backpack that I bought in the morning of my trip. And I didn't buy anything in all of this other little stores. Next time I would only pay a visit to this Saint-Pierre district. And check out really all of it. This time I was in a rush because I wanted to see the other stores. But all in all I had a great time! It was such fun walking through Paris as a fabric tourist :)
Today I'll show you a fabric I bought on my trip and made a dress of. It is a red rayon with small white polka dots. I bought 2 m for 5€/m. I bought it, because earlier I bought a dutch sewing magazine "Knip" and fell in love with one of the dresses in it and it was made in a similar fabric. I didn't see that they recommended to buy 3,5 m of fabric and that the fabric had to be elastic… I saw that when I got home, but nevertheless I decided to give this dress a try. I did a muslin in a non-elastic fabric and it fit. Yay! I cut one size bigger than I normally would have needed though. When I tried to lay the pattern pieces on my fabric I soon realized that there was no chance to make this dress from this fabric. The problem was not, that I had only bought 2m, but that the fabric was only 1,20m wide. Usually they are 1,40m wide. French fabrics… peculiar!
After some moaning and grieving I decided to make another dress from this pattern. And I gave the Bonnell Dress Pattern from DixieDIY another try! Every since I test sewed the pattern I knew I wanted to make another version without the key holes. I think they are a beautiful design feature, but they limit the occasions I can wear the dress to. Like work.
So I omitted the holes. I just draw a line from the beginning of the holes to the end of the waistband, so that the bodice is as wide as the waistband, fairly easy! I think the dress still looks special without the holes, it has this beautiful jewel neckline and the deep v-neck at the back. And I love how great it looks from the inside! It's a pitty I cannot show that to strangers!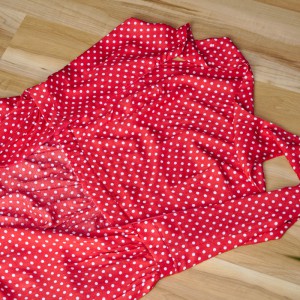 The dress also has in seam pockets and an invisible zipper at the back. I made a rolled hem because I really had troubles to keep this fabric under control, ugh! and a rolled hem worked best!
Again, I sewed size 4 and I lengthened the whole dress. Except for this shifty fabric I didn't have any troubles. The instructions are clear and well written.
I just love how breezy this dress is. Believe it or not: it is sooo hot right no in southern Germany! Not that I have anything against warm weather, I just love complaining about it ;) (and having reasons to sew me some new dresses ;))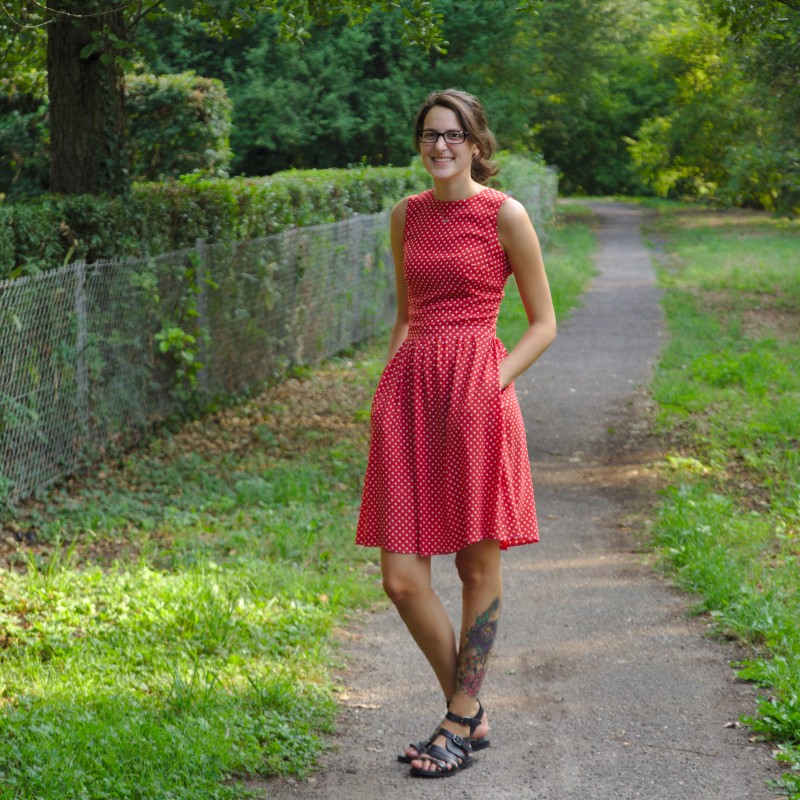 Have a nice day and thanks for reading :)
Macht's gut!
Katharina