I am back from my trip to the black forest. I cannot say that the weather was great, not even remotely. It was really really cold in our cosy little caravan. But we had a heater and I have a lot of thick and warm sweaters. One of those I am going to show you now. Since I saw the City Scape Pullover from SakikoJones (here on Ravelry) I knew I needed one of those and last weekend it was my chance to wear it (hopefully) the last time this year as it should be spring by now! I didn't have any pattern or directions, just the chart SakikoJones offers on her blog, thank you! :)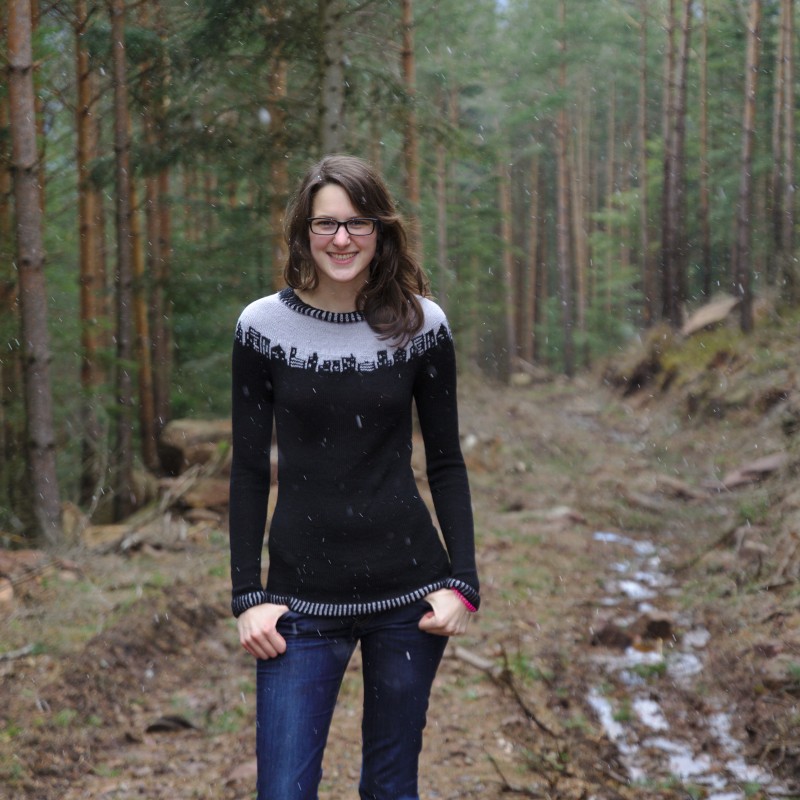 I figuered that it could not be soo hard to think of a pattern by myself and it actually wasn't. But I had to rib the whole thing a few times and I am still not totally pleased with the neckline, but whatev!
I knitted seamless and topdown! I love that! I worked with Drops Baby Alpaca Silk (which is really muuuuch cheaper here than in the US) in light grey (no. 8108) and black (no. 8903). I needed 300 g of the black yarn and 100 g of the grey yarn. The yarn is really very soft and the stitches look really neat! The yarn was on sale when I bought it, it was something like "Alpaca Festival". Drops often has sales, the biggest is in May, when all of their yarns are on sale. I am reeeeally looking forward to that ;)
I knitted the ribbing with 2.5 mm needles, the rest with 3.0 mm needles. For all of you who are interested I wrote a short instruction for the sweater in my size, which is S or EU 36 (86 cm/34″ bust):
Cast on 112 sts with smaller needles and join in the round working two color brioche stitch (i.e. here)
continue in stockinette switching to bigger needles, decrease 20 sts evenly. The beginning of the round is the centre of the back.
Work short rows:

knit 30, w&t (wrap and turn)
knit 60 , w&t
knit 50, w&t
continue until you have reached "knit 20, w&t"

knit 1 round
knit 1 round, increasing 1 sts after every 4th st = 135 sts
knit 4 rds
knit 1 round, increasing 1 sts after every 5th st = 162 sts
knit 4 rds
knit 1 round, increasing 1 sts after every 6th st =  189 sts
knit 4 rds
knit 1 round, increasing 1 sts after every 7th st = 216 sts
knit 5 rds
knit 1 round, increasing 1 sts after every 8th st = 243 sts
knit 5 rds
knit 1 round, increasing 1 sts after every 9th st = 270 sts
work pattern (3 times) -> color change

knit 1 rd
knit 1 rd, increasing 1 sts after every 10th st = 297 sts
place markers after 45 sts, then after 58 sts, then after 90 M, then after 58 M (90 sts back, 2x 58 sts sleeves, 90 sts front)
knit 1 round, increasing one stitch before and after each marker
knit 1 rd
repeat those two rounds 5 more times
Put the sleeve sts on scrap yarn and cast on 8 sts on both sides between front and back and knit 12 rounds in stockinette. Start decreases: decrease 4 times 4 stitches every 12th round. Knit 12 rounds and start increases:  increase 4 times 4 stitches every 12th round. Start knitting the ribbing (2 color brioche stitch).

I knitted the sleeves on dpn's. I distributed the sleeve stitches evenly and picked up 8 sts from the underam cast on. Then I worked decreases every 3 cm until the sleeve had a good length for me and I started the ribbing.
If you need any more details or if something is unclear feel free to write me :)
Marvin took the photos at the black forest. We went hiking what we never do and so we kind of got lost. We tried to find the right path again by taking a shortcut right through the forest. Turned out: it wasn't really a shortcot ;) Some time later it started snowing and we took the pictures. In the end we also reached our destination, ate a cake and went all the way back.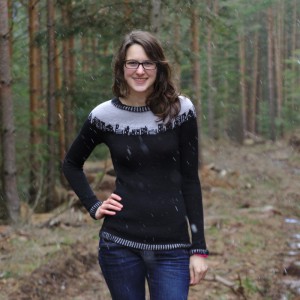 My legs do really hurt right now, hiking is definitely not the same as working out in a gym.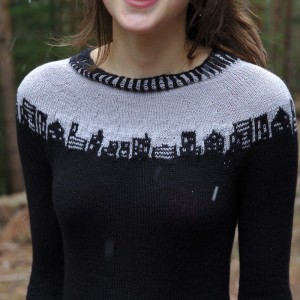 We were a little dissappointed that we didn't see even one animal. Might be because we didn't exactly walk like Pocahontas (more like Dumbo actually) ;)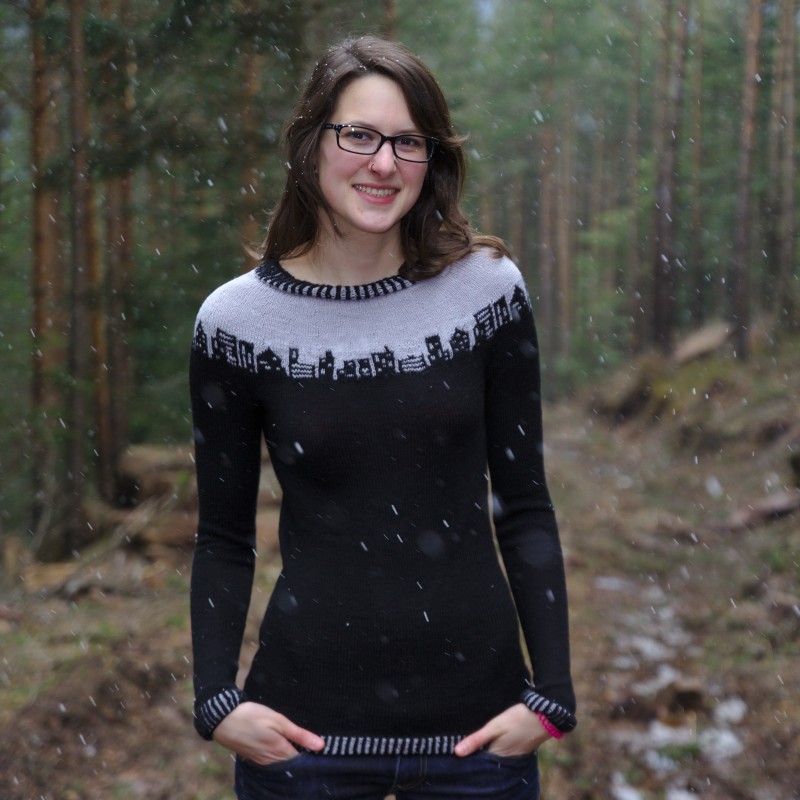 If you want you can check out the Project on my ravelry site :)
Katharina