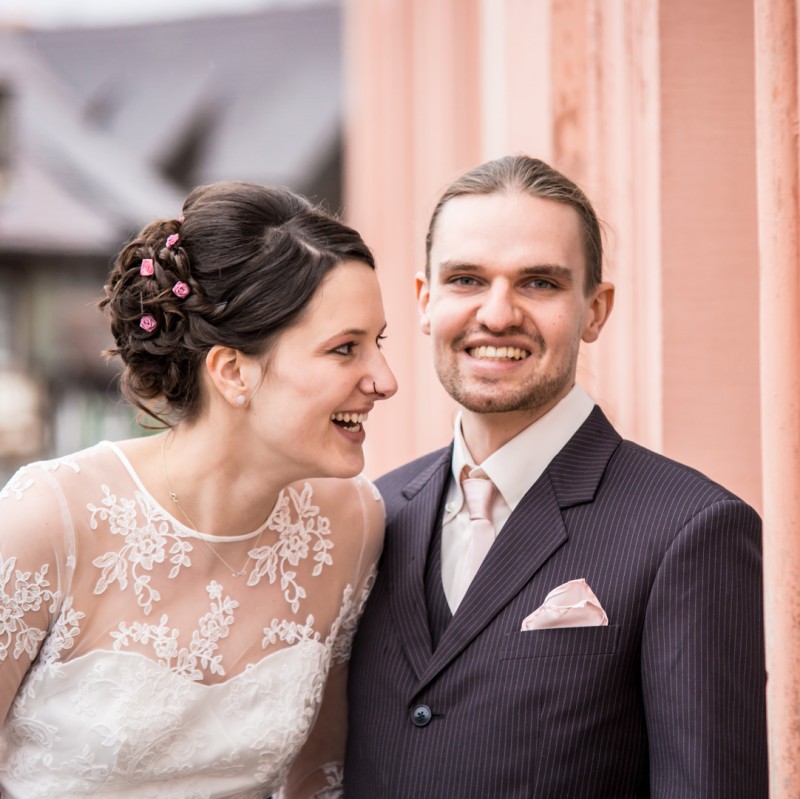 Well, I thought of this creative headline for instance ;) But I also got married. To Marvin! In February in Gengenbach which is in the deepest Black Forest. Marvin's Family used to always spend their holidays there all together when he was young and it was his grandmother's wish (that she told me since I know her) to go there once again. As all of our relatives live far aways from us, so far that they would have to spend the night, and we live only 1 hour or so away from Gengenbach we decided to get married there. It was a lot easier to find accommodations there and we even managed to get every one into the exact same holiday homes Marvin and his family spend their former holidays in.You cannot imagine how happy it made everyone to arrive and see those to them well known houses. Everyone was so happy and emotional and knowing that we made everyone so happy was maybe even the best part of this wedding.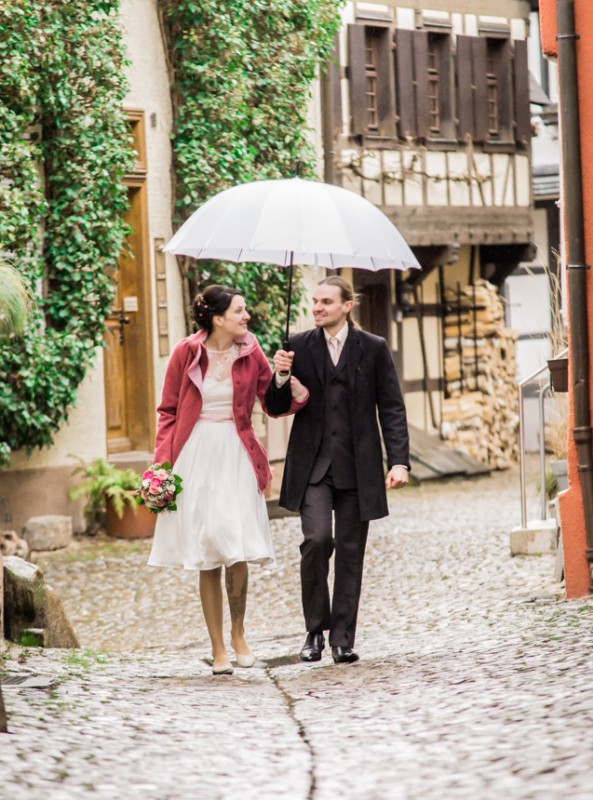 But it is really hard to pick the one best thing about this wedding. I'm not that kind of person who has been looking forward to her wedding all her live and I find it peculiar when people say their wedding was their best day of their lives. But it was such a fine day. It was so much fun  that I'm a little sad that its over. And I cannot remember having that feeling so strongly ever before.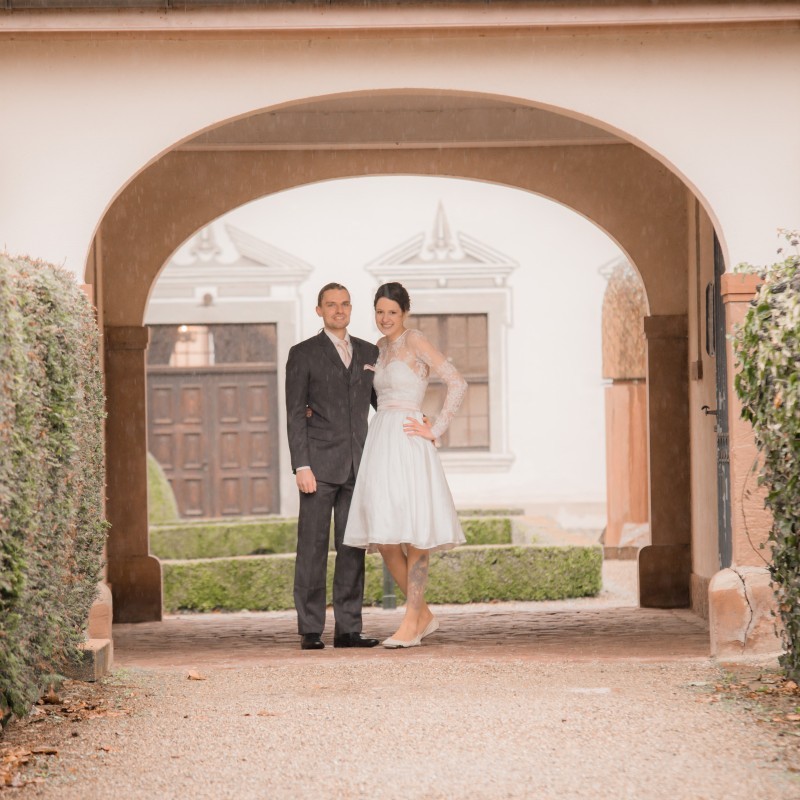 We invited only very few people and only family and we married in winter. Which made everything very very relaxed. That was the reason we picked a winter wedding in the first place. You don't have problems finding a date, accommodating people, finding some place where you can eat, finding a photographer. The planing was very relaxed. The weather was, as expected, not the best. But in my mind there is no such thing as bad weather. Only wrong clothing.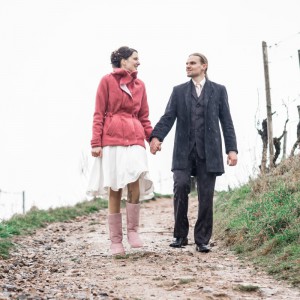 And speaking of clothing. Oh yes, I made all of my clothing myself! That was a lot of work. Because I needed much more clothing that I would have needed in summer. But as making garments is fun, that made getting married in winter even better!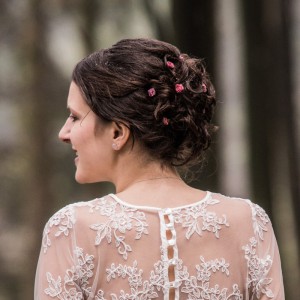 This was the first time I let a professional do my hair an make-up. I loved the process. I went there with my sister in law and this was absolute me-time, everyone was so excited and I was too, and so it was nice to have some time apart from everyone and cool down a little. The wedding was at noon. Afterwards we took group pictures and then Marvin and I went away with the photographer to take some pictures. We really took our time. We told everyone that this could take some time and everyone was fine with that. We enjoyed the time together and we love the pictures that came out of it. In the end we actually found snow!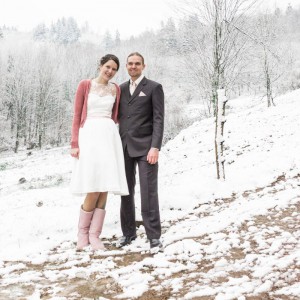 Afterwards it was time for present and dinner. That went smooth two. The restaurant we chose was our second choice, we had communication problems with our first choice. But in the end we were lucky that we ended up with this restaurant. It didn't look that fancy, but the food was oh-so-delicious and the staff was so kind!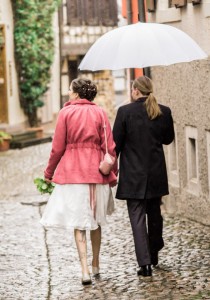 We all really had a good time. We spend so much time this weekend as a family. We don't see our families that often because they live far away.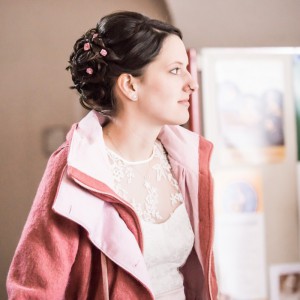 I thought about sharing the engagement news on this blog. And I decided against it. It was such a small wedding and I wanted it to be first private and special for my special people and now I'm ready to share it with the whole world. I mean: look at this dress, how could I not show it off? :D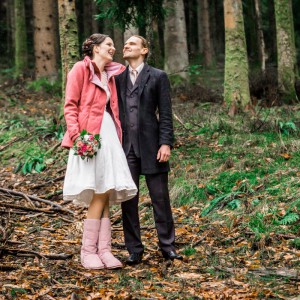 Even though I didn't share my news on the Internet I had a lot of help with picking patterns, fabrics and everything. My Mother in Law helped a lot and the people at my knitting meeting were a great help too everytime I was so overwhelmed with all the possibilities.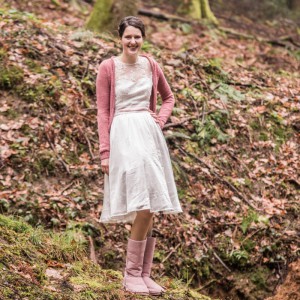 I will show you each garment in a separate post over the next weeks. I think each of those pieces deserves a separate post, especially the dress. I never had a project I worked that long on before.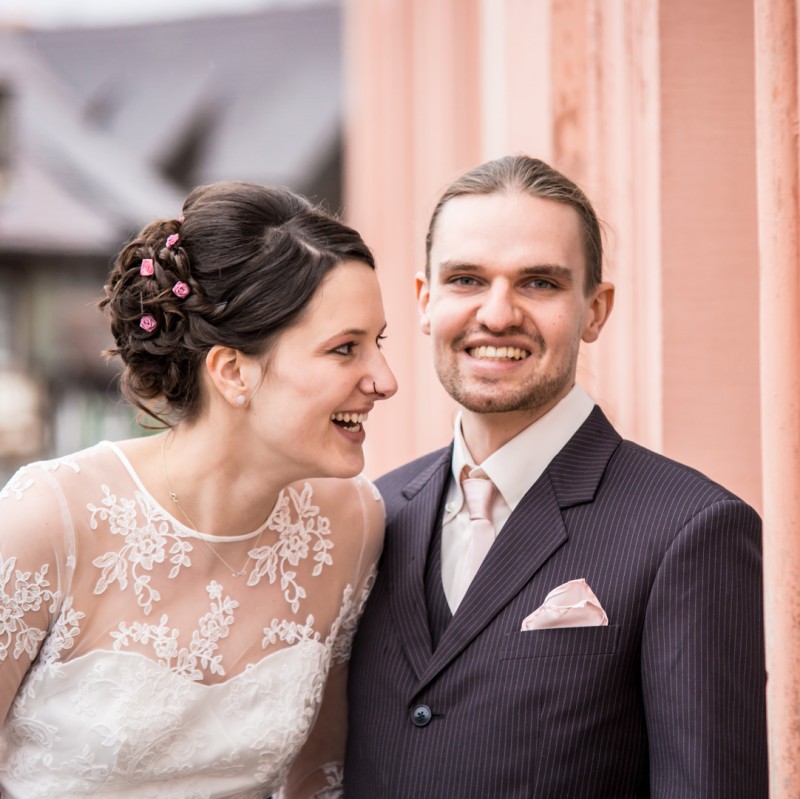 I'm so looking forward to taking a look back at the past 3-4 month and to finally show off everything I made! :)
All of the pictures in this post were made by Markus Nobis, who deserves credit for that in my mind!
Bis bald!
Katharina