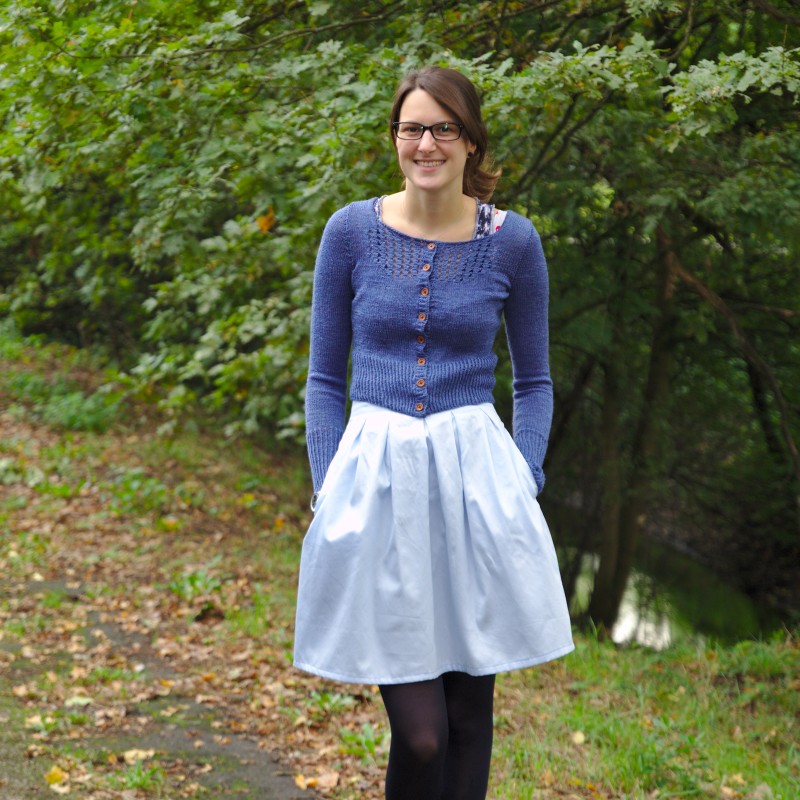 I#m really into blue at the moment. The fabrics I buy and work with are blue and the yarns I knit with are blue. I always thought that my favourite color was red or violet, something fresh and exciting, but know I'm somehow stuck with with boring blue. I remember that when I was in pre school my favourite color was blue. And then blue eye shadow got trendy and blue lots its appeal to me ;) There are still some shades of blue that I really dislike. Like royal blue. It reminds me of 90's bathrooms. And of a German football club.. ;) So I have a difficult relationsship to blue. But in the past half year it seems like it has somehow recovered and I find myself wearing blue and wanting more blue in my wardrobe.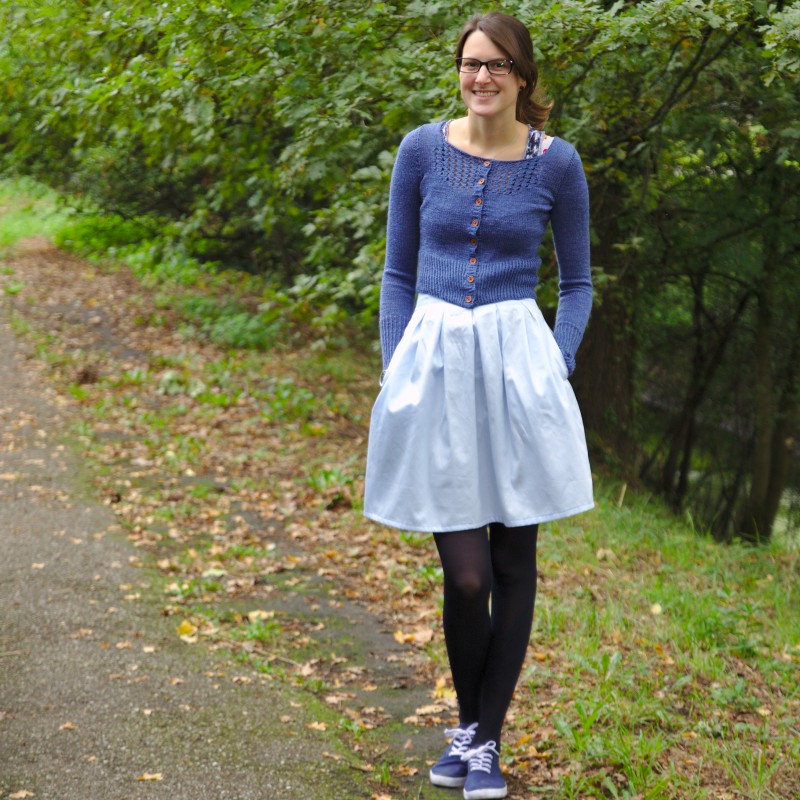 So when i got back from a crafts fair in may I realized that I had only bought blue yarn. From the lighter blue one I made a peacock eyes cardigan. The other one became an  Audrey in Unst Cardigan.
I bought the yarn from the Schwarzwälder Spinnstube, the wool is from sheep that live here were I live. So this yarn is a local product, how cool is that?! :) The sheep however have very funny names. I read something about a Waliser Schwarznasenschaaf, which freely translated  is a welsh blacknosesheep.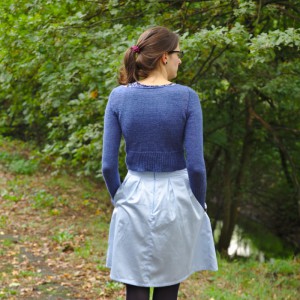 I sadly cannot remember from what kind of sheep my yarn is made. Something really peculiar though with a funny name. I think it must have been some sheep breed but I am not entirely sure. Could be anything. I remember that there is also silk in that yarn. And it was quite inexpensive! It is fingering weight and when I saw it I decided to make another Audrey in Unst from it. I wanted a cropped one this time and so I only bought to skeins = 800 m.
The instructions were, like the last time I used them, not so great. Somehow confusing. But understandable. The cardigan is knitted bottom up, the sleeves are then knitted top down. I used 3 mm needles for the ribbing and the stockinette, because the ribbing got very loose when I used bigger needles last time I made this cardigan.
I started knitting the cardigan in size 32.5″ and totally forgot to change the amount of stitches, so that the ribbing would fit my waist. Upps. But I got lucky as I soon realized that 32.5″ would be too small this time, as my gauge was a little off. So after finishing the ribbing in 32.5″ I increased stitches to as 34″ bust et voila: the cardigan fits! :)
There is not much more to say about this cardigan. I almost used all of the two skeins. I had enough to make long sleeves though. I bought the wooden buttons on ebay and reinforced the button bands as usual.
In the pictures I am wearing my first try of the  Deer&Doe Chardon Skirt. I used a cheap fabric I bought at  fabric market and didn't line the skirt. It was a very quick sew and the skirt turned out to be a breezy summer skirt that matches a lot of my clothes. I already made another version, I'll write more about the pattern when I show it to you.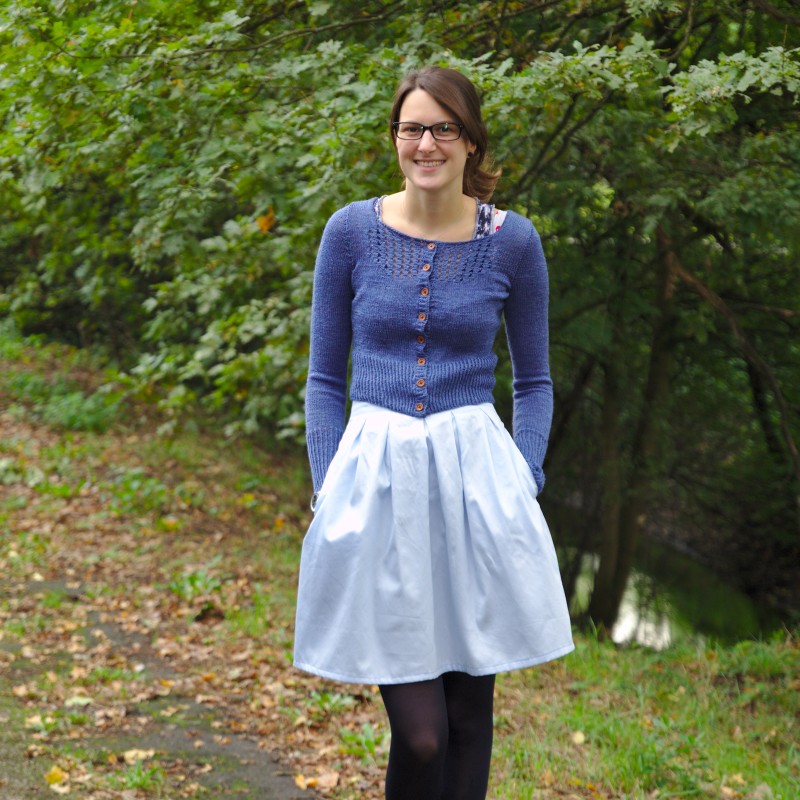 Bis dahin!
Katharina