So, I decided after finishing Marvin's Shorts that rather than making him another pair I was going to make myself a new skirt first from the leftovers of the shorts' fabric. You see, unlike a normal person I do not use bookmarks in my browser, instead I leave tabs open, which results in a lot of open tabs ;) It really is a mess. In one tab I have had the website showing all the beautiful designs of Pauline Alice open for a long time now and now was the change to actually buy a pattern and close that tab :)I really really like this wrap dress for example and I am totally planning on making that dress in the foreseeable future. This time however I was drawn to the Rosarí Skirt pattern. I had seen this pattern before and I have seen some bloggers making and wearing it, but somehow I wasn't that much into it then. I guess that the fashion has shifted and my preferences shifted when I saw people in the streets wearing that different kind of fashion. Or maybe my brain was just telling me that this pattern would be a perfect fit for those last scraps of fabric I had left over from the shorts.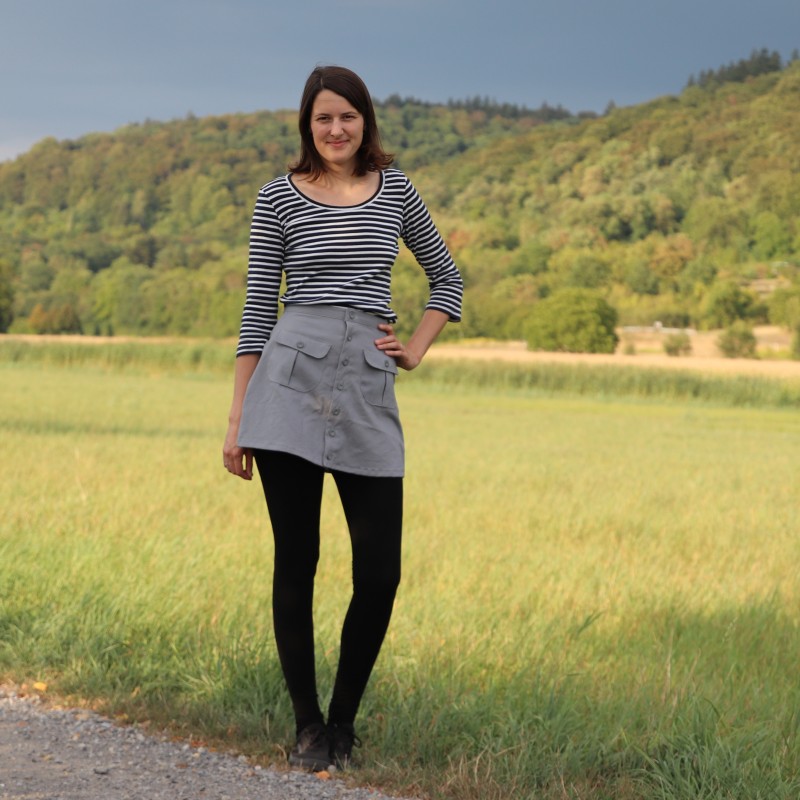 Whatever it was, I bought the pattern. Sounds easy but that actually was a little annoying. I had to create an account on Pauline Alice's website. I thought that if you have a webshop within the EU you are obliged to offer people to order as a guest. But okay, no biggie I thought until I got an email with my login details and my chosen password in plaintext. Nice! I mean.. really? So if you're buying a Pauline Alice pattern make sure not to use your master password for this site. Better yet: never use a master password. And by no means use the same password you have chosen for your mail account, because both your mail address and this password will be store in plaintext on whatever Server Pauline Alice is using.
I assembled the pdf pattern (you can also buy a printed copy btw) the usual way. During that I realized two things: there are no lengthen/shorten lines included in the pattern and I had no idea how the back of the skirt should look like. Are there pockets? The product pictures do not show the back of the skirt. After researching a little, mostly in the instructions I found out that the pattern includes four different front pocket variations, two of them can also be used for the back of the skirt.
I didn't have that much fabric left and so I only cut two pockets and decided to use them for the fronts. I had enough fabric however to sew the pockets with the inverted pleat which I find very pretty ;) I did not have enough fabric to lengthen the skirt a little. I sewed the short version (there are two lengths included) and in the pictures you can see what it looks like if someone who is 20 cm taller than average wears a skirt that was tailored to fit an average long person ;)
The pattern features a shaped waistband, which always works better for me than a straight waistband. The button bands are part of the fronts, but there is a separate pattern piece for the button band facings. The back of the skirt is shaped with a small dart. The instructions are well written and I bet this skirt can easily be made by a beginner. 1.5 cm seam allowances are included in the pattern.
I chose my size according to a measurement chart. I went with size 38 in the waist and 40 at the hips and graded between waist an hip.
The buttons came from my stash, I wanted something neutral.
I finished the inside seams with my overlocker and all the topstitching was done with gray sewing thread to keep the skirt simple. Now that I see the skirt in the pictures I realize that the left pocket flap is a little off and I will fix that!
Now a word to the length of this skirt. Well.. it is too short ;) Maybe I can wear this skirt as shown in the pictures with tights underneath and no way I can wear it at work. The next version needs to be longer. But after making this very short skirt I know that I like the pattern and the style and I will make another version, so I'm not disappointed, it was a fun make. I have some gray faux suede in my stash and I think it will look great made into this skirt.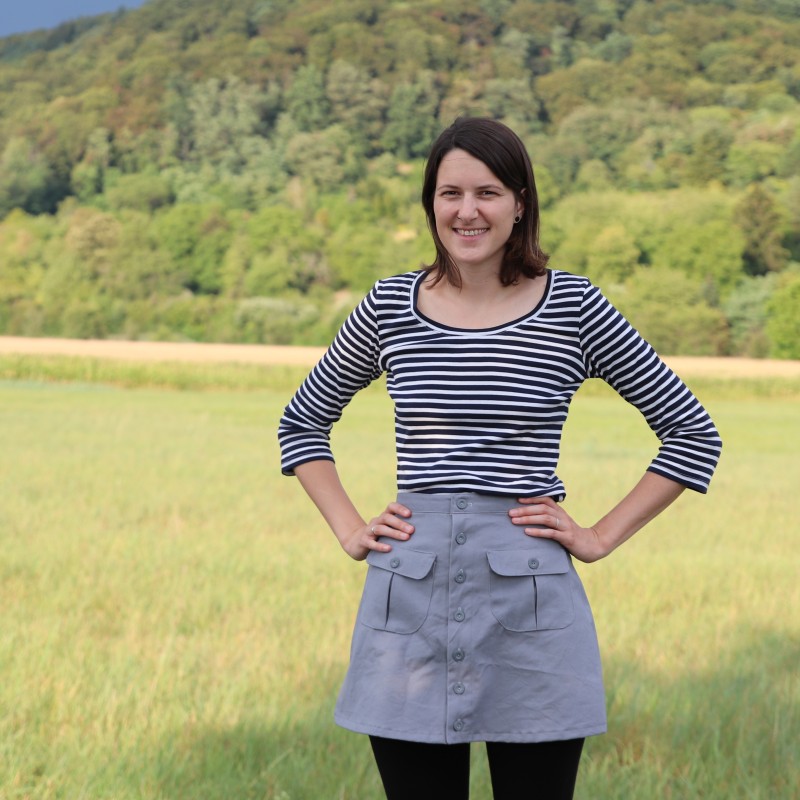 The tshirt I'm wearing in the pictures is another Sewaholic Renfrew and I'm not sure if I already blogged about it. It is nothing special but I like it a lot. I didn't have enough fabric to make full length sleeves and now I really like the length. So much that I will make more tshirts with this exact sleeve length. My arms are warm enough but the sleeves are always out of the way, perfect!
That's it for today!
Macht's gut!
Katharina