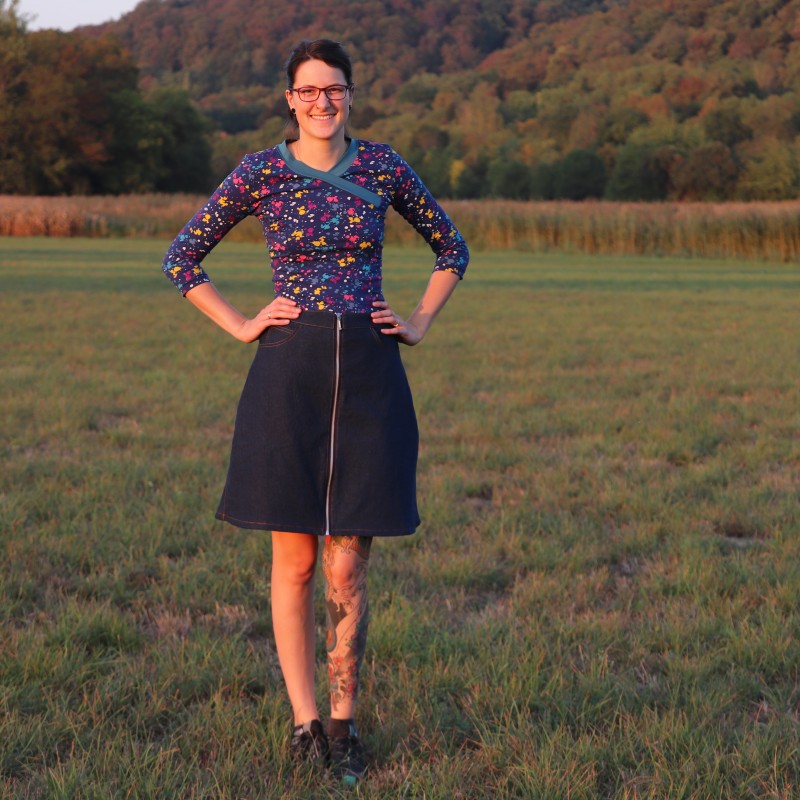 As announced last month I made another version of the Rosarí Skirt by Pauline Alice. Temperatures are still unusually high here and there was no way I would wear tights and so I only wore the first Rosarí Skirt I made once when Marvin took the pictures.  The skirt got a little short due to fabric limitations and as I liked the pattern and the skirt a lot I gave the pattern another try. Again I used left over fabric from a pair of pants I made for Marvin to make this skirt. I haven't blogged about his pants yet, I think the skirt is much more interesting anyway though ;)I made the pair of pants first and then without taking a break I made this skirt. I love it when I do not have to re-thread my sewing machines for a new project. Not that it would be a lot of work, but not having to do it always leaves me feeling extra clever and productive ;)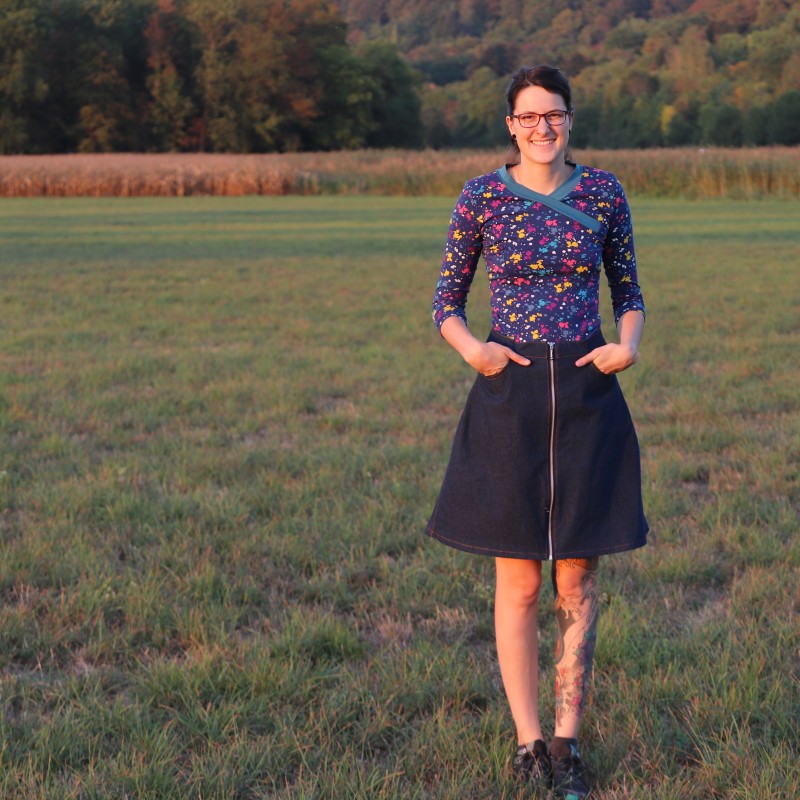 Marvin picked the fabric himself. Just some simple old medium weight denim. But I'm glad he picked something so boring, because I wouldn't have and in the end I would have sewed another skirt that goes with literally nothing in my closet.
This time I wanted a zipper in the center front of the skirt instead of the button band the pattern comes with. I had a matching zipper in my stash and I realized that I am past that point were I know where all this stuff in my stash initially came from. I have no clue how this zipper got into my sewing room. But okay, I took it anyway without asking any questions ;)
I changed the skirt length to match my zipper's length and eliminated the button band. I chose those jean pockets for the front of the skirt and these applied round pockets for the behind. Both pockets (and even more variations) are included in the pattern and their application is descried thoroughly in the instructions.
The instructions leave no questions unanswered and seam allowances are included in the pattern. I would recommend this pattern to everyone if you didn't need to create an account in Pauline Alices's shop and if the password would not be stored in plain text. Too bad!
The skirt is a size 38 in the waist graded to a 40 at the hips. I finished all the seam allowances with my overlocker and topstitched them afterwards. I wanted to use rivets to keep the pockets in place but I didn't have any silver rivets that matched the ziper and those I had looked stupid next to the sliver zipper so I didn't apply any rivets at all.
The t-shirt is a is a hack of the Mira Dress Pattern of the German pattern designer Pattydoo. I got the idea to lengthen the bodice from Manuela. I liked her version a lot!
I bought the fabric a long while ago online. I liked it better on the product pictures than in real live. I think it is just a little too much. Just those bright and colorful blobs would have been enough for me, there was no need to involve glitter if you ask me. Well, at least I have just made something very neutral to wear with this fabric ;) But somehow I think even though the skirt is very neutral, both pieces do not work that well together. if you ask me!
I cut the neck ribbing from some not so elastic cotton stretch fabric and now the ribbing gapes a little at the shoulders. So next time I should remember to use fabric that has more stretch to avoid this. But the color if the ribbing looks great paired with the busy fabric so I regret nothing!
That's it from me today. Next Monday I'll start a new job and I think I will seize my remaining free time by sewing a lot. Or I'll spent some time making the final version of my e-spinner. Or I'll just do nothing for a a change.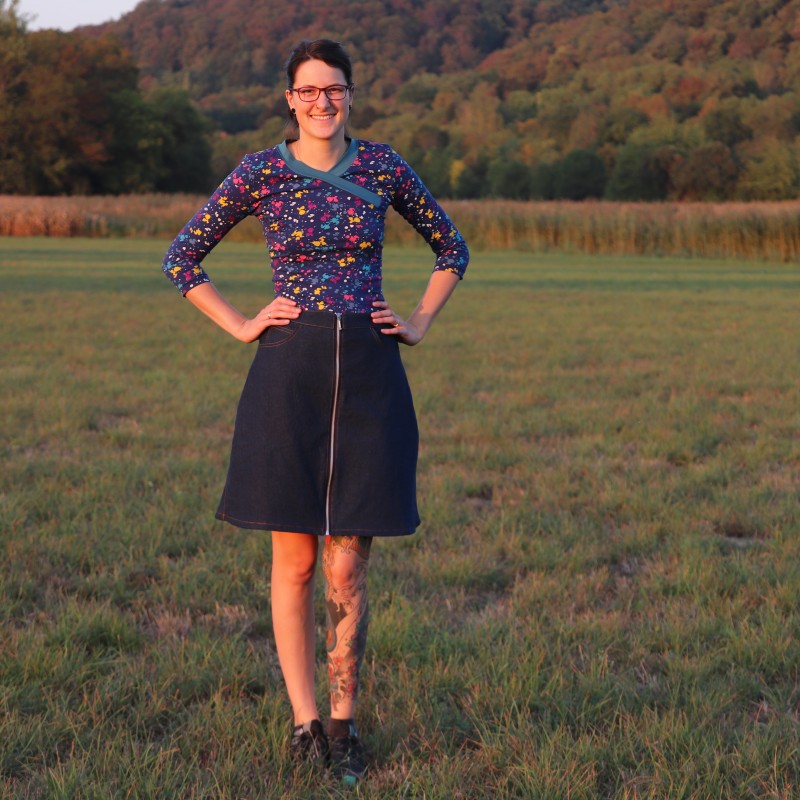 Macht's gut!
Katharina