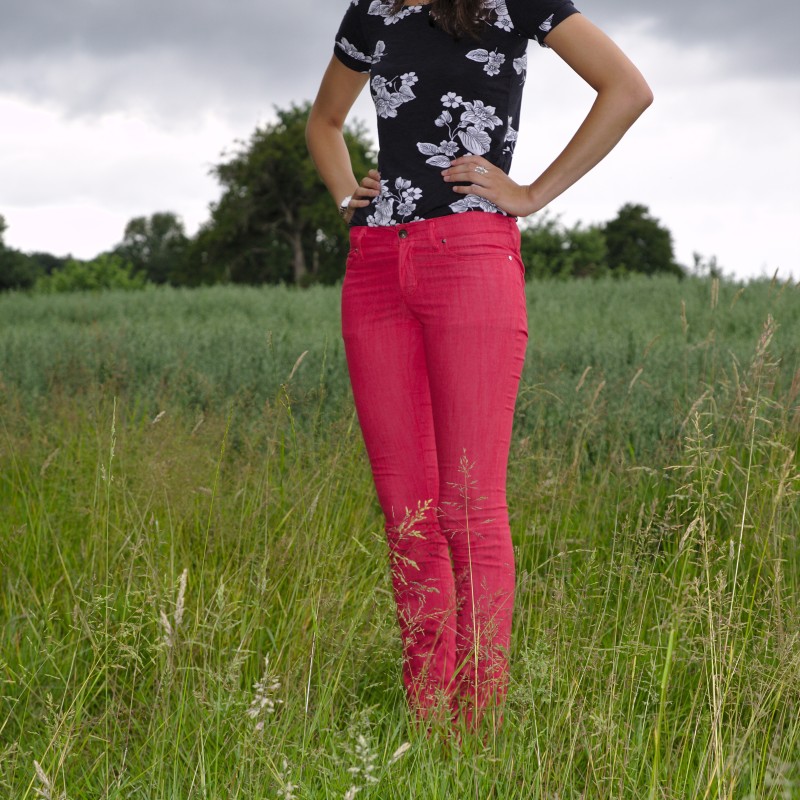 Haaaa, great pun amiright?! :D But okay, my new jeans isn't really ginger, I think ginger is more brownish red?! My new jeans is more of a redish red! Real red! And I love it! I bought it a store in Stuttgart were I met with other German sewing bloggers in April. We came across a small fabric store and I really fell in love with it. They had so extraordinary fabrics. When everybody was already outside waiting for me I still admired an orange lace fabric that had a dip dye effect! Uuuuuuh, I ended up only buying this real red denim, which was expensive enough, I couldn't resist, just look at it! Luckily I thought of washing this fabric alone, I normally wash all the fabrics I bought together (I think I never came home with only one fabric and I didn't this time either…) and I had some troubles with the red fabrics, they almost always bled out in the past. As did this one! I gave myself a hard clap on the shoulder, very good to think of that Katharina! Ha!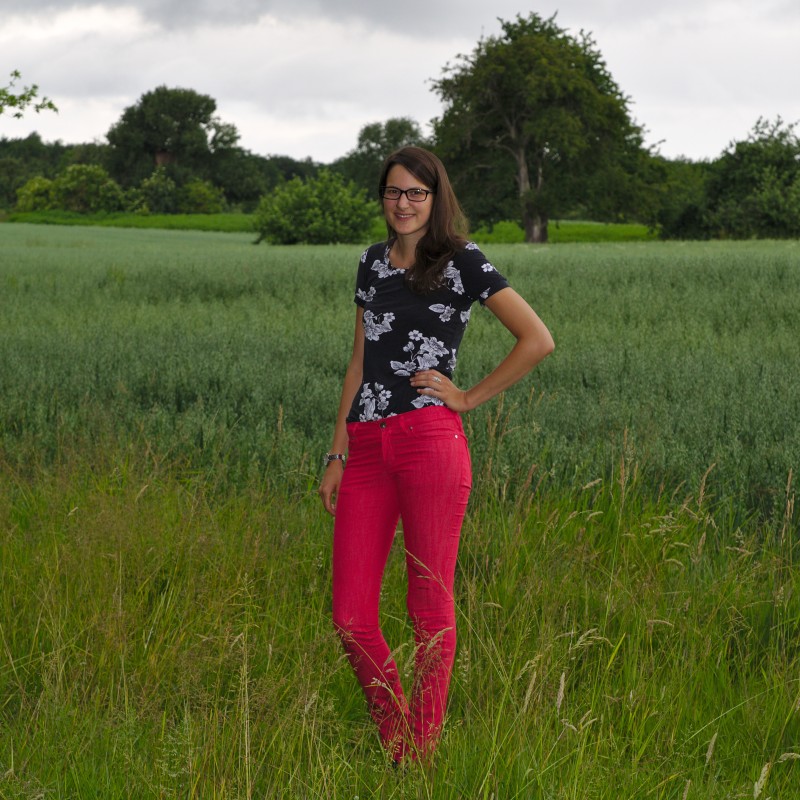 As you may or may not know I am going to work in Stuttgart from July on and I thought that I will come visit this store more often in the future! But that I made a horrible discovery! The fabric seemed shorter than the 1,50 m I paid for. When I measured it it turned out it was only 1,40 m long. Don't I have great engineer eyes? :D Might be that the fabric got shorter by washing.. but 10 cm? I don't think so. And even if, the salesperson could have been more genrous, as this was an expensive fabric.
I again used Ginger, that worked out so fine last time. And again I sewed everything according to the great Sew Along. This time I sewed the skinny legs but stayed with the low rise waist, as my measurements are really awkward, I will try the hight waisted version with another fabric, one that my heart doesn't eat for that much ;)
Again I cut every piece by itself. And what I mean with this peculiar sentence is that I didn't cut on fold fabric. And I used my big triangle ruler to cute absolutely parallel to the grain! Must have looked very funny. Me crawling around on the floor with a big triangle ruler! But I'm a civil engineer, what can I say? I love that triangle ruler and it has made my life much easier. Thank you ruler! This time it helped me to prevent the legs from twisting, yes! Okay, they still twist a little, something must be wrong with my legs, but muuuch better than last time! Ha! I am not as happy about that as I am pretending to be, because this means more crawling on the floor (but it also means more time with my triangle rule, so yay!).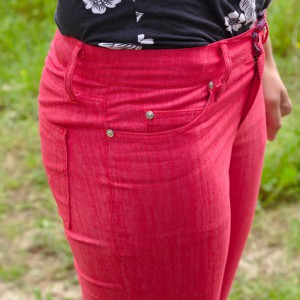 First time that I didn't use a triple stitch for topstitching but instead used thicker topstitching thread! Okay, not the first time. I did this one and destroyed my machine. But sometimes you just have to dare things, you know?! :D So I tried it again with more caution. I didn't backstitch, I used regular bobbing thread and increased the stitch length and everything worked out fine! Ha! Looks much better too I think. And takes a lot less time, even if you have to switch from regular to topstitching thread all the time.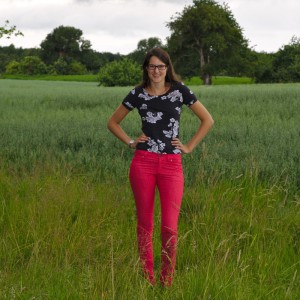 This time I applied the rivets directly after I had sewn all the seams (and topstitched them) that are next to them, worked out great!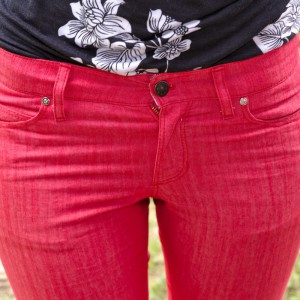 The instructions call for a 14 cm zipper. 10 cm is absolutely long enough in my experience. Heather just sews over the remaining 4 cm and cuts them off. She says that, because she was always careful, she never broke a needle by sewing over the zipper. Guess what I did? I broke my needle in my first attempt! Sounds like me!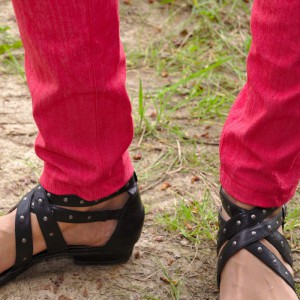 I again basted everything together before I really started, to check the fit! And despite that I didn't change much after I sewed the first pair, the jeans were too tight! Good thing I checked the fit. I was under the impression, that the fabric was stretchier than the one I used for my first pair. I think I must have gotten this impression because the fabric is thinner. It actually is has less stretch.. I let the seam allowance out a bit at my hips, everything is a bit tight, but in my experience jeans wear out over the time, so I like to make them tighter rather than too loose.
I lengthened the crotch seam for this Jeans, was a bit too short before and no there a no crinkles at my behind.
I kinda feel like the mistress of jeansmaking now. But I have to admit that most of the credit belong to this great sewing pattern and the very explicit instructions, thank you Heather Loo! :) If you're thinking about making jeans you should try this pattern!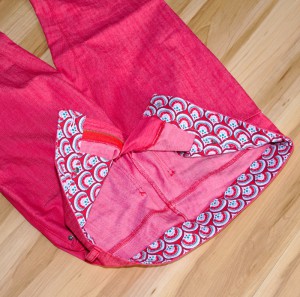 I used leftover for the inside things of the jeans, I love it to use my leftovers especially when they match the fabric so well!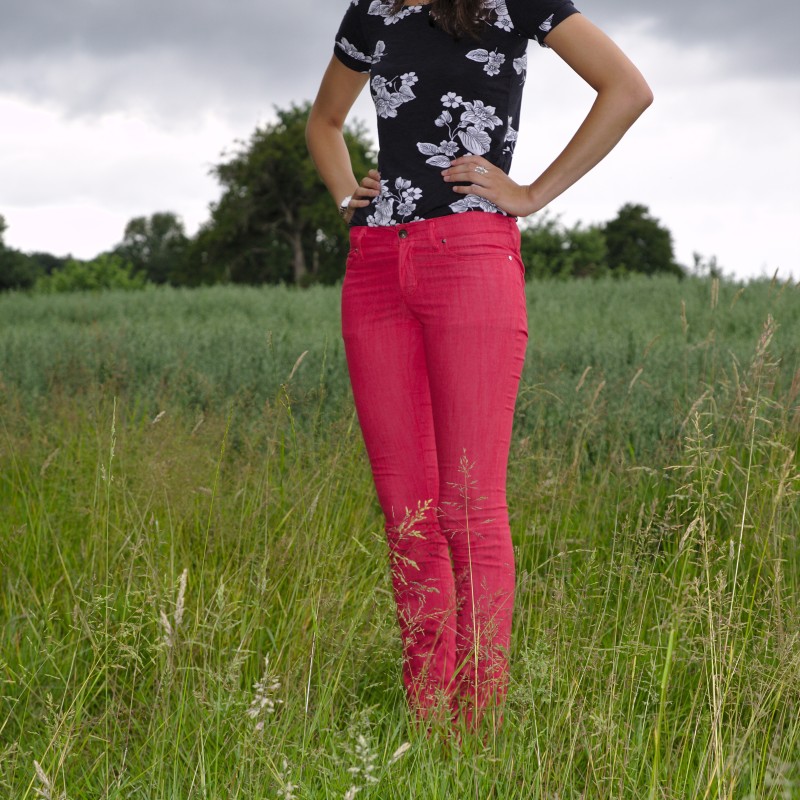 I am taking my new jeans over to SewItChicInAWeek and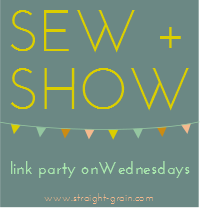 Katharina
I almost fogot: have you seen tha all of the closetcasefiles pattern are20 % off until today? You find more information and the coupon code here.