I don't know if this true for where you live but Flamingo Prints can be seen everywhere here in Germany right now. Last year it was the pineapple and the water melon, and before everyone was into foxes. Like with each of these trends I didn't know that flamingos were a thing right now. You have to believe me, I'm not a hipster! I simply did not know! I saw this print out of the corner of my eye, when I was attending a sewing blogger meet up in a fabric store. I had to pause my conversation and buy this fabric!I mean, there are flamingos printed on it. It is pink, turquoise and red! I had to buy it. I don't know if I would have been so enthusiastic had I known that flamingos are so trendy this summer. But I would have bought it anyway. I'm sure. Next year everyone will have forgotten about flamingos, just like everyone has forgotten about watermelons this year and I can wear my watermelon dress. Plus it is stupid to put too much thought into wether something is hot right now or not, no matter if you want to be on trend or the opposite.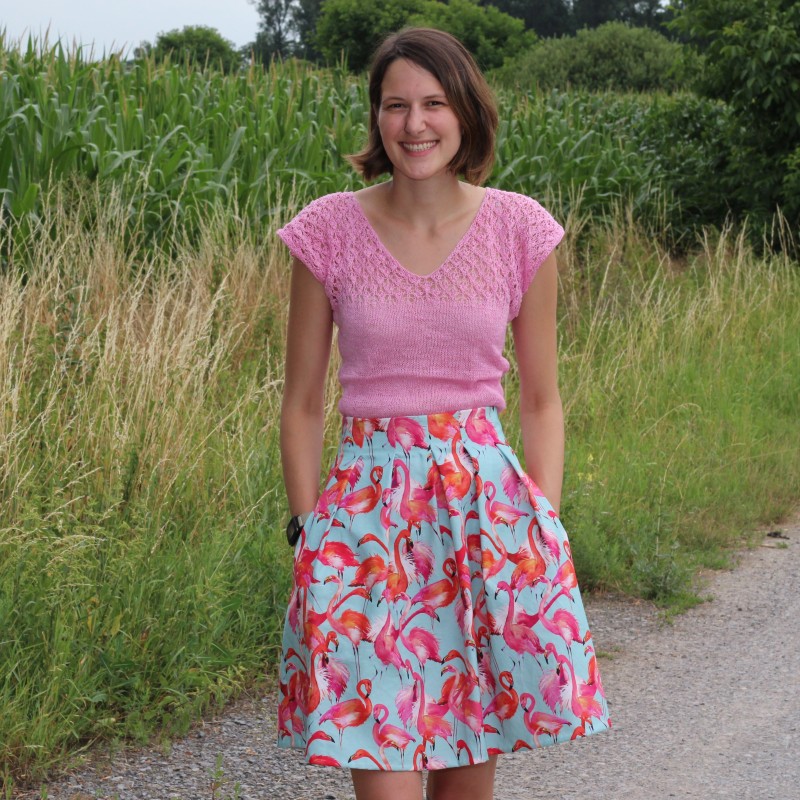 So I was happy to find such a beautiful fabric in an ordinary fabric store and that's the story. I think the fabric was made to be a sofa cushion or something, it is definitely on the thicker and stiffer side, but it is 100 % cotton. Decoration fabrics are fine for skirts at least for me and I have made several skirts from Ikea fabrics. So I decided that this fabric could be turned into a skirt. a dress would have even been better, but the fabric was too stiff for that. Plus there is still room in my closet in the skirt department. Win win!
I thought a while about what kind of skirt to make form the fabric. I wanted to buy 1 m of it but the shop owner gifted me another 0,5 m of the fabric, which left me with a total of 1,50m and a broad range of possibilities. Like for example a full circle skirt.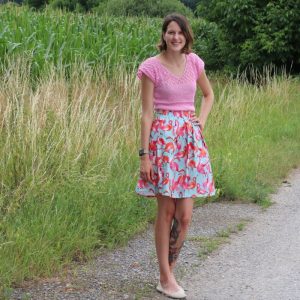 So I printed and assembled Megan Nielsen's circle skirt pattern (which btw is free, which btw means that you have to sign up for the newsletter;)). When I laid the pattern pieces on my fabric I realized that my fabric had a direction and that if I cut a circle skirt from it the flamingos would be turned by 90° at the side seams. Why didn't I see that earlier you ask? Well, I'm glad I saw it at all, before cutting into the fabric.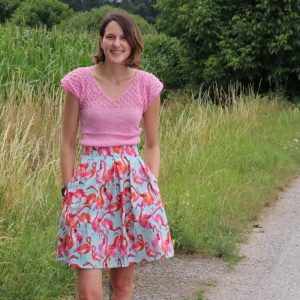 I needed to put more thought into my choice of skirt pattern. I thought about making a Hollyburn Skirt, but the pattern isn't for directional prints either, it has a center front seam and I already have several Hollyburn skirts. It became clear that if I wanted the flamingos not to tilt and insisted on a flared skirt (which of course I did) I had to work with darts or pleats. And so I reached for the  Chardon Skirt pattern by Deer&Doe. I have sewn this pattern twice. I have given away the first version and the second version is more for winter as it is lined. Perfect!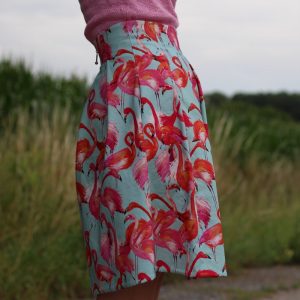 I cut size 38 and started the sewing! I have to admit that I don't like the Deer&Doe instructions I have seen so far. They are not so detailed and I don't find them to be that thought through. Also I'm always annoyed that in the english version of the instructions the measurements are imperial. As if everyone who doesn't speak french was American. So I didn't bother to look into the instructions that much. Sewing this skirt really isn't that hard to figure out.
After I had sewn the pleats I tried different types of pleats, normal ones and box pleats. The pattern calls for box pleats, but I liked the normal ones better and so only the center front pleat is a box pleat, for symmetry reasons.
The skirt doesn't have an outer waist band, instead the pleats are sewn hurt for 3 " (grrrr, 7.5 cm) and this is the waist band then. There is an inner waistband however. I think the pictures make clear what I am trying to say :)
There is a pattern piece for  the inseam pockets included in the pattern, yay! Of course I used it! The pockets have a great size and I like their position :) Because my fabric was so bulky I used some lighter cotton fabric from Ikea for the pockets. Also caused by the bulkiness are the serged seams. Too bulky for french seams. I hand stitched the inner waist and and the hem.
As the skirt is kind of eye-catching I didn't want the zipper to be boring ;) Hehe. I inserted a metal zipper that I had in my stash. I used Megan Nielsen's method, to insert it. This method works best for me.
I'm really happy that my flamingo pink linen top fits so nicely to this skirt! :) And I'm pretty happy with my new skirt as well. The fit is nice and the print is great! And I have some pretty fabric left over. I think I'll make a  bag from it :)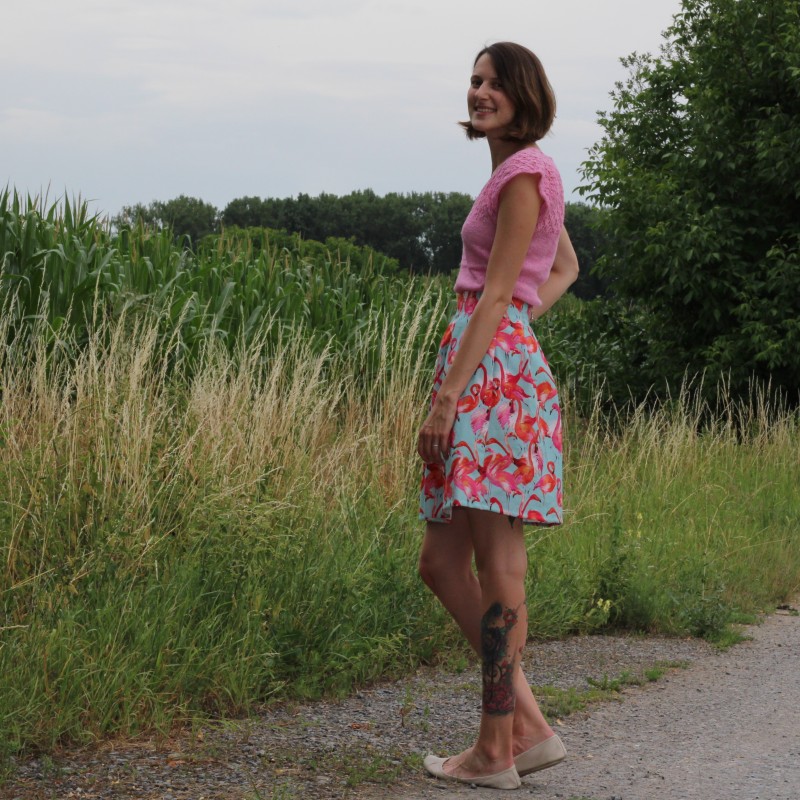 Macht's gut!
Katharina