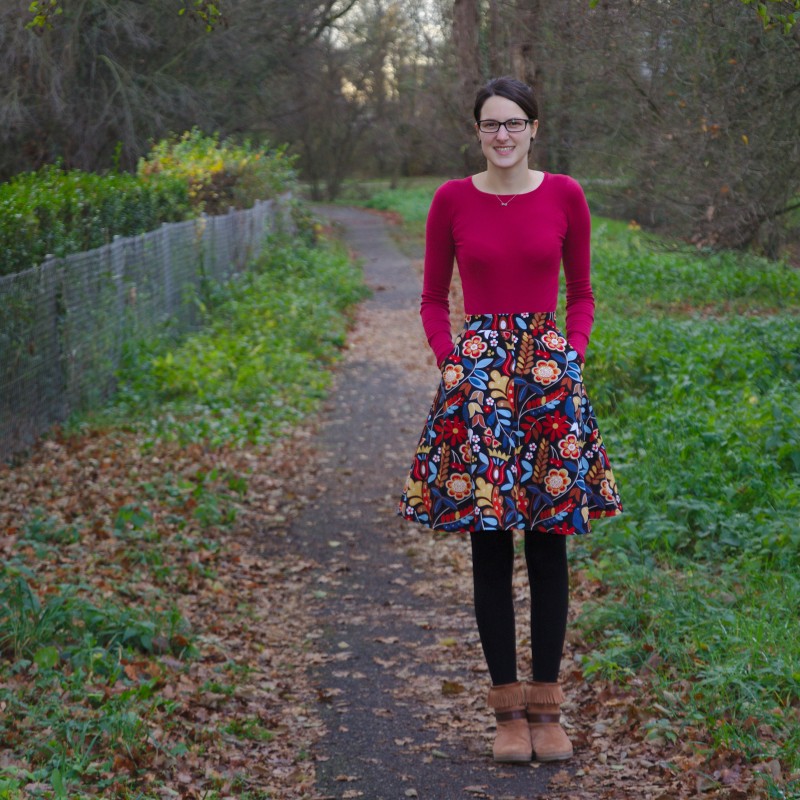 Today's post has everything! A pattern that I've already made several times, a skirt and a new pattern! But there is almost no blue colour in it today. But a lot of red which seems to be my favourite colour as soon as temperatures drop and believe me: they're dropping like mad these days. It is freezing here over in Germany. But well, there is no bad weather there is only inappropriate clothing! A good reason to sew something new to keep me from freezing ;) The pattern that I've already made several times is the Hollyburn skirt. And as you might have guessed the Hollyburn is also the skirt in this post ;) You can find the versions I've made here, here and here. I sewed size 6 and choose the longer version which end just above me knee and is thus a little longer than the short version is on normally large people ;) Since my second version I modified the waistband. I cut a wedge from it at the centre back, so that it sits tighter at the upper edge. You might call this a cheat, it is, but it worked for me and so I did that with this version, too.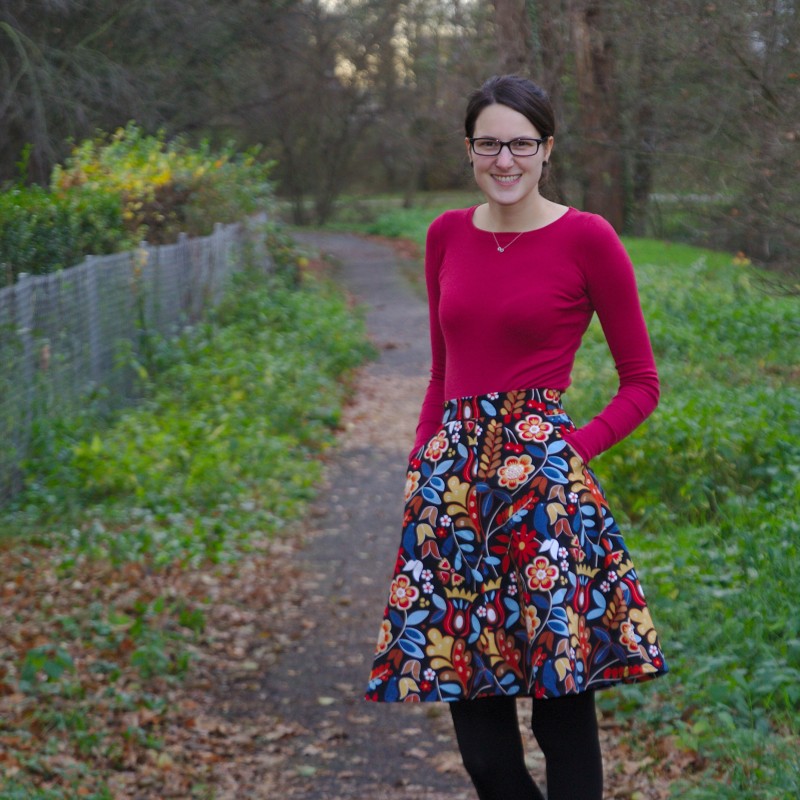 I lined the skirt. I lined all my Hollyburns because it is so easy. Okay, again I forgot to add the pockets and cut the holes in the lining as well, but I like to challenge myself you know?! That's why I only bought 1m of the fabric It is from Ikea and to be honest it was less than 1 meter and poorly cut. But I cannot blame anyone, because I cut it myself. But as I said: I like myself a good challenge! ;) And as you can see: I made it!
I still have a lot of this blue lining fabric. I bought it at Paris and I sew it into every garment I can just to remind myself not to buy lining if you have to carry it the whole day through Paris! :D (okay, I would totally do that again, I mean: look at that colour!)
I simply serged the raw edge of the lining instead of hemming it.That is because I am so incredibly lazy! Also I didn't have matching serging thread but I didn't care.I bought the zipper at Tchibo. I don't now if you guys know that store but if you ever come to Germany you should check it out! There is a Tchibo in almost every city here and they sell everything. Shoes, bags, candles, coffee, zippers, you name it!
Oh and guess where I bought those tights? Tchibo! There super comfy and warm. The fashion fabric, that I bought at Ikea is kind of rough and stable and I thought about making a backpack or so from it. But know I am satisfied witch my decision because I like the way the skirt stands (or whatever you call hat!)
Problem was that I didn't have a matching top. Okay, that is not true, but I needed a good reason to sew me another one. Plus I already had the fabric! i bought it at a fabric market for very little $!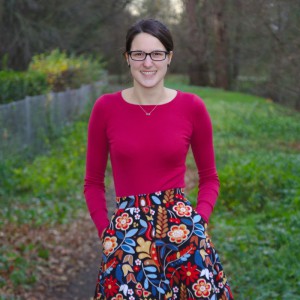 I had my mind set on sewing the Nettie Pattern from ClosetCaseFiles. Nothing could stop me. Not even the instructions that said that I needed a 4 way stretch fabric. Mine only had a two way stretch. Let me tell you at this point how stupid it is to say 4 way and 2 way stretch.As if a flat piece of fabric had more than 2 dimensions! I really would love to hear were the third and 4th direction are! And while i am at it: how about using SI units? Americans… ;)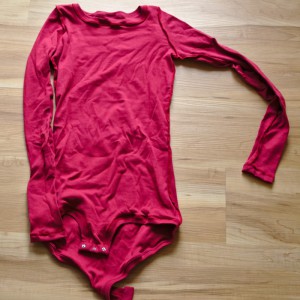 I made the bodice 8 cm longer to fit my body.This is more than I would usually add but it looked so short. And it turned out too short, A little. But as already said I didn't have stretch lengthwise (in the third and fourth direction!)
I sewed size 4 and the bodysuit sits tight! Very tight! But I expected that and I like it!
Sewing Nettie was easy. There was some hand stitching, more than I am used to but I'm okay with that. Much harder was putting this thing on. I need some kind of technique the next time. There is just not enough space for two hands. It must look really stupid when I am trying to close this thing in my crotch!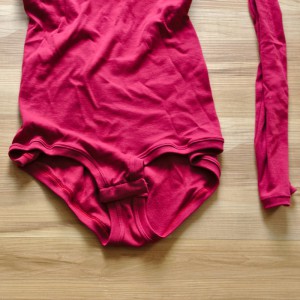 Apart from that I didn't have any serious problems. Not even when I needed to pee. You have to open and close that thing and it takes a little time, BUT you stay really warm and your top doesn't move out of your skirt after a while and those are two huge pluses!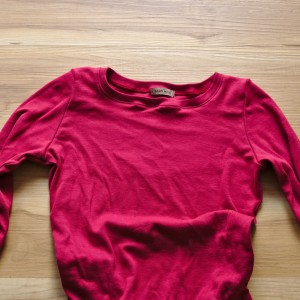 So,  something about the sewing process and then I'm through:
I liked the instructions and the Sewalong helped a lot. There are also many tips included that I didn't know before. There are a lot of variations included. Fyi I chose the high neck and high back. I think the top is a little shorter and tighter than the average top but otherwise it sits very nicely and I've already made a second one :)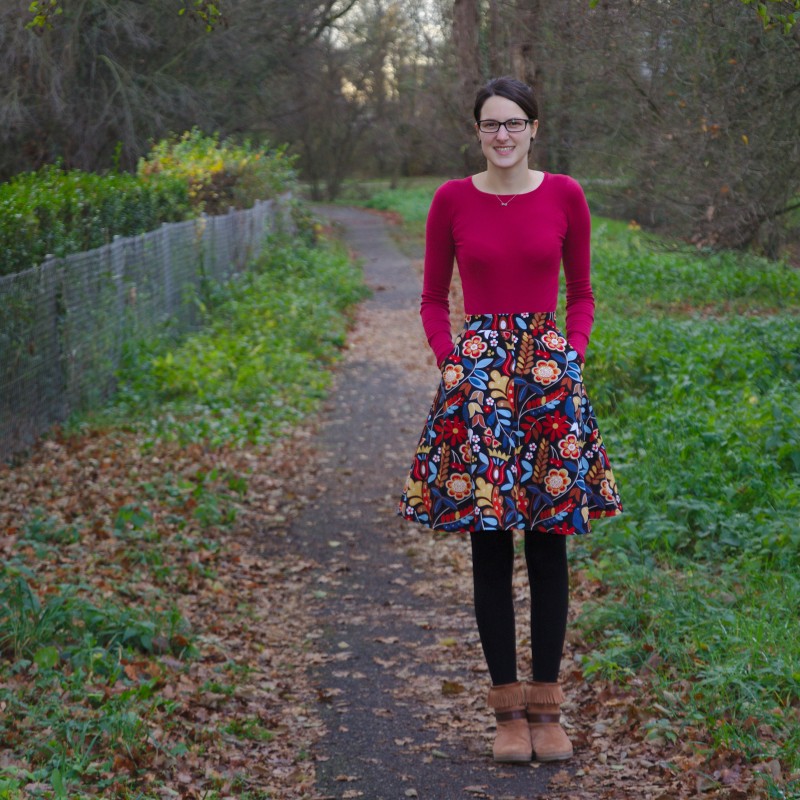 Macht's gut!
Katharina