'Chaaaaandler' is what is in my head when I hear 'Janice'. and when I think about I guess Janice was one of the best characters in friends! So I was kind of pleased when German pattern designer pattydoo released her new hoodie pattern 'Janice. She always gives the patterns English names, but unfortunately most of them are only available in German. The time she released 'Janice' the male counterpart 'Jordan' was released, too. It is basically the same hoodie only for men and I already made one for Marvin. There is the same video tutorial for both patterns, the male and the female one and to increase my time efficiency I just had to sew the female version for me, because, well I've already seen the tutorial. Another good reason for this pullover was, that I got my hands on really cheap but beautiful sweat fabric. I am at this point really not sure if you native speaker also call this kind of fabric sweat fabric. When we here in Germany say 'sweat fabric' we mean that fabric that is especially used for sweat shirts. it is thick an warm and almost always contains plastic ;) Mine did too. However it had no stretch.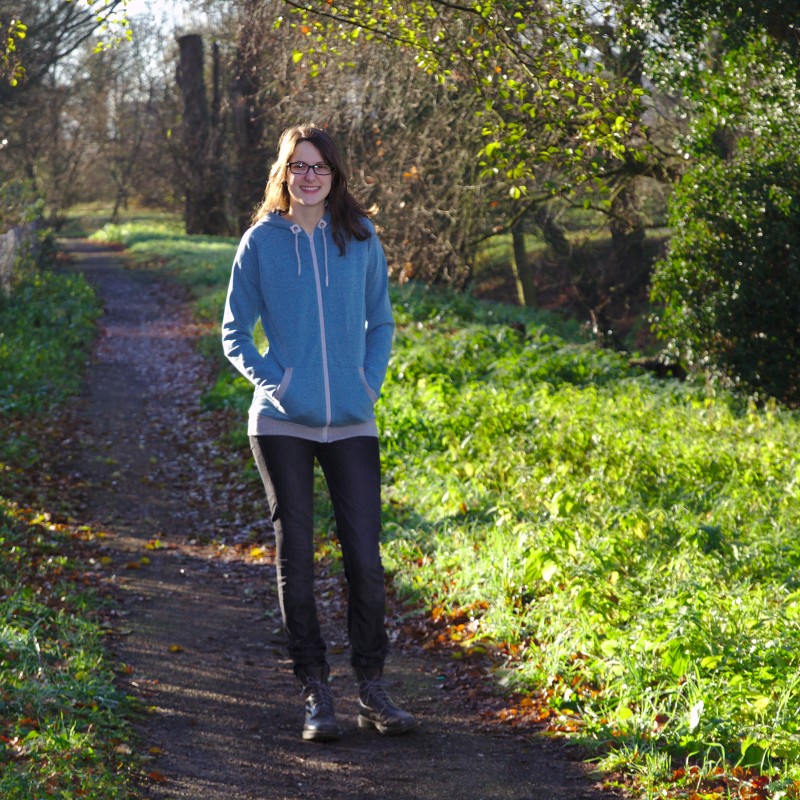 The pattern is a relatively simple hoodie. It features raglan sleeves, pockets and facings and thus looks quite ice from the inside. However there is only a 0.7 cm seam allowances included in the pattern and I always have difficulties with such small seam allowances. I could have added a little, but well, I'm very lazy!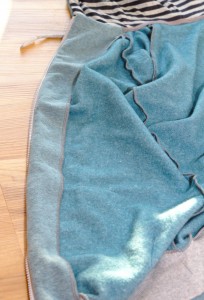 Again I twisted the ribbing. At the beginning of the video Ina (alias pattydoo) warns you to take care not to twist the ribbing which is sewn in at the beginning. And because I twisted it when I made Marvin's sweater and took double duper duper care not to twist that thing. And In the end it was twisted. I don't know what went wrong! I think someone else must have change my seams! ;) Marvin actually wasn't even surprised when I showed him the twisted ribbing. He doesn't even bother to fake it any more… :D
Well and that is why there are seams at the sides of the ribbing.
Pattydoo has introduced her own sizes. I am a size C. I really like that. some German pattern designers don't even bother to give a measurement table and I think most sewers here just sew the size that sounds nicest. Really I don't know how there doing this. However I guess that leads those people to not even bother to measure themselves when there actually is a table. And If you know make sizes up, they are forced to and cannot complain about the garment being too small or too large.
There are no pattern pieces included for the ribbing. But you can find the measurements for them in the instructions. Well, I'm lazy and I don't like that.
Now to the obligatory lengthening part. As there is a zipper included here I needed to lengthen the hoodie in 5 cm steps. I would have needed to make it 8 cm longer and I went with 10 cm. Lengthening wasn't that hard, but there are no lengthening/shortening lines included in the pattern.
The fabric was cheap ad so I ended up spending much more money on the ribbing fabric, the zipper and the hood band. For the hood lining I used leftovers from this shirt. Also I reinforced the eye holes with leather scraps. I saw that somewhere and thought it looked cool! And I have to say that I really like it. I still haven't figured out how to sew those seams I made on the leather in one step. I even read the wikipedia article on the Haus vom Nikolaus, which you might not know.. but I am almost certain that it is impossible!
I also sewed leather on the ends of the drawstring, but that didn't turn out to be as cool as I'd hoped!
I faced the seam between hood and bodice with bias band, because it looked really crappy. I first wrapped it around the seam allowances and made the upper seams catching both ends of the bas band in it. The i made a seam at the bottom of the band that has absolutely no function at all. And then I hand sewed the bias band to the bodice.
I again watched the video tutorial and again I have to say that I like written patterns better. It always gets messy with my and video tutorials. Either I am too fast or I am to slow and then I start hurrying and yeah I always end up ripping seams!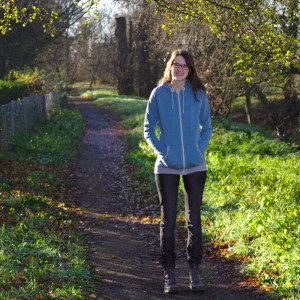 However, as you can see: I made it! and even without stretch the hoodie sits fine. After having finished this piece of garment I realized how much I've missed wearing hoodies. As you may or may not know I just love sewing dresses and shirts and stuff and at this point they have taken the overhand in my closet. But before I started sewing I loved wearing hoodies and I really needed one. Even if the sewing process wasn't as much fun as sewing a dress it was totally worth it!
If you're now sad that you won't understand the instructions to this pattern because they are in German, let me tell you that the pattern is really cheap! It costs 3 € and it is done by a professional seamstress and this is really noticeably. The patterns as well as the instructions are high quality in my mind. Plus there is a video tutorial. The hoodie itself really isn't that hard to sew and with the help of the tutorial I really think it is feasible for people who don't speak German. Anyway, if you want to sew this pattern and have any troubles or problems with the language I am always happy to help! :)
Katharina