I hope you had a good start in 2016! I certainly had. A lot of knitting, hanging on the sofa, sewing, taking walks and eating. Our neighbor partied a lot. Since Christmas we heard basses all day and night long. And some guy shouting 'yappaaa' every half hour. For quite some time now he doesn't even open the door, when we try to complain and our landlord stopped answering the phone (and on sunday we found dog turd on our neighbor's balcony… at least I hope it was dog turd.. he doesn't own a dog..) Well, whatever. This all isn't that bad if you know you're moving soon. Knowing that we'll move also always brings up that certain energy in me. I have the urge to sort out a lot and part with things that I don't actually need. And I sew an knit a lot, to minimize my stash. So, I was really productive these last days. But I don't want to overwhelm you and so today I am going to show you something unexciting ;) A navy blue Miette!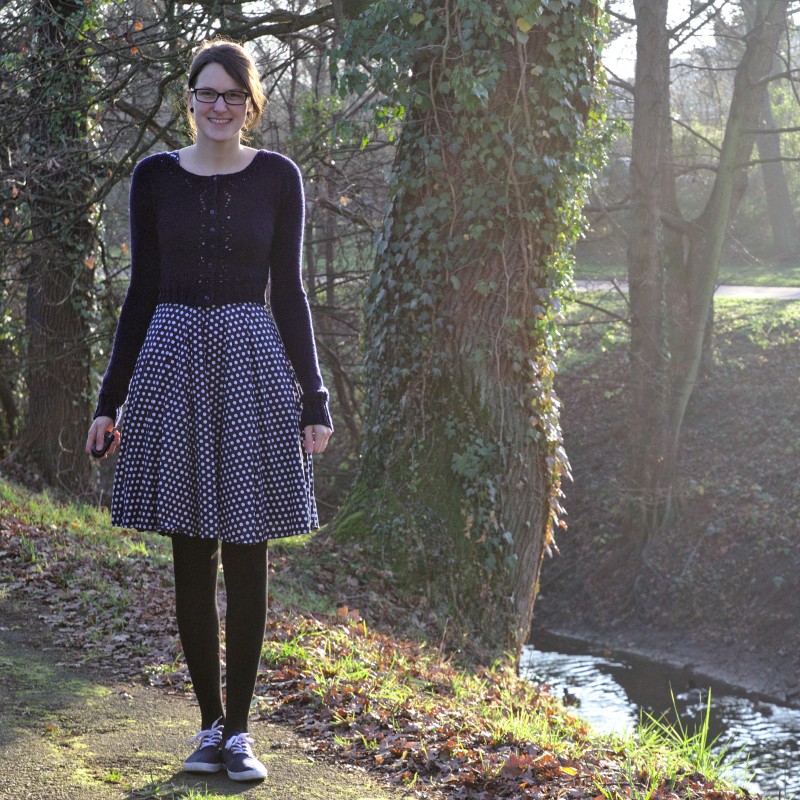 Unfortunately I sometimes have to make things that aren't as colorful and bright as I'd like.  I have do make things that fit my other colorful and bright garments. As I am reaching so often to my blue Agatha cardigan it made sense to me to knit another blue cardigan. I made two Miettes in the past and they didn't turn out so nice. The fit isn't perfect and my yarn choice is really questionable. They also have 3/4 sleeves and I lately decided that I like full length sleeves better :) But I always kind of liked the pattern. Nothing too special, perfect for a garment that should fit as many dresses as possible.
I used Drops Big Merino in navy blue (number of the color is 17), I bought it in May, when all of the Drops yarns were on sale (they are every year in May). I used 9 skeins, which are 450 grams and 675 m respectively. I knitted the entire cardigan with 4.5 mm needles in size 34″.
The pattern is free and written by Andi Satterlund, who else?! And that means the cardigan is knitted top down and seamless. The cardigan features raglan sleeves and some lace at the borders. The waist decreases are knitted just underneath the bust at the front of the cardigan. As I knit kind of loose that always resulted in little holes at the front and so I moved the decreases to waist (and at this point you might realize that this cardigan is a total knock-off of Carolyn's ;))
I also lengthened. The sleeves are full length. Okay, they are more than full length. That happens to me quite often. I am still traumatized by that long period in my life where all my long sleeved tops were too short at the arms (and everywhere else for that matter) and so I overlengthen my sleeves out of fear! I always thing "okay, just a tiny bit longer…. another tiny bit longer.. and another one" and well.. you see what happened ;)
I also lengthened the bodice and I really liked that it is explicitly said in the pattern how to do that! Thanks Andi!
Another feature worth mentioning is the ribbing. The knitted stitches are knit through the back of the stitch loop which gives a nice effect but also takes more time and concentration.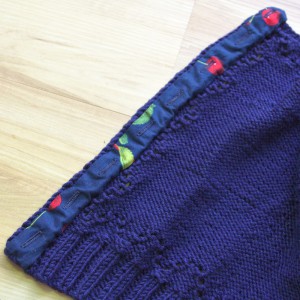 I stabilized the button bands (as shown here). I used left over fabric from my cherry Hawthorn dress. Oh I love this dress and I'm glad to have another partner for it. But I think the polka-dot-flora-dress I'm wearing in the pictures also matches the cardigan nicely (or the other way around). I don't wear this dress often, I cannot get used o the huge dots and the neckline but I think paired with the cardigan the dress looks much nicer!
In case you are wondering why I am posting on a Wednesday in the middle of the day: i have the day off. Today is a holiday here in Baden-Württemberg, such a great state. Only Bavaria has more holidays than Baden-Württemberg. And who wants to live there? Not even one more day off could convince me to move there ;D
I think I'll spend my day knitting, sewing, maybe taking a walk! I hope you have a fine day, too! :)I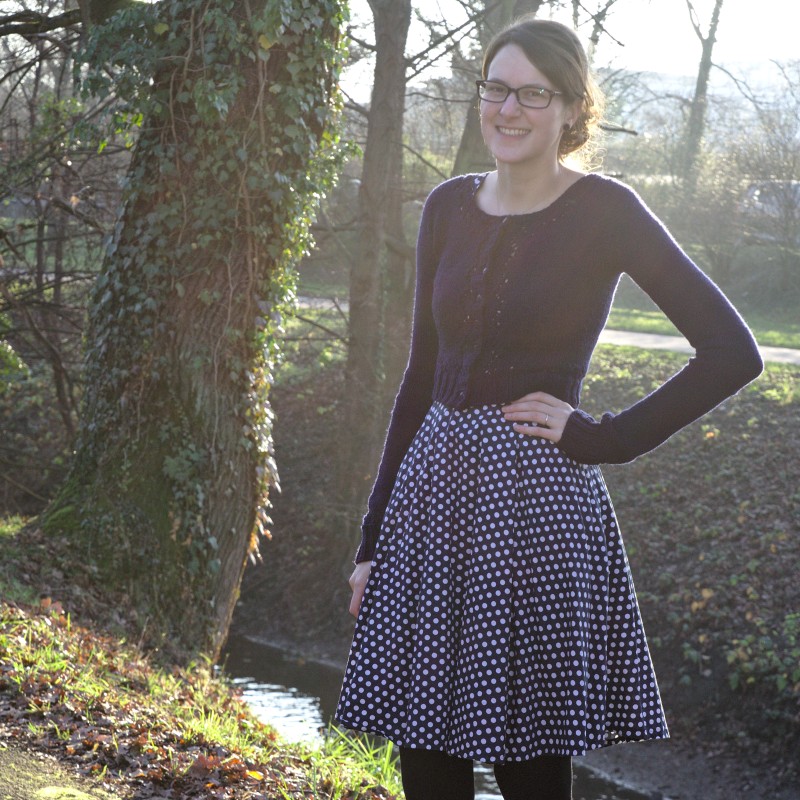 Here you can fin the project on Ravelry!
Macht's gut!
Katharina