And the second week of Me Made May 15 has passed! I wore self made clothes throughout the whole week and felt that it was a little harder than last week. The week was a little warmer and I only had to work on Wednesday (it was also the last day in my old job, yay!) so I could wear my dresses and skirts without tights and I spend a lot of time on the balcony. And here comes my round-up:
Monday, 11.05.15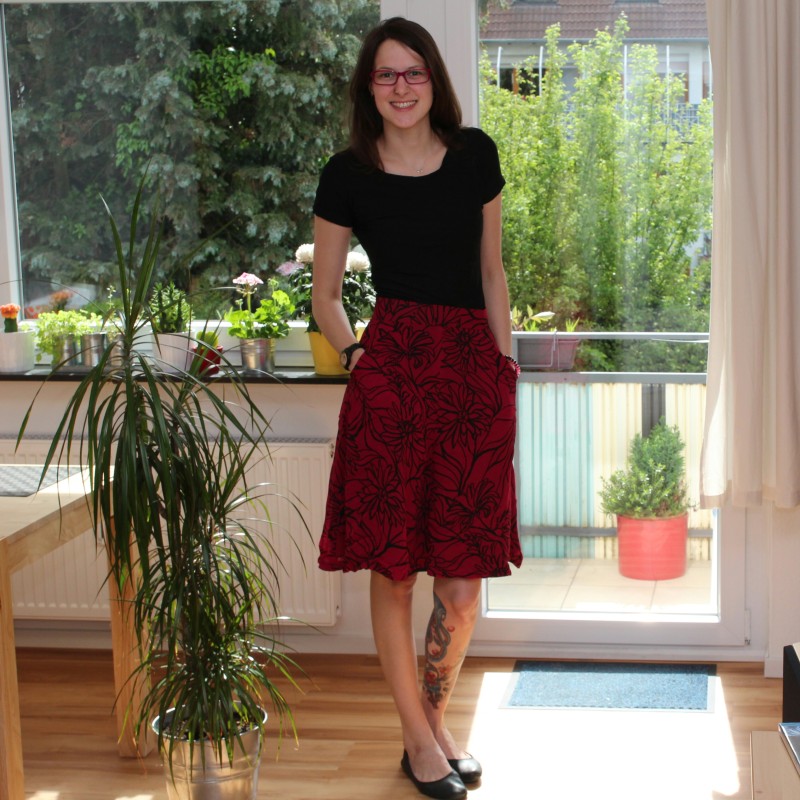 It was warm enough to wear my first hollyburn skirt that spend the winter in the closet! It really looked like it tho, I should/could have given it a good press before wearing it but whatever ;) I wore a Renfrew with it that I made in the pre Me Made May panic sewing attack ;) Last Tuesday I wore the same combination only with different fabrics :)
Tuesday, 12.05.15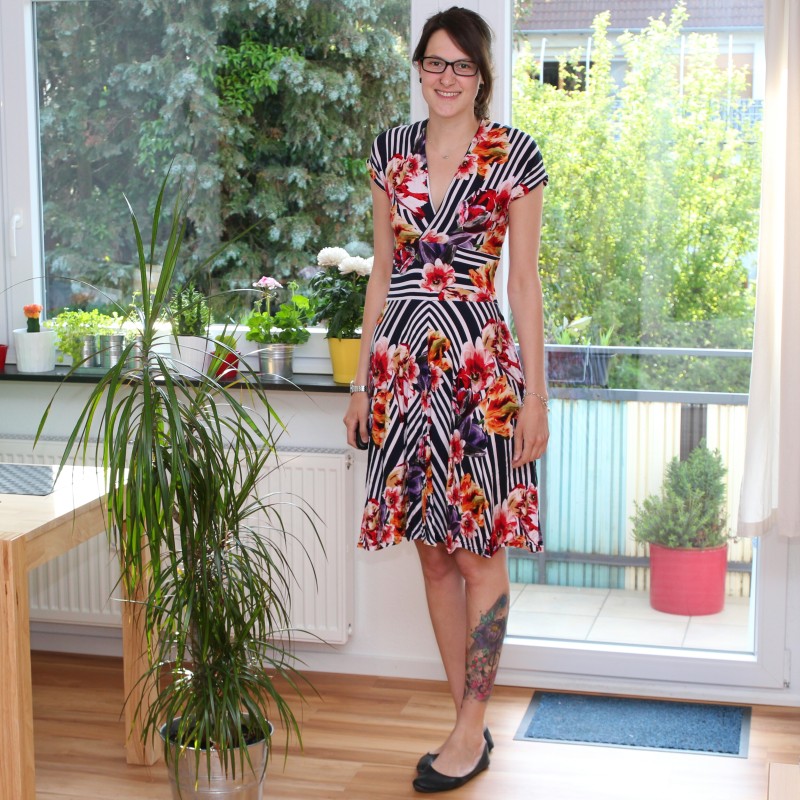 My beloved flowers and stripes Tiramsiu dress got out of the closet! This is one of the dresses I didn't know if it would turn out great or totally ugly before I sewed it. Luckily it turned out great and it is soo comfortable :) I spend the whole forenoon on the balcony, but my skin soon turned a little redish, ugh, I'm so pale! I needed to go inside.
Wednesday, 13.05.15
My last working day in my old job! To sow good will for the last time I wore pants that cover my tatoos, won't do that in the new job, don't have to work with people there ;) The Jeans is made from a burda pattern, the blouse is a Tova that I made out of an Ikea pillow case. It was actually the first time I wore the blouse, I made it in late autumn and it wasn't warm enough until now.
Thursday, 14.05.15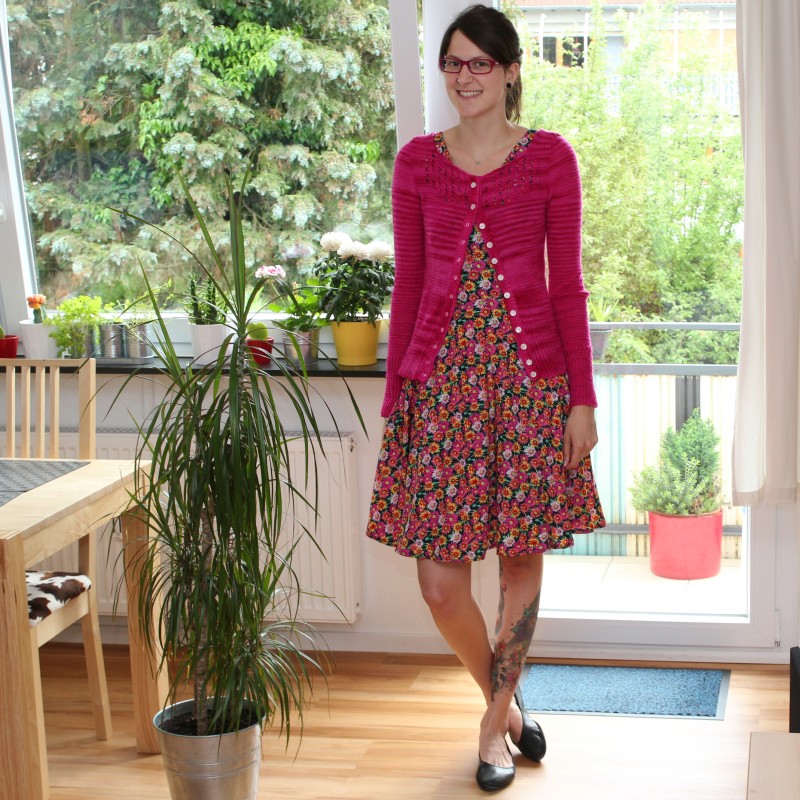 I thought it was warm outside! But it wasn't! I didn't wear tights tho. I considered myself lucky to wear the Audrey in Unst Cardi, so that I didn't freeze to death, Haha, it wasn't that cold! But it didn't feel summery anymore :( The dress is the first Flora Dress I made and it is too wide :( I don't really like the bodice and that is why I always wear it with cardigans. The fabric is too beautiful to throw that dress away. Marvin's parents were visiting us over the weekend, but we didn't do much on this Thursday. I finished sewing Susanne's dress for her daughter's wedding and we ordered some pizza :) The dress turned out beautiful :)
Friday, 15.05.15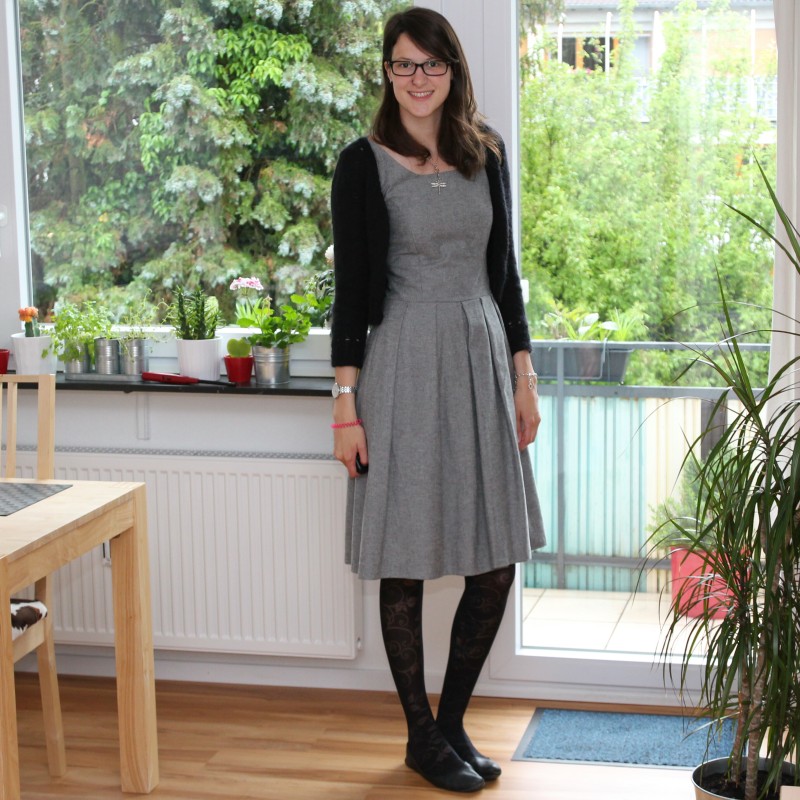 It was a theme Friday again! This time the theme was "something old". I am only sewing for 2,5 years now and I don't really have anything that is older than 1,5 or maybe 2 years. When I started sewing I wasn't that good and I used cheap fabric. So most of the stuff I made I already threw away. But the first dress made of woven fabric is still hanging in my closet. I don't wear it often. Maybe twice. So I kind of was glad to be forced to wear it again. Because I really like it! And it is really comfortable and fits well. Okay, it looks crappy on the inside ;) I think I am going to make another version of this dress, with more color. With the dress I wore my Myrna Cardigan, it was even colder than it was on Thursday! But no problem for me. I spend most of the day a needle crafts fair with Suanne and Meike. Wasn't that good there, I bought a lot of yarn but no fabric at all. But I was interviewed by a local radio ;)
Saturday, 16.05.15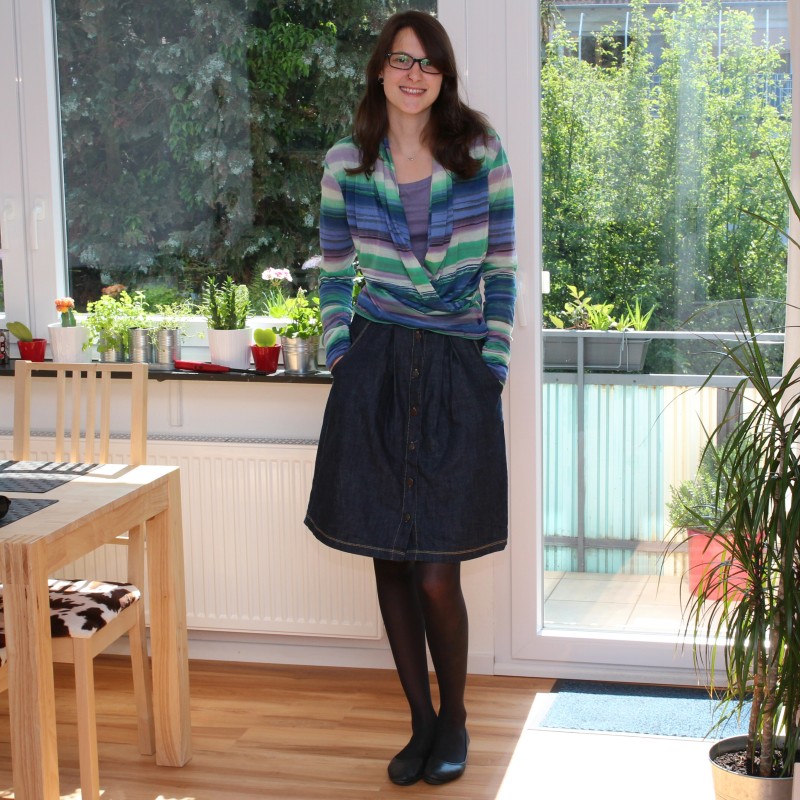 Saturday was the first day I had troubles finding an outfit that I liked. Spend an hour before my closet or so. I decided to wear my denim Kelly skirt together with a burda wrap blouse and another panic attack renfrew shirt. I didn't wear this combination ever before. Wasn't even sure if it matches but now I kind of like it :) We went to visit Baden Baden and the ice cream is really good there :)
Sunday, 17.05.15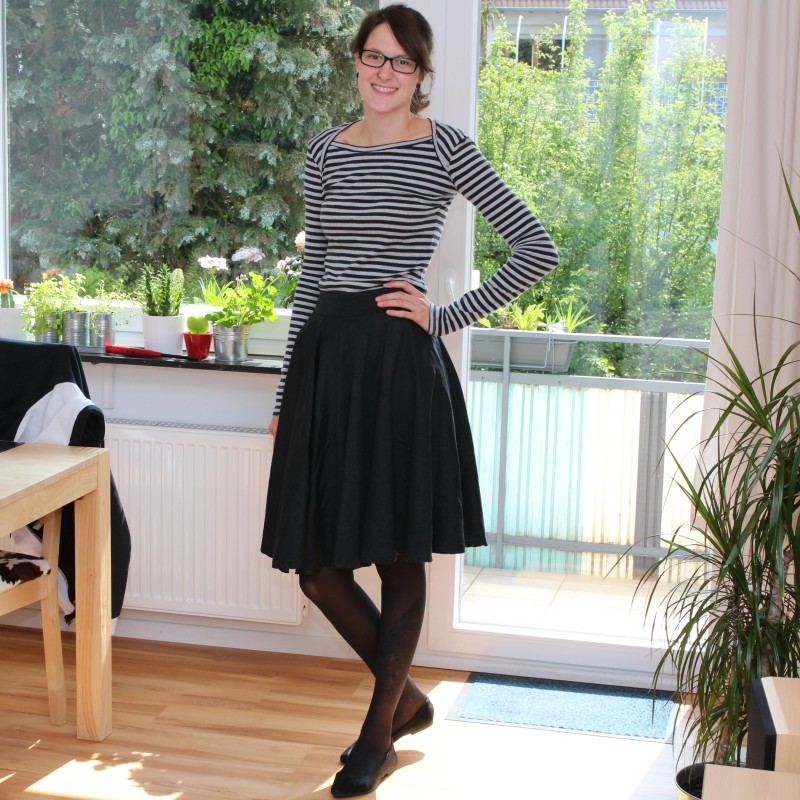 Today I am wearing my  Tania Culottes and a striped Bronte Top. It is warmer today, but I do not dare to go out without tights ;) later Marvin and I are going to pick up our caravan, as we are going camping soon :)
But first we are attending that wedding next weekend :) I'll let you now what I am wearing. Hopefully I will find the time to blog a round up next Sunday, but I can't make promises as I am not at home before Monday afternoon.
All in all I'm not that as excited about taking photos of me as I was last week. I caught myself having the wish to just wear whatever is on top in my closet and not overthink every outfit. But I'm still having fun :) Hope that will stay that way as I am having a lot of events coming up soon. What I really love about MMM is to see everyone all over the world in their daily outfits and to get comments to my own outfits, thank you for that. If you want you can now check out the Flickrgroup to see what everyone is wearing! Great source of inspiration! Have a great Sunday Y'all!
-Katharina