Another week has passed, and I have managed to take daily pictures for Me Made May. The backdrops are far less spectacular than they were last week when I was in Sweden. I had to work, but at least Me Made May motivated me to wear nice dresses everyday to work. I still haven't gotten to my most precious dresses, as usual I'm sparing them for the end of May. Or for better weather, I don't really know my motivations.. However, here comes week 2:
Eleventh Day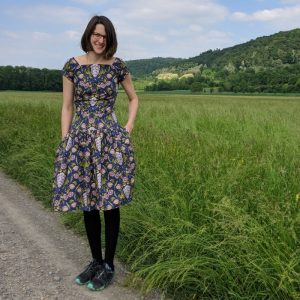 This was our first full day back home and we spent it running errands, cleaning up, washing clothes and such. We also managed to take a walk and I wore my latest Butterick dress, paired with a pair of tights, as it was a little chilly.
Twelfth Day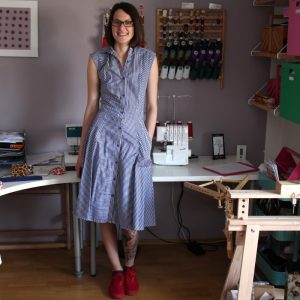 I spent a lot of time in front of my computer trying, once again, to wrap my head around the GDPR. As you might have noticed I have already implemented a checkbox in the comments section, where everyone who wants to comment has to specifically allow me to store the data he/she has just entered into the form. Most of the time I spent trying to figure out what exactly I have to comply to and everyone seems quite unsure and oh well, I did my best. I already implemented encryption and I don't give any user data to anyone and I made sure that I have full control over it, which it turns out isn't that easy. I had to disable Gravatar for example. I didn't even realize WordPress activated it automatically. So I guess something good comes from all of this. Although I'm really not happy how the EU wasn't able to provide something more solid and understandable. I'm afraid the GDPR might lead to even less diversity on the Internet, because only the big players can afford the lawyers to help them comply with the law. And I really hope the GDPR won't lead to more sewing bloggers abandoning their blogs for Instagram.
Apart from that Marvin and I took a walk and run some more errands and I wore my Matilda dress that, as you can see, gapes at my belly! I will have to fix that!
Thirteenth Day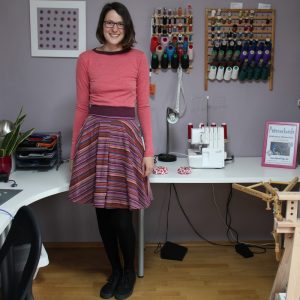 On Sunday I wore a pair of Tania Culottes and an Astoria Sweater, that I usually don't wear that often. Now it's lying on the top of the stack again and when the weather stays at it is right now it might get another wear soon :)
Fourteenth Day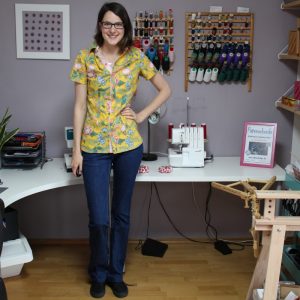 The weather is crazy! And pretty wet! I wore my bootcut Jeans and a yet unblogged Shirt to the office. Can you tell how tired I am? The first after a holiday is always the worst!
Fifteenth Day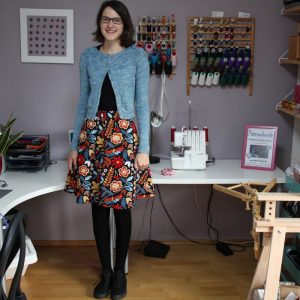 Another day at the office. A little less tired though. I wore my Ikea Hollyburn skirt, with a black Renfrew shirt and my cropped Peacock Eyes Cardigan.
Sixteenth Day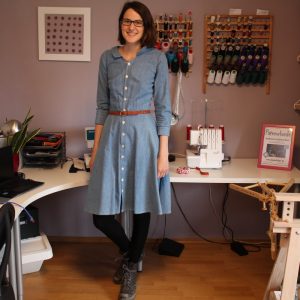 I was working from home, which meant that I only got dressed to get something to eat at lunch break. I also took the opportunity and visited the local yarn store that sells Drops yarn, as you might or might not now there's a huge Drops sale going on right now :) I wore a denim Hawthorn dress and I don't know what happened to the collar, but I think I spent my whole lunch break with like this, so I guess the picture is very authentic.
Seventeenth Day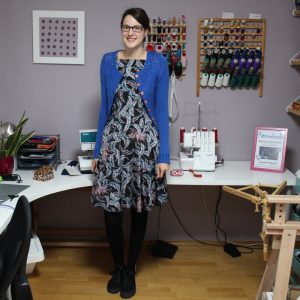 And another day at the office. The weather still hasn't improved so I took the opportunity to wear my 100 % polyester Flora dress, that I can really only wear when the temperatures stay below 20 °C. I also wore my blue Salal Cardigan with the dress and again some self sewn tights.
And that's it, another week gone. I will keep on posting daily pictures in my sidebar and if everything goes as planned you will hear from me in a week :)
Macht's gut!
Katharina