I spontaneously decided to take part in Me Made May again this year. But unofficially, I didn't sign up and I won't share any of my pictures on Instagram, as I don't have an account and am really happy with that decision. I will however, share my daily pictures in the sidebar of this blog and I'm planning on posting overviews with more information every week here on the blog as well. I started into me made may in Sweden, where Marvin and I spent our holidays. This is why this first week has 10 days ;) So I was able to put all holiday related pictures into one post.
First Day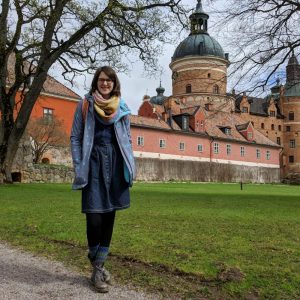 I started May at the Gripsholm Castle in Mariefred, which you can see in the backdrop of the picture. The weather was worse than I had thought it would be and so I had to layer my clothes to stay warm enough. In the picture you can see my softshell jacket, my denim Kelly skirt, my first Agatha cardigan, my hand knitted socks, one of my tights and my alpaca wrap. You can also see my backpack a little :) What you cannot see is that I'm wearing a flannel shirt underneath the cardigan and underwear that I made myself as well.
Second Day
On May second we left our first Airbnb in Västerås and moved on to another one in Karlstad. We stopped in Örebro and had a look at the city. We especially liked the Wadköping open air museum (I love open air museums!) and this is where Marvin took the picture of me. You can again see the jacket, the wrap, the tights and the backpack. I wore a different pair of socks, the gloves I recently knitted and my latest Mira Dress.
Third Day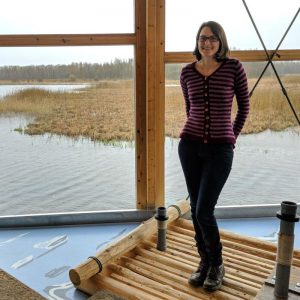 On the third the day the weather was so rainy that we were only able to spent the first half of the day in Karlstad outside. We visited the Mariebergsskogen park and spent some time in their Naturum, where the picture was taken. I wore one of my Ginger jeans pairs together with a cardigan that I designed and wrote instructions for. I'm not yet finished, but I hope I can release the pattern soon. Underneath I'm wearing a Renfrew tshirt.
Fourth Day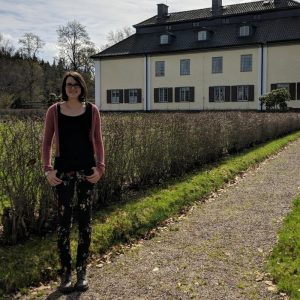 We left Karlstad for Hagfors and stopped in Sunne. In the backdrop you can see Mårbacka the mansion of Selma Lagerlöf. I wore my latest pair of Ginger jeans, an rtw top and a Featherweight cardigan.
Fifth Day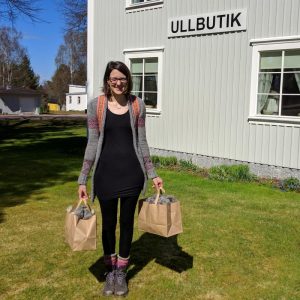 We were staying in a super cozy and small cabin in the middle of the woods. I swear I didn't know that there was a wool shop in walking distance from our cabin. I stumbled across the sign when we arrived and googled it. Turns out I was staying near Ullbutiken I Råda. I wrote Ardo and Liesbeth a Mail and they kindly offered to open the store for my and Marvin. We had a great time! Such a lovely store! Such nice people! I bought some local Värmlands sheep fiber :) I was wearing my Gotland/Iceland cardigan, with an rtw top, self sewn tights and another pair of  handknitted socks. And you know the backpack ;)  Later that day I went hiking in that outfit but didn't need the cardigan as it was getting warmer and warmer.
Sixth Day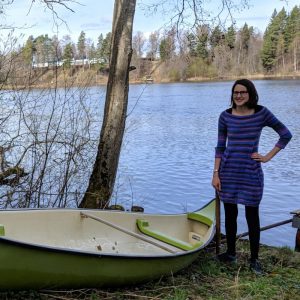 The weather improved rapidly! And the we went canoing on Rådasjön. I wore my Still Light Tunic which became too warm in the course of the day when we drove from Hagsfors/Råda to Falun.
Seventh Day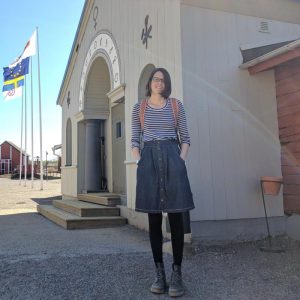 In the backdrop you see Falugruva, the famous copper mine in Falun. This is where the red paint of all those Swedish wooden houses comes from btw. It was a summery day but nicely cool down in the mine ;) I was wearing my denim Kelly skirt with another one of my Renfrew tshirts.
Eighth Day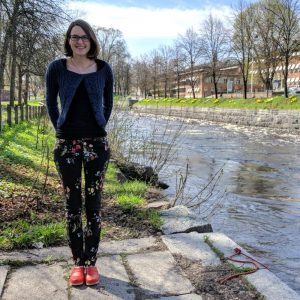 And on we went from Falun to our last stop Sigtuna. We stopped in Gävle to have a glance at the sea :) In Gävle the temperature was a little cooler and so I wore my Agatha cardigan over an rtw top and my floral Gingers. When we arrived in Sigtuna it was quite warm there, like 24 °C and super sunny. We really didn't expect to spent a summer holiday in Sweden, but we didn't mind either ;) However as you can see in the backdrop spring hadn't even really started in Sweden, most of the trees were still without leaves.
Ninth Day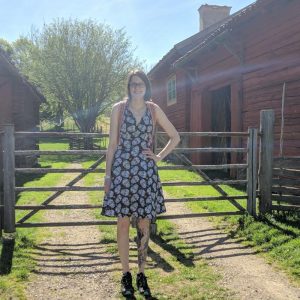 Our last day before our flight back we went to see Uppsala. It was really really warm! We asked our hosts about it and they said that it never gets warmer than this, even in summer. As I didn't pack for this the only thing that looked like summer was my Butterick Skull dress and it worked fine :) Marvin took the picture at Gamla Uppsala and I'm standing in front of the still closed open air museum located there.
Tenth Day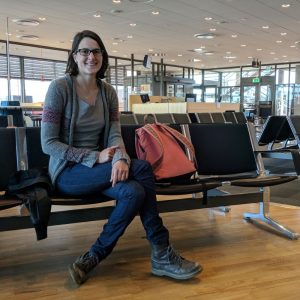 We took the plane back home. I didn't really need the cardigan in Sweden, it was way too warm, however I needed it when we arrived in Frankfurt. Super strange! It is supposed to be warmer here ;) I also wore a pair of Gingers and another Renfrew shirt.
And this is the end of the show ;) For this week at least! I Hope I will manage to take pictures when I have to go to work again. I hope you had great start into May :)
Katharina