May is slowly coming to its end, however the content of my closet is not. I think I have enough clothes to fill another me made month.. At least half a month. Sadly I haven't identified gaps in my wardrobe that would justify sewing even more clothes. However I realized that my backpack starts falling apart and I already ordered some supplies to make a new one. And here comes my third week of this year's Me Made May:
Eighteenth Day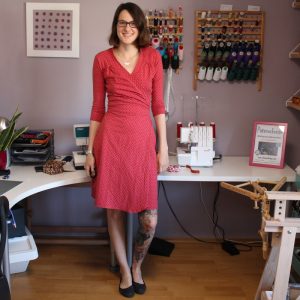 I worked from home and thus spent most of the day in not so fancy clothing :) In the evening however we wentdrove to visit Marvin's family over the weekend and I wore my Gilian Wrap Dress which is a great dress for long drives as it is pretty comfortable. And I also like how it looks!
Nineteenth Day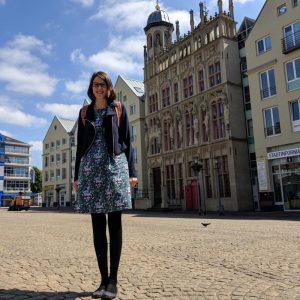 The picture was taken in Wesel, where we celebrated Marvins' aunt's Birthday. I also had time to pay my favorite fabric store a visit and bought some fabric and stuff :) I wore a Belladone Dress and a cropped wool jacket and got complimented on both items in the store, of course! I love this store!
Twentieths Day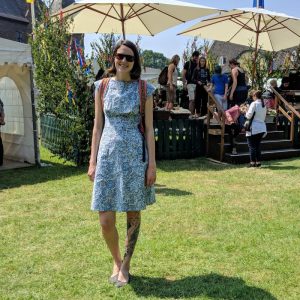 As last year we went to the Flachsmarkt, a medieval inspired market that takes place all around the castle Linn. The market is all about ancient crafts and though it was warm and crowded we had a lot of fun. I wore my Anna Dress and of course took my backpack with me :)
Twenty-first Day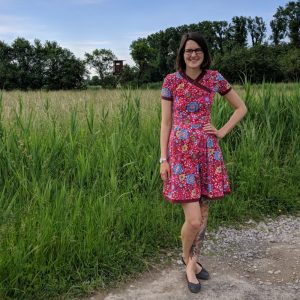 We went back home and I wore another knit dress that was pretty comfortable on the drive. We took a short walk after we arrived and Marvin was kind enough to take a picture :)
Twenty-second Day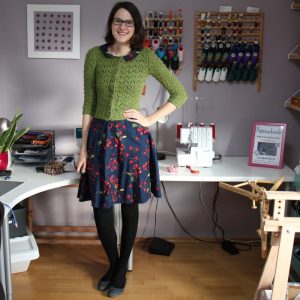 In an old time favorite outfit, consisting of Hawthorn dress and Hetty cardigan, I went to the office.
Twenty-third Day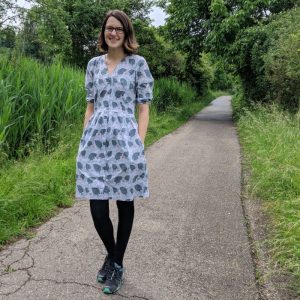 I wore the Darling Ranges Dress for a walk Marvin and I took during lunch break. We both worked from home. This dress hasn't become a favorite. I'm not sure if it is the fabric, the neckline or the sleeve length, or all of those.
Twenty-forth Day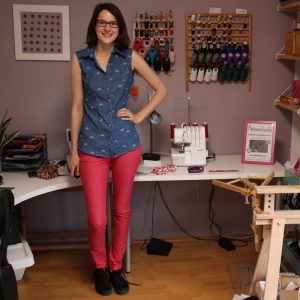 I thought I should wear some pants this week also ;) So I went to the office in a pair of red Gingers and a sleeveless shirt.
And that's it for this week. I didn't have that much time thus far in May to write regular posts and I hope I will get into that this weekend maybe. However writing Me Made May posts is a nice change for a while :)
I haven't had any major insights this May so far. But it was nice to be motivated to wear pretty dresses even when I only leave the house to take a walk after work.
Here's week 1 and here's week 2.
Have a great last week of May :)
Bis dann!
Katharina