May went by pretty quickly. And I wore all of my favorite dresses this last week ;) Well, not all of them, I sill have some pretty dresses waiting to get a chance to get worn this summer. Me Made May motivated me to wear those clothes that usually don't get out that often an reassess if I should keep them or get rid of them.Here comes the final week:
Twenty-fifth Day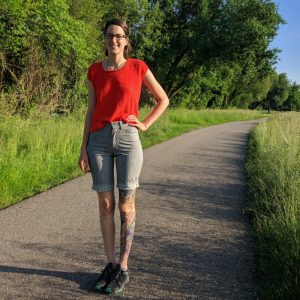 Marvin and I went for a walk in the evening after work and  I wore Birkin Shorts and a knitted top. I wear the top a lot, the shorts not that often.
Twenty-sixth Day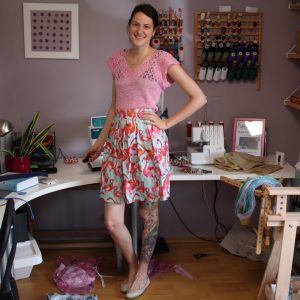 As you can see I spent some time in my sewing room, cutting out a new dress and finishing the yarn you can see on the right. Marvin and I also went swimming, on the picture I'm wearing a swim suit underneath a knitted linen top and a flamingo skirt that I got complimented on when I went to get pastries at the local bakery :)
Twenty-seventh Day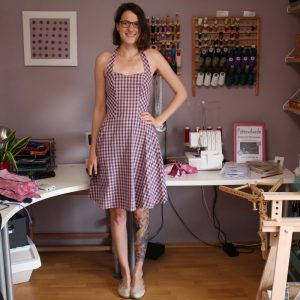 It is pretty hot, way too hot for May. Time to get the summer dresses out. I started with a halter neck dress and took it out to get ice cream :)
Twenty-eighth Day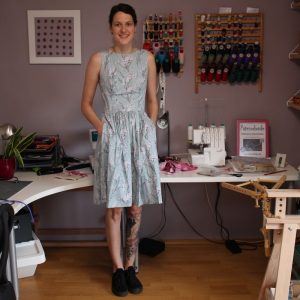 Not much happened, except for that I wore a pretty dress :)
Twenty-ninth Day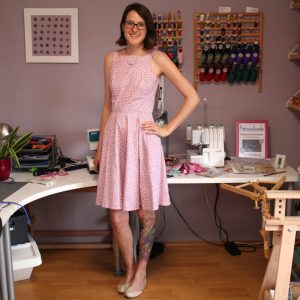 Another day in the (super hot) office. Though temperatures have gone down a little wearing anything more than a dress would have been too much.
Thirtieth Day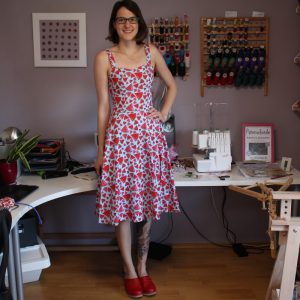 I wore my water melon dress during lunch break, first time this year that the dress got out. It is a real summer dress, very light and breezy but with a skirt that makes it look a like a modest summer dress I think. So I do wear the dress to the office during summer
Thirty-first Day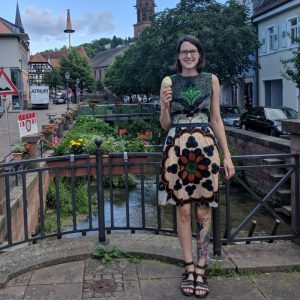 Marvin and I went for ice cream and a walk. In the backdrop you can see the center of the town I live in. The ice cream is great here! :) I wore another summer dress, that also had its first outing this year. However i think I have worn it every single May since I started participating in me made may, so this dress should be familiar to you by now ;)
And that's it, May is over! And it had everything. I saw sow when I went hiking in Sweden and I wore summer dresses and went swimming. This Me Made May wasn't much of a hassle for me, taking daily picture became routine pretty quickly. I am a little sad though that I wasn't actively part of a group as I had been when there still were people participating on Flickr. I'm glad some people publish their outfits on their blogs though :)
How about you? Did you enjoy reading my Me Made May posts? I'm not sure whether I am going to repeat the whole thing next year. It is fun, but I feel like I'm repeating myself a little ;).
If you want to recapitulate here is week 1, week 2 and week 3.
Macht's gut!
Katharina